These vegan spots offer menu items so gigantic, you'll never go hungry again! Okay—that might be an exaggeration, but if there was a Guinness World Record for "Largest Vegan Dishes in LA," these menu items would take the cake! From nachos, burgers, and pizza to donuts, brownies, and cinnamon rolls, LA is full of gargantuan vegan meals. Here are our top picks!
Cena Vegan
Pop-up
The burritos and nachos on Cena Vegan's regular menu are already hefty, but they've concocted some that are even heftier! A composition of all the ingredients from their iconic nachos pile up for their Nacho Barge. This enormous tortilla chip tower serves about 8 people––just think of all the heavenly avocado scoop heaps that grace the top of the pile! Burrito lovers, you'll want to order the Bestia Burrito for two feet of pure epicness! Refried beans, rice, pico de Gallo, salsa, guac, chipotle crema, and your choice of up to four meats create this colossal burrito! These items are only available for service at the Block Party in Highland Park. Email Info@CenaVegan.com to place your order!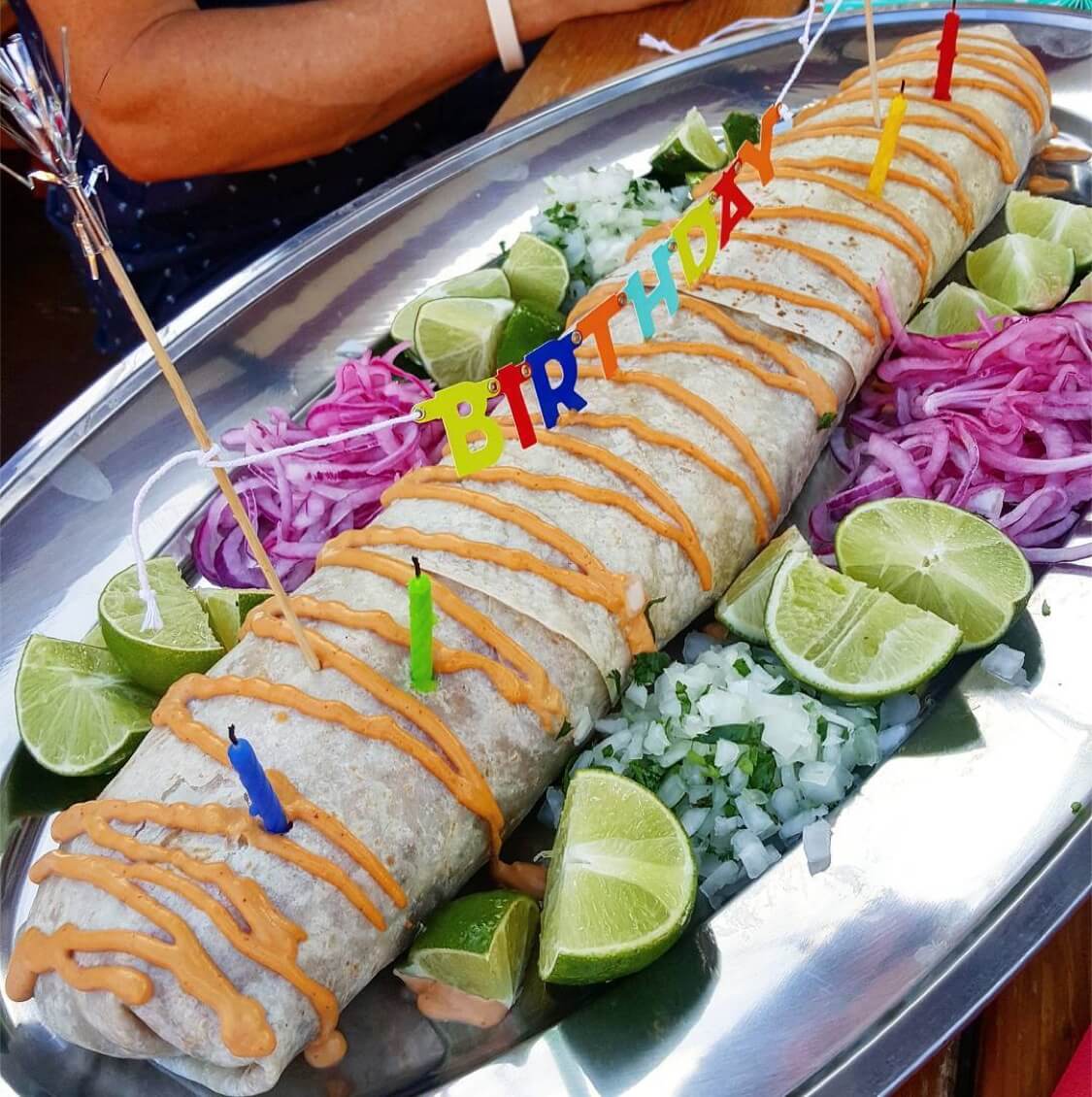 Donut Friend
DTLA and Highland Park
The jumbo donut from Donut Friend lets you say, "I only had one!" without lying! This giant ring of vegan dough is sweet, fluffy, and perfect for your next birthday party! If you're gonna splurge on sweets, you might as well go big! Available by special order only.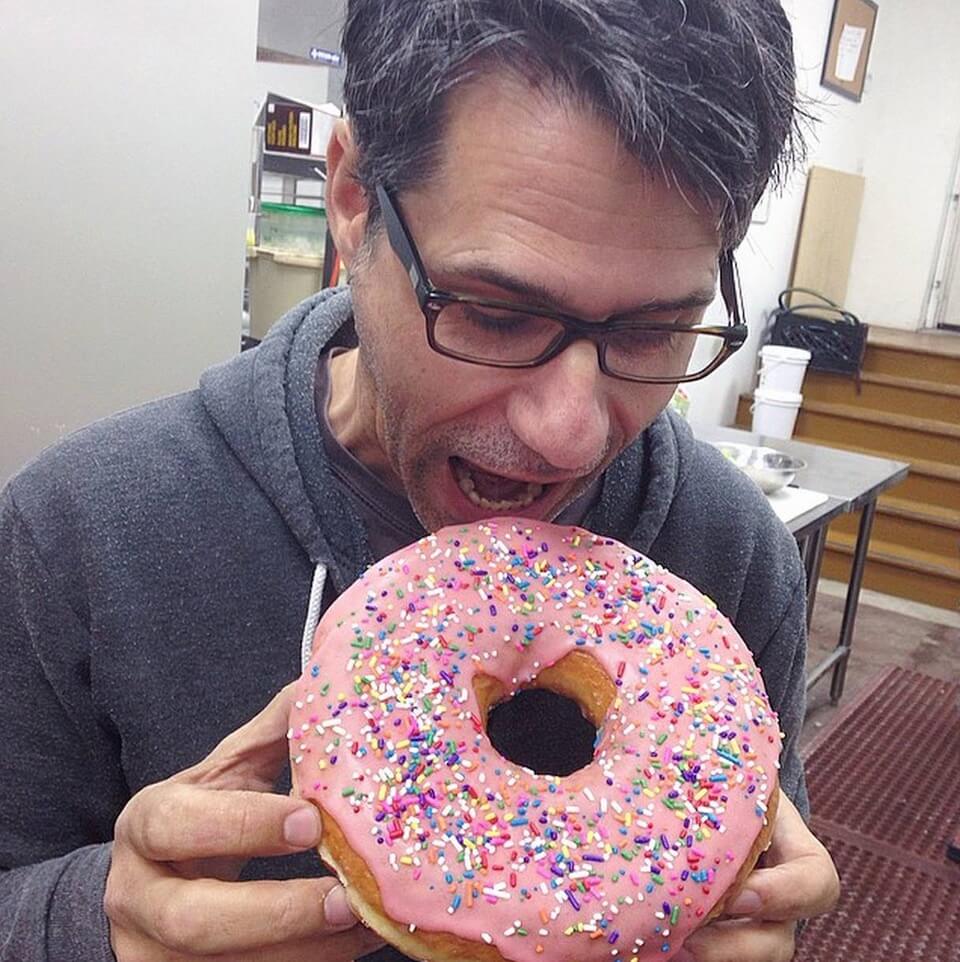 The Black Bean
Fountain Valley
The Black Bean's XXX Grilled Cheese is the sneakiest way to get three grilled cheese sandwiches in one! Now, let's talk numbers! (That's a phrase we never thought we'd say!) This breathtaking dish is the sum of four pieces of bread, six slices of cheese, three servings of bacon, one ground Impossible patty, and loads of tomatoes and onions! This is some math we can get behind! For extra heat, add to the equation with jalapeños and sriracha!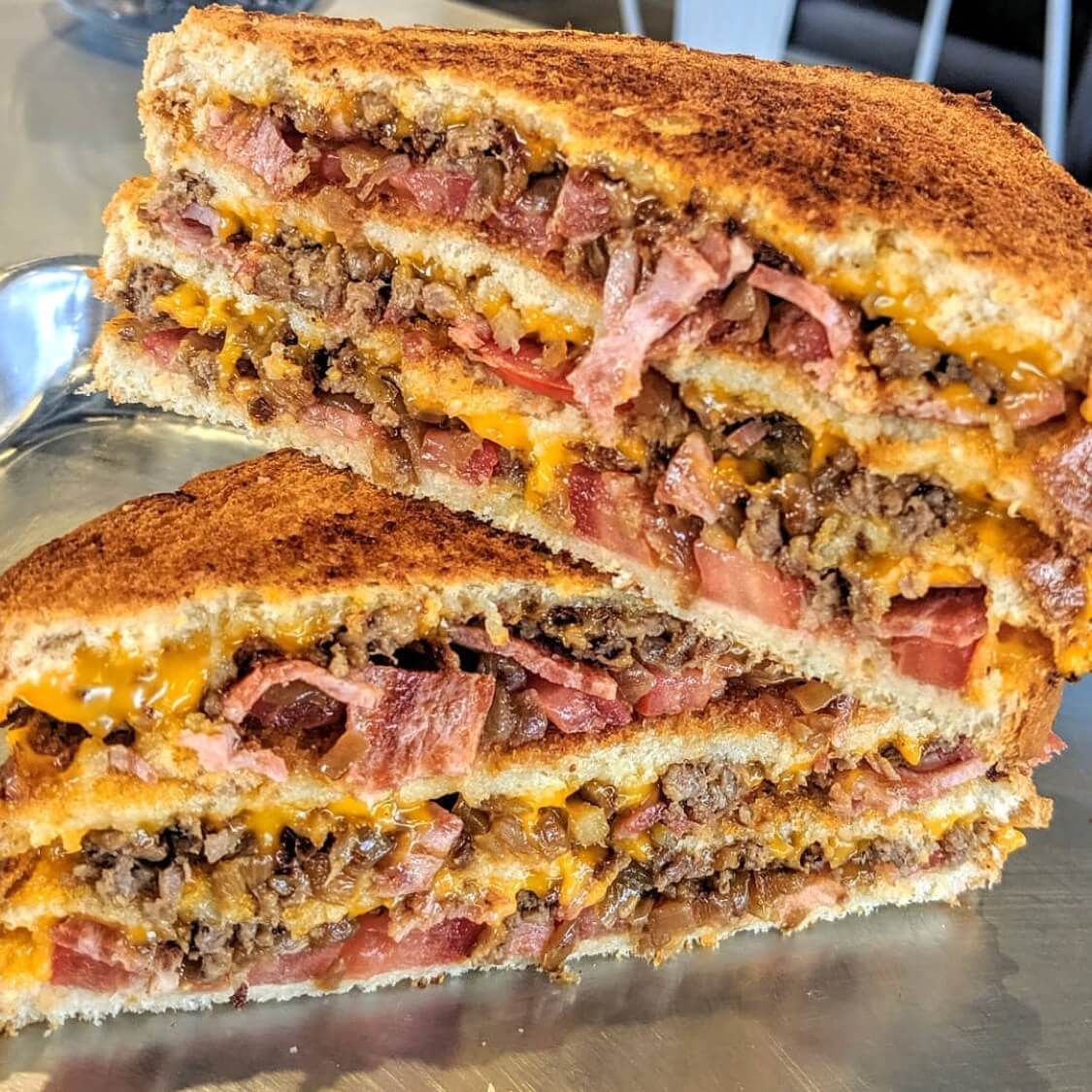 Munchies Diner
Santa Ana
House rule #1 at this vegan gold mine reads, "Order it how you want it, we like the way you like it!" Munchies already has astronomically-sized dishes such as the Big Munch and Carne Asada Fries, but there's also a list of items you can add to any dish to build a toppling tower of plant-based perfection! The Big Munch is kinda like a double cheeseburger elevated to the highest level! Two beef patties, slices of American cheese, lettuce, pickles, onions, and G sauce nestle themselves between three toasted sesame seed buns for a flavor-blasting experience!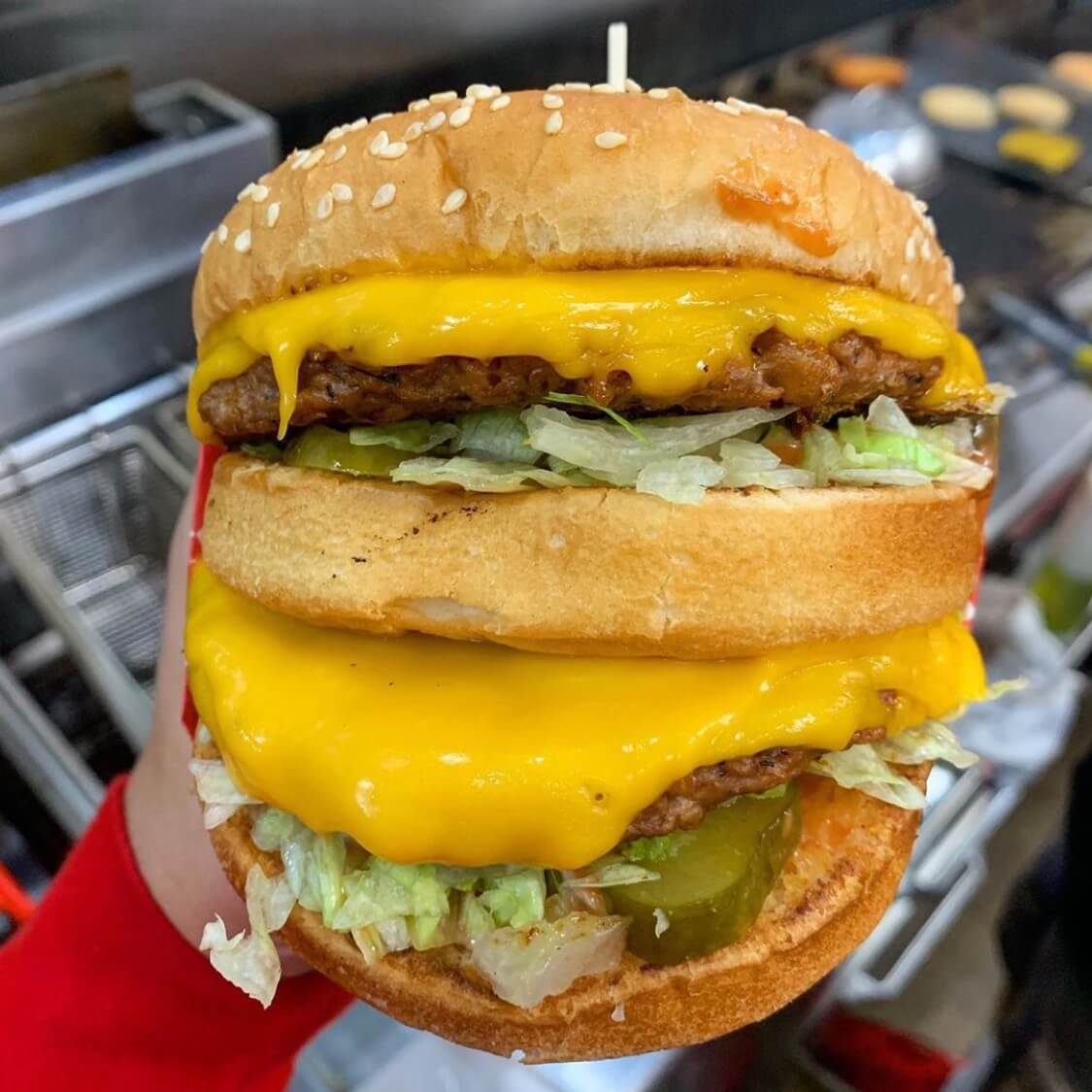 Karma Baker
Westlake Village
If you're a sweets-loving vegan, there's a big chance you know a thing or two about the infamous gluten-free brownies from The Karma Baker! While you may have seen these chocolatey icons at Erewhon, Lassens, or other stores around town, at their flagship bakery in Westlake Village, you'll discover mega-sized Brownie Cakes! Pick up these big, beautiful brownies (made fresh every day), or call the bakery and design your own! Select a base of Chocolate Fudge, Walnut, or Peanut Butter brownie, and decorate it with caramel, whipped cream, sprinkles, and even a personalized message!
Purgatory Pizza
DTLA
These slices are large and in charge! For those days when you need a bit more pizza than usual, Purgatory has you covered (in vegan cheese and toppings, that is!) Douse your prodigious pie in Follow Your Heart mozzarella, house-made vegan sausage, artichoke hearts, almond ricotta, and more!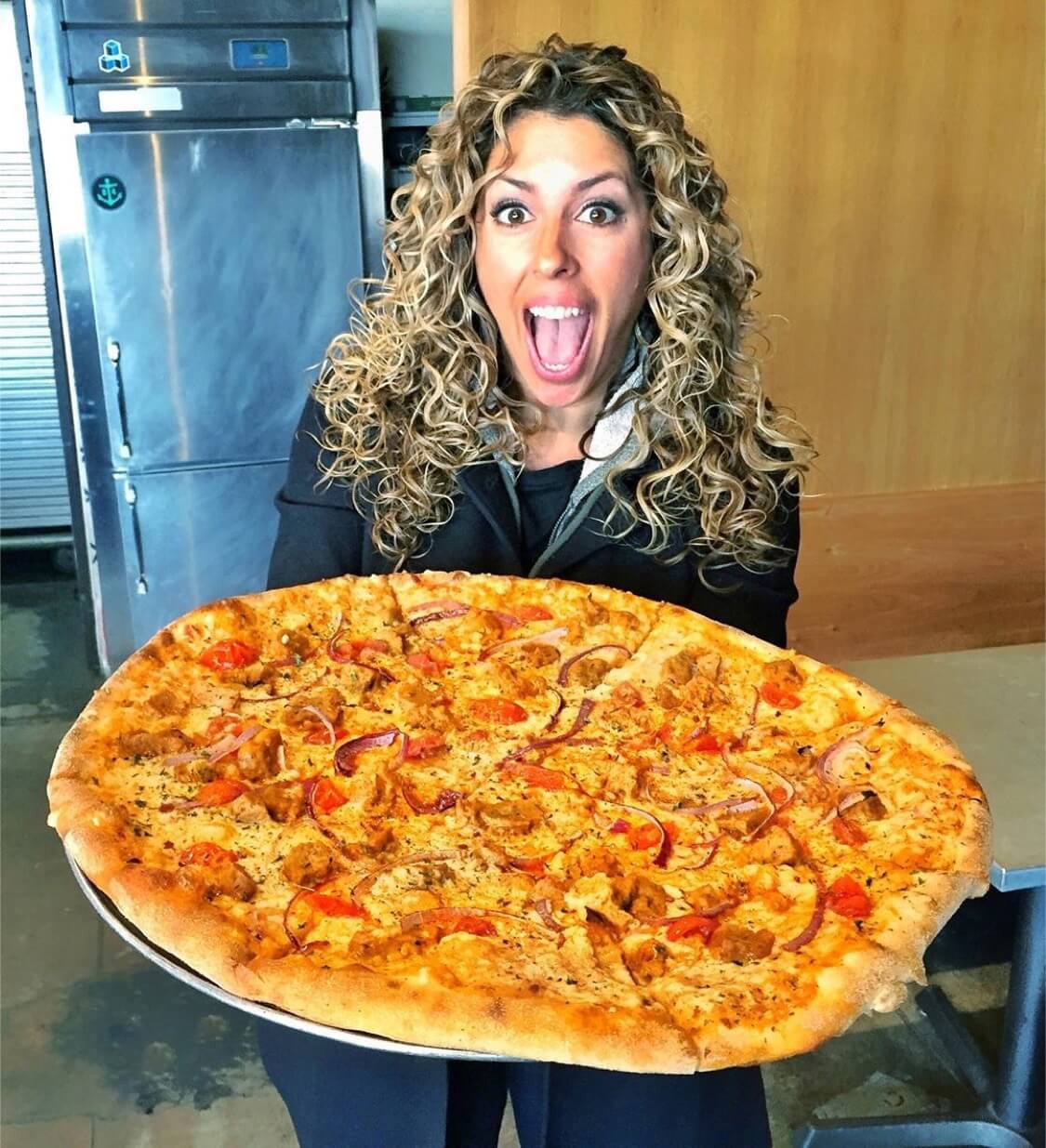 Doomie's
Hollywood
Let your creativity flow with the wild menu add-ons at this vegan comfort food joint! Order Doomie's Big Mac and customize it as much as you'd like until it's bigger than your face! Stack on extra burger or crispy chicken patties, bacon, onion rings, and more! Did you know you can also switch out the burger buns and replace them with grilled cheese? Whew! Plan a weekend brunch trip for their Bigscuit and Gravy––a giant drop biscuit coated in gravy with eggs, potatoes, and bacon! Those are the stand-out dishes, but just about every meal from Doomie's is already large and able to be up-sized however you wish!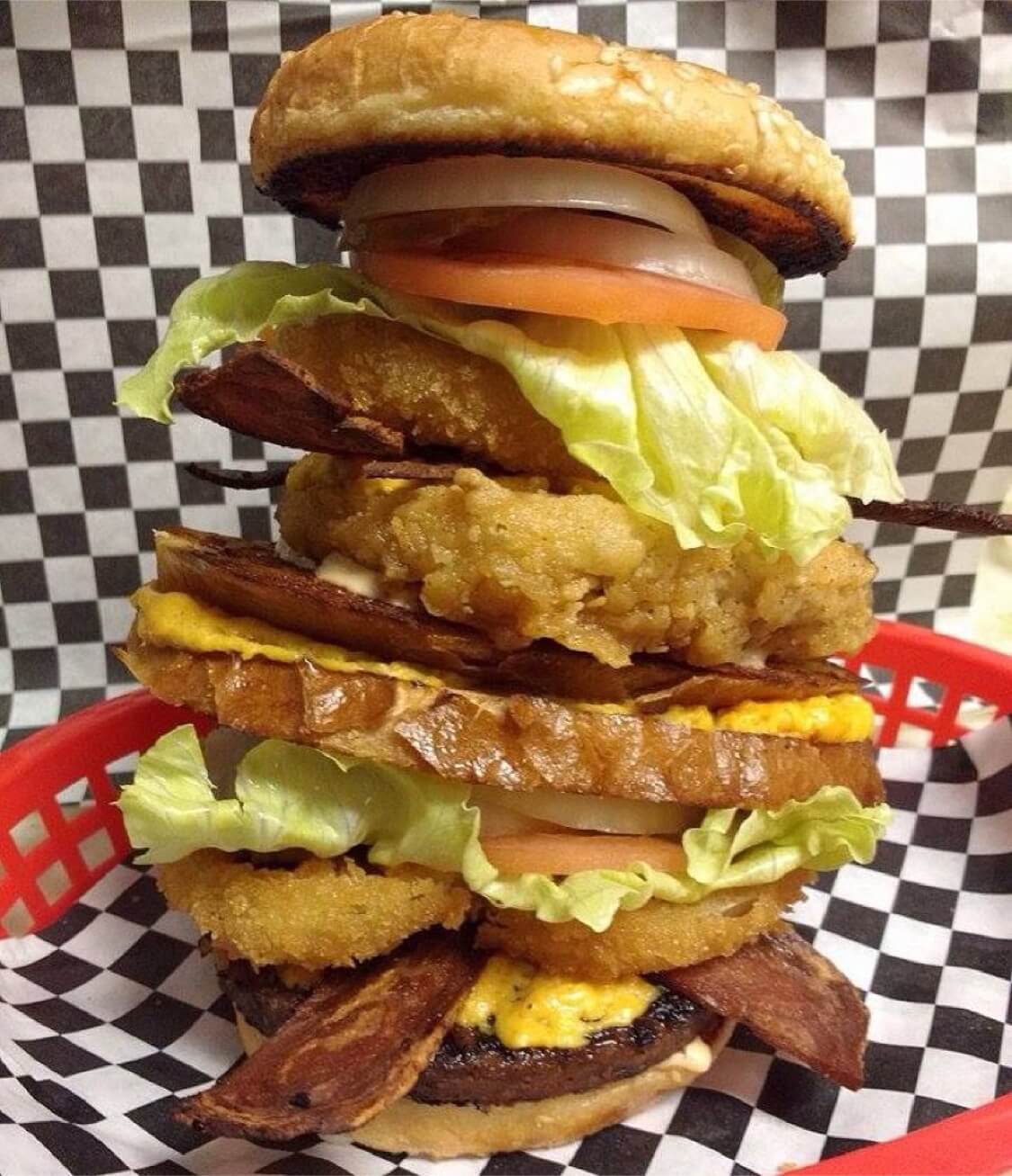 Nic's on Beverly
West Hollywood
From shoestring and waffle to sweet potato, thick-cut, and curly, the fry family is overflowing with relatives! This upscale vegan restaurant adds to the potato party with their jumbo Gratin Fries! Twelve layers of thinly sliced potatoes hug in to create one jumbo, crispy, and tasty fry! The order comes with four fries (don't worry—they're huge!) and a side of harissa secret sauce!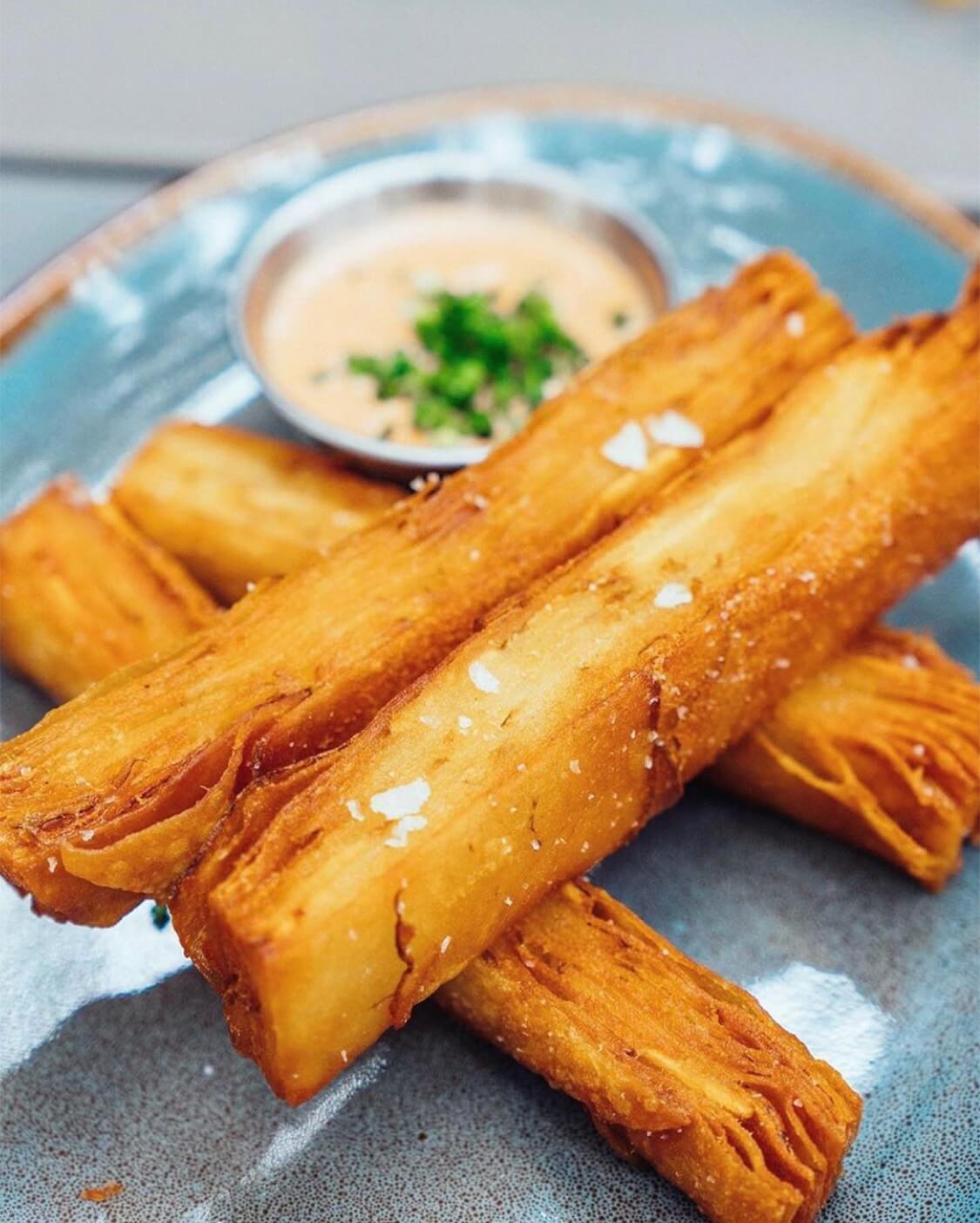 Cinnaholic
Echo Park
Cinnamon roll overload! Your choice of 6, 8, or 12 cinnamon rolls unite together to create one big Cinnacake! Load up your gigantic cinnamon roll cake with your choice of frosting and toppings. It's perfect for parties, big groups, or even one determined cinnamon roll lover!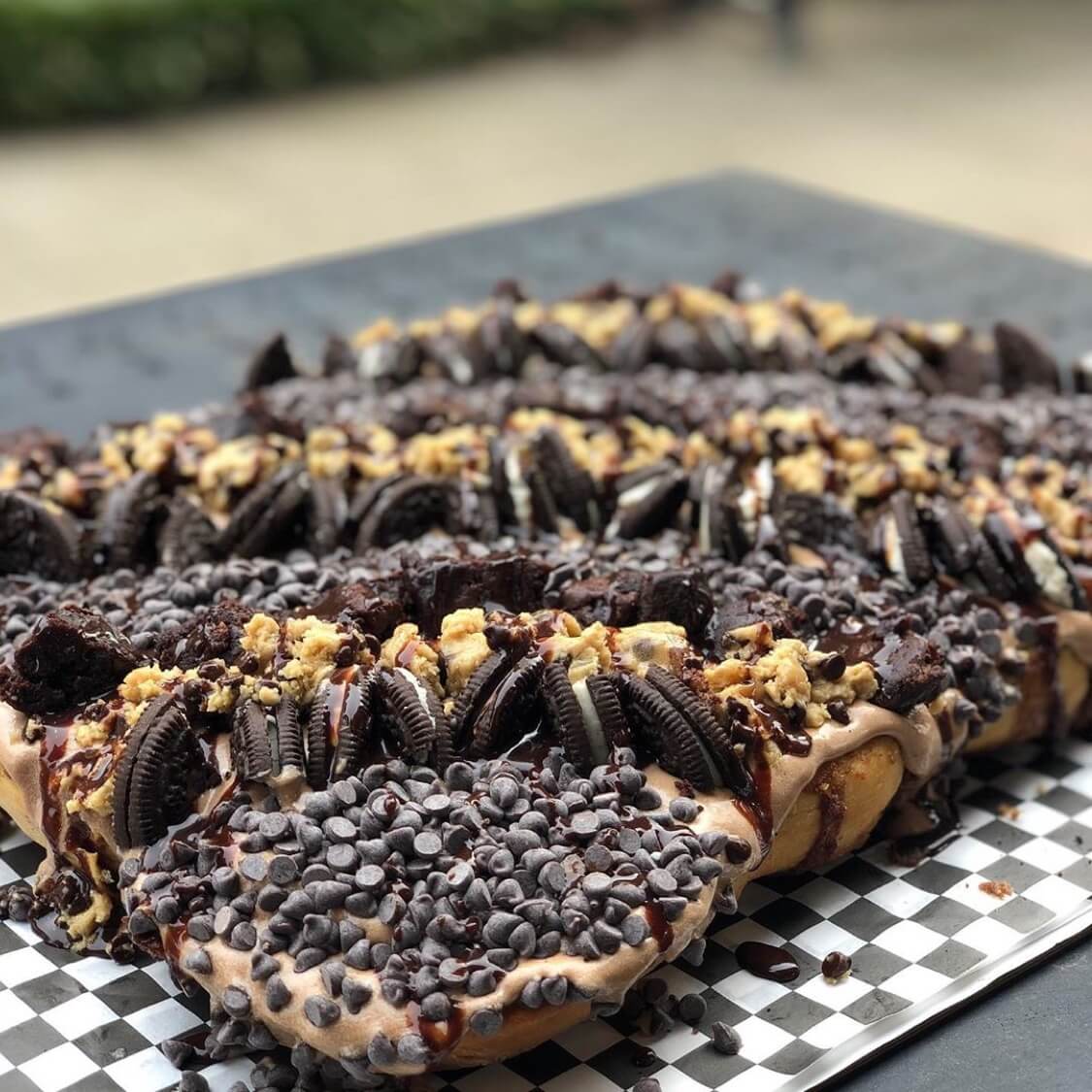 Monty's Good Burger
Echo Park, Koreatown, and Riverside
At Monty's Good Burger, anything is possible! The "have it your way" mindset is taken seriously with their unlimited range of customizable eats. Build your own burger with as many patties, tater tots, cheese layers, and sauce drizzles until it's the height of your dreams!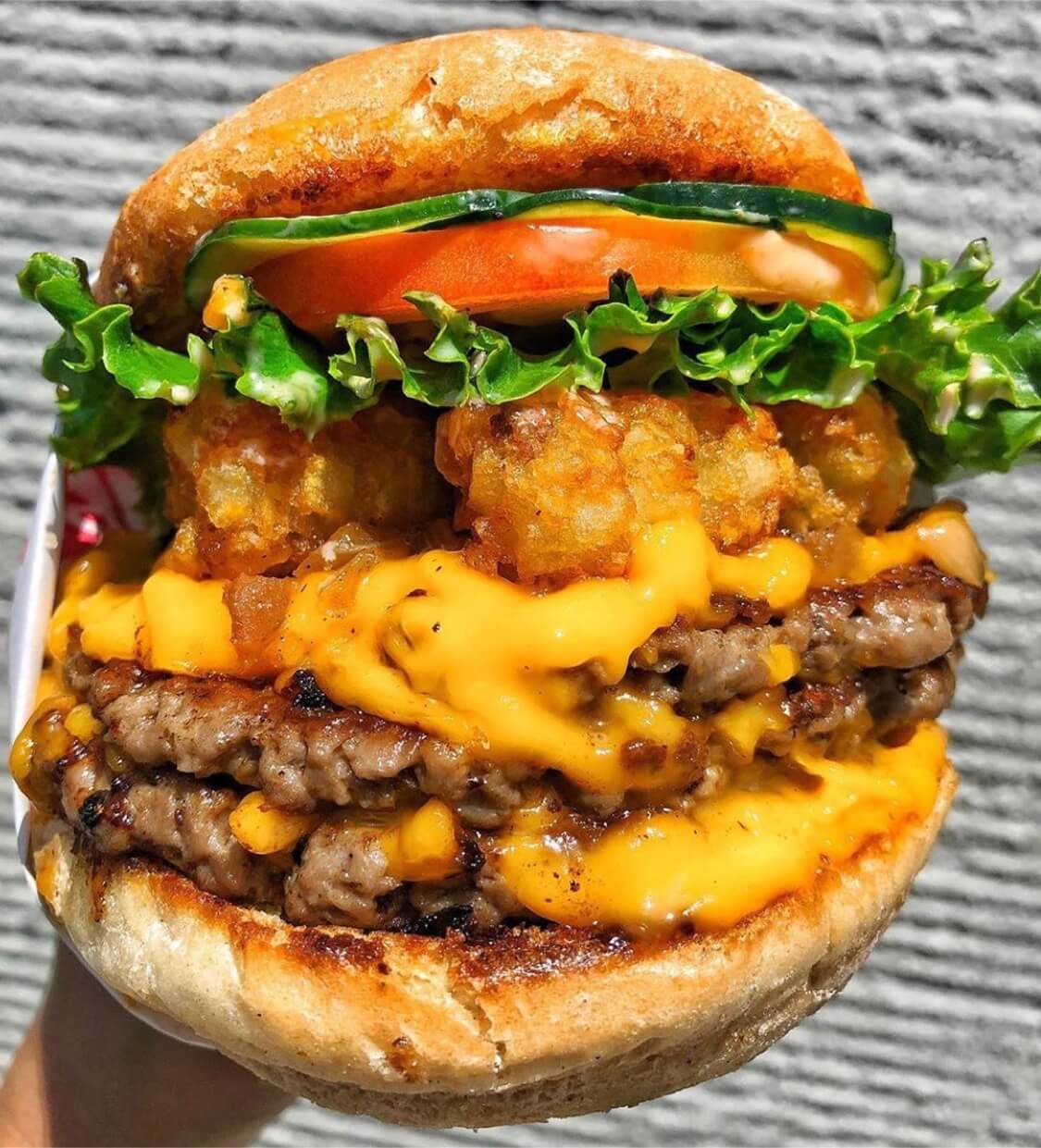 Broxton Brewery
Westwood
On a cauliflower kick? Get your fix (and then some!) with the Roasted Cauliflower Steak from this vegan-friendly restaurant and brewery! Kiss those days of tiny portions goodbye, because this dish is an entire head of cauliflower that's fire-roasted with mint chimichurri, pickled sweet peppers, and pickled onions on a bed of sauteed kale and farro!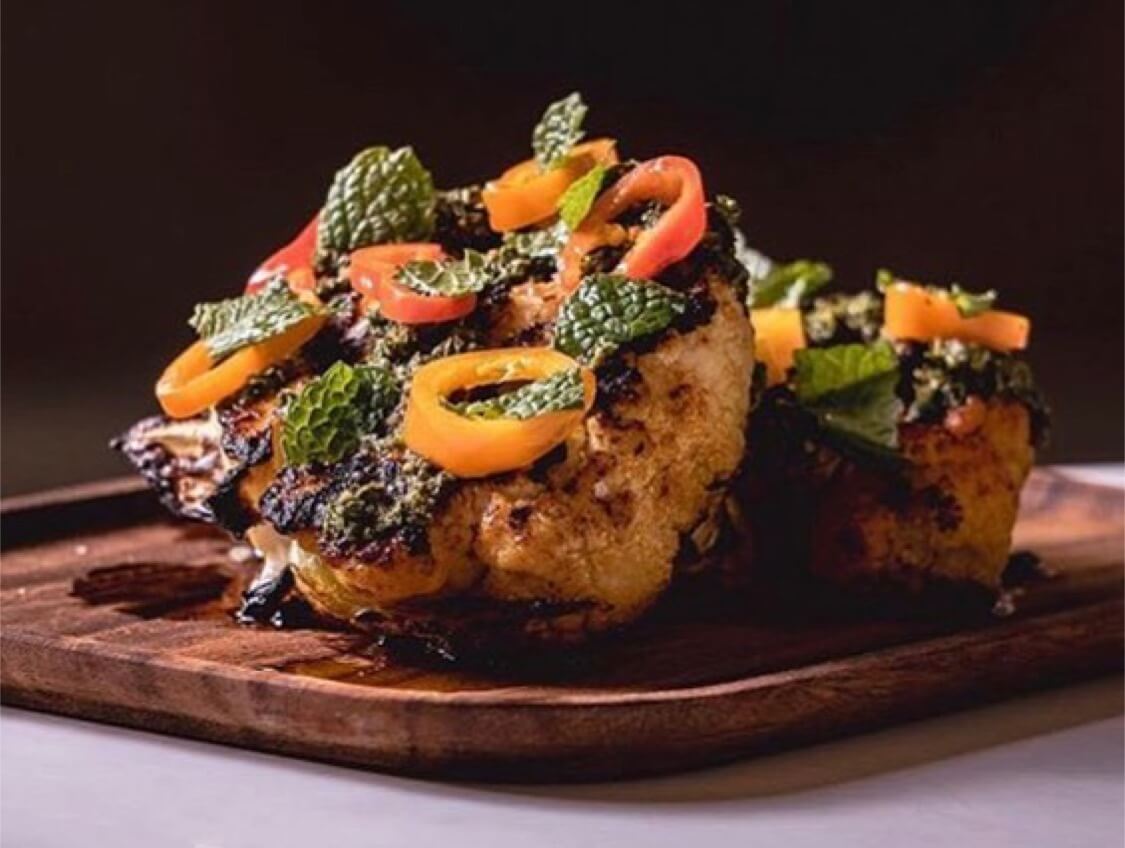 Gegen
East Hollywood
And the award for the largest vegan menu item goes to … Gegen! You'll never leave hungry when you order the monstrous burger or pizza at this new vegan spot. There's a chance you've caught a glimpse of Gegen's huge burger while scrolling through Instagram––and no, it's not just the camera angle or zoom! Their 5lb burger is so massive, you'll need to call ahead to order it so they can make the hamburger buns just for you! Their other grandiose dish is a 24-inch pizza with marinara sauce, Follow Your Heart cheese, and whatever toppings you'd like––yep, even pineapple! Call up your best vegan pals and get to Gegen!