Let's be honest—taco time is all the time, not just on Tuesdays. Particularly if you live in LA, there are just too many fantastic vegan tacos to try to limit yourself to one day a week. Start with these 12 outstanding taco spots, then expand your taco tastings from here.
Van Nuys
El Cocinero is Vegatinos reincarnated. The owner of the former vegan Mexican pop-up closed his roaming taco business and set up shop in The Valley. The expanded menu features the flavors fans loved including the mighty loaded fries, vegan meat-stuffed burritos, and exceptional tacos.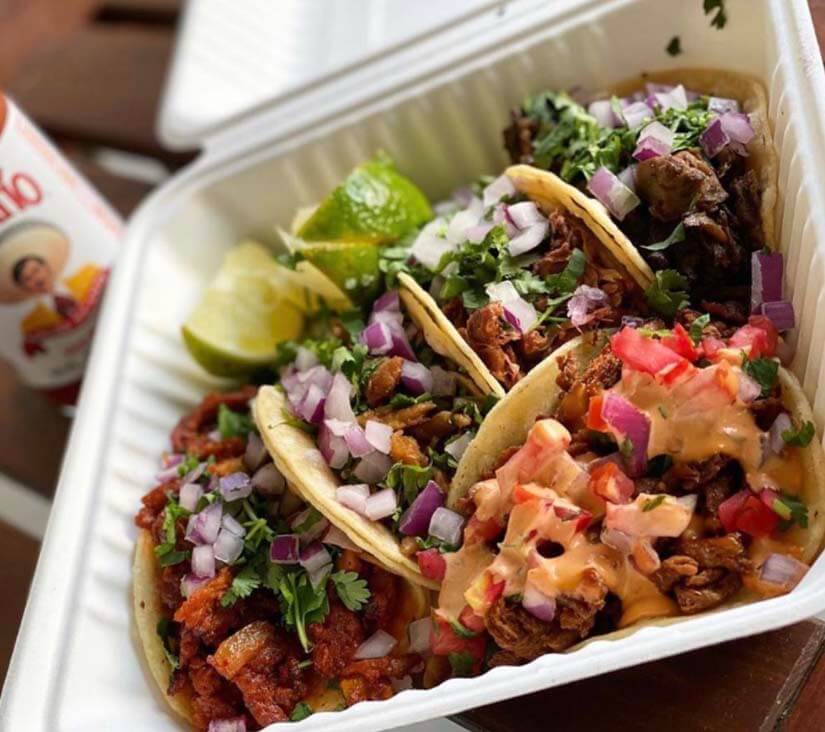 Costa Mesa
You'll have to drive down to Orange County for this taco flight, but the meaty vegan fillings and exceptional Mexican-style cheese is worth it. The menu includes standout vegan versions of classic pollo, asada, and carnitas, but the true star is the hibiscus option. We have no idea how the kitchen transforms this flower into plant-based meat, but we'll happily scarf down multiple tacos to figure it out.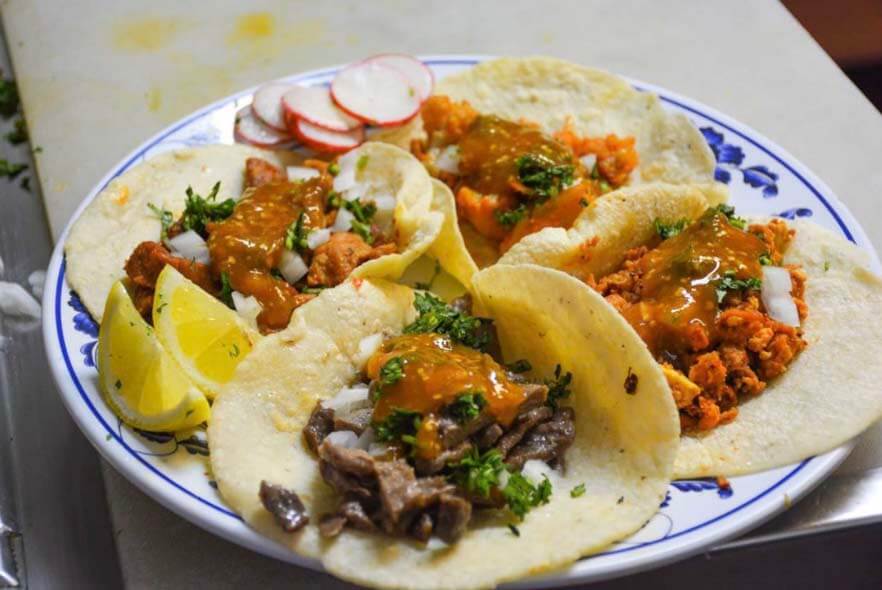 Lincoln Heights
This family-owned and operated vegan pop-up has planted itself for pickup orders just north of LA's Lincoln Heights neighborhood. We never tire of their tacos made with freshly pressed corn tortillas and excellent vegan meat fillings. Opt for single tacos a la carte, the taco trio, or the four taco plate. Be sure to mix and match your protein options and do not skip the homemade crema and pickled onions.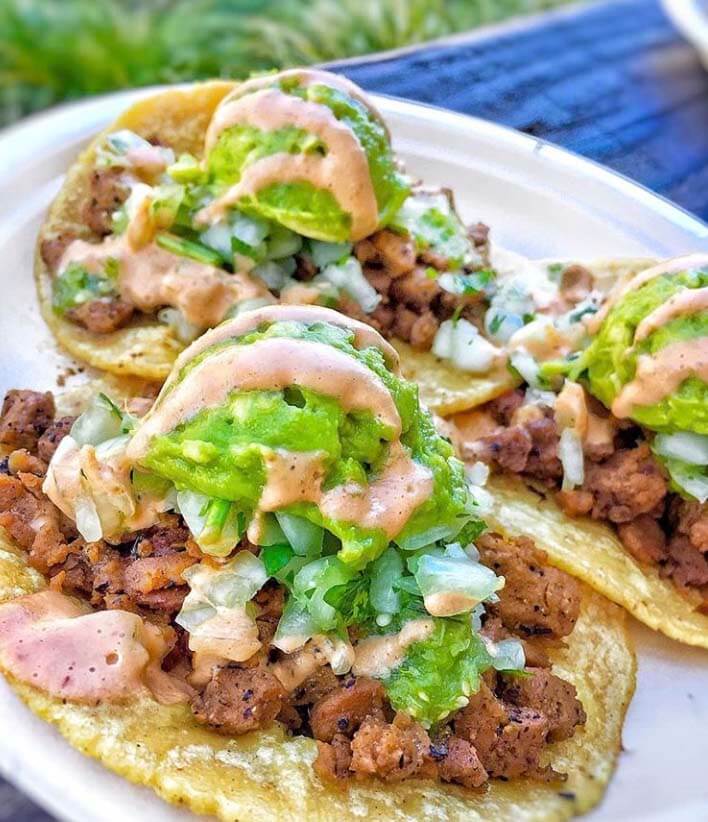 Multiple Locations
Yes, that Trejo. This vegan-friendly taco chain was founded by none other than Machete himself (aka Danny Trejo). Train your eyes on the taco selections with the green plant icon for the vegan options. These include a young jackfruit taco, a cauliflower taco, and a mushroom asada taco each complemented by a variety of toppings from avocado cream to pepita pesto and pickled onions. We highly recommend you try all three and order a side of chips and guac.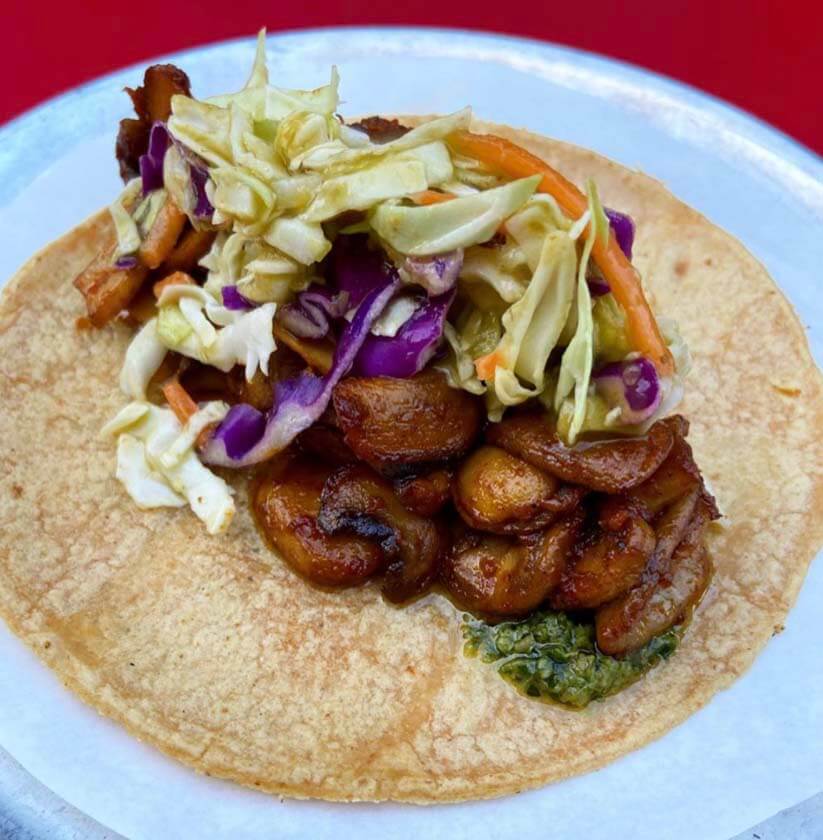 Hollywood and City Terrace
Late-night Hollywood hot spot Doomie's Home Cookin' has a Mexican-inspired outpost right next door. Switch up your regular Doomie's order and give the tacos at NextMex a try. Those outside the bustle of Hollywood can look to Doomie's NextMex Express in City Terrace for tacos filled with plant-based al pastor, mole pollo, carnitas, asada, and more.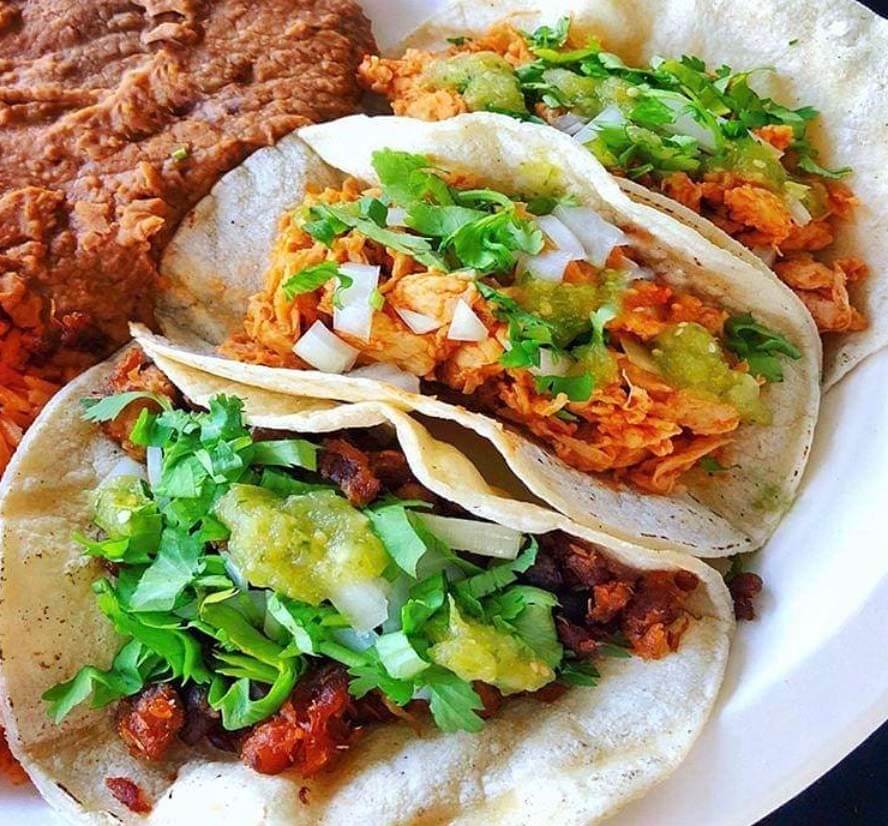 Photo credit: @joesveganfoodgram on Instagram
Fairfax and Sherman Oaks
Celebrities certainly love their tacos. Sugar Taco is yet another taco-focused spot helmed by an LA-based entertainer—Daniella Monet. The menu is all-vegan and boasts a wide variety of Latin-inspired vegan meats for its taco and burrito fillings. Play it safe and order a la carte, or sign the waiver and singe your tastebuds with the formidable Ghost Taco. We highly recommend ordering a cool agua fresca along with that demonically spicy taco.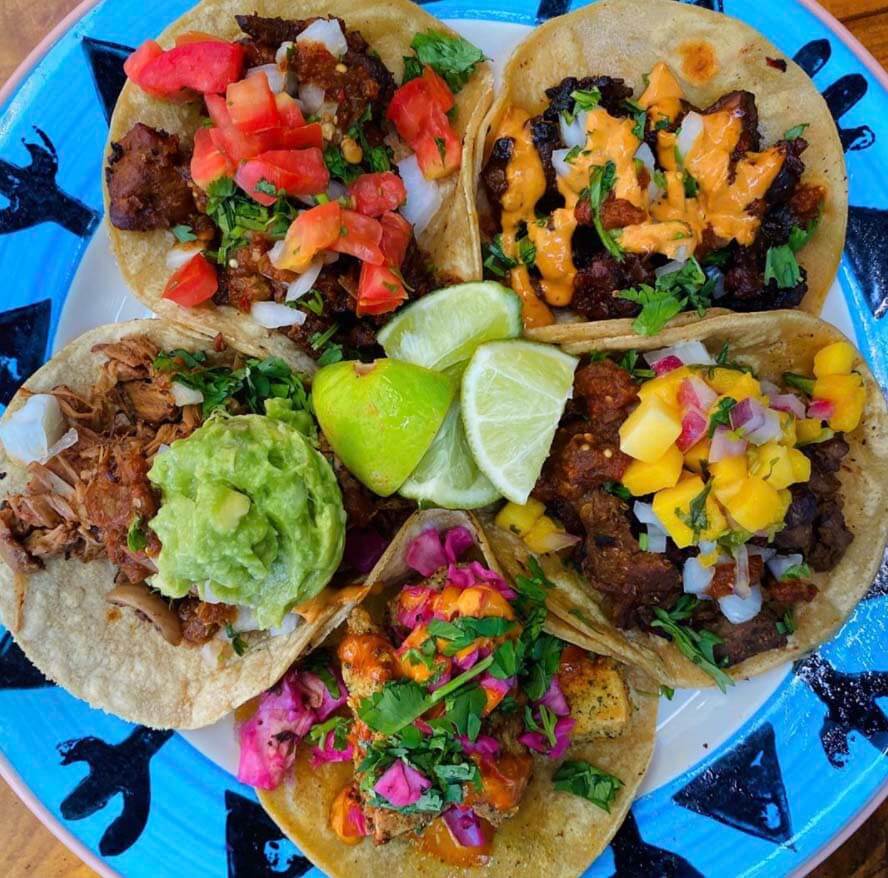 West Hollywood and Newport Beach
The tacos at this posh restaurant change based on the season, but you can always expect a tricked-out-taco loaded with sustainably sourced ingredients and multiple dimensions of flavor. Current options include portobello, al pastor, coconut, birria, and mole verde. Order the taco flight to try three.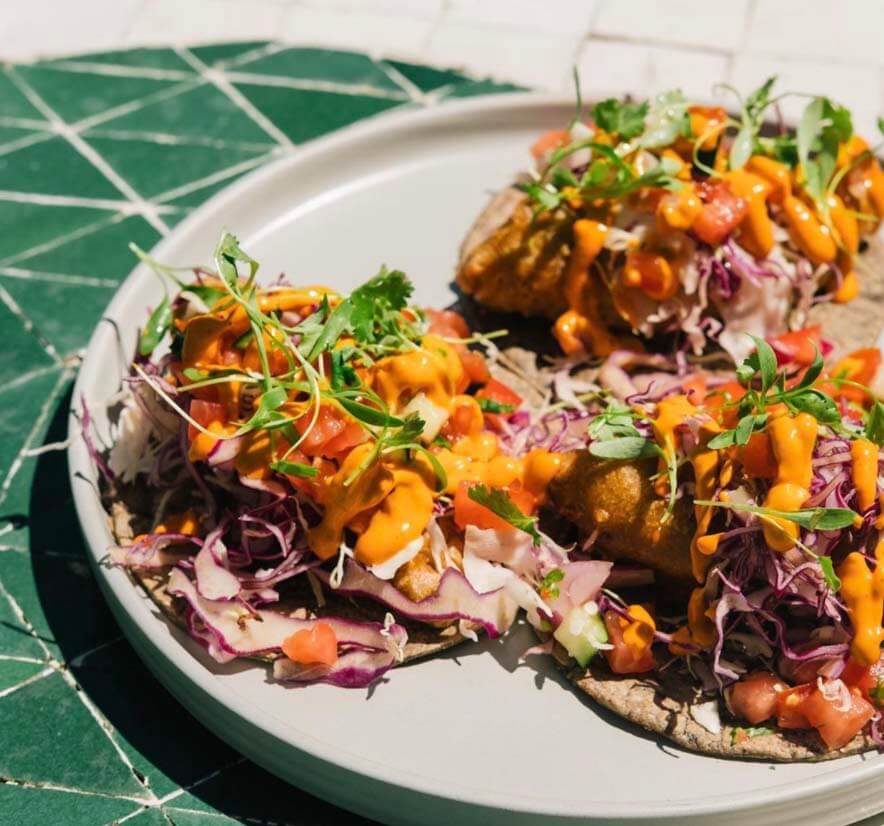 Long Beach and Costa Mesa
This breezy cool SoCal spot has been frying up avocado tacos well before it was trendy. The Beer Battered Avo Taco is crispy, cool, spicy, creamy, and essentially tops the taco chart. But don't stop at just one variety—mix and match each a la carte taco creation with the Kimchi Taco, Al Pastor Taco, and Grilled Mushroom Taco. Note: Some tacos are only available at either the Long Beach or Costa Mesa location.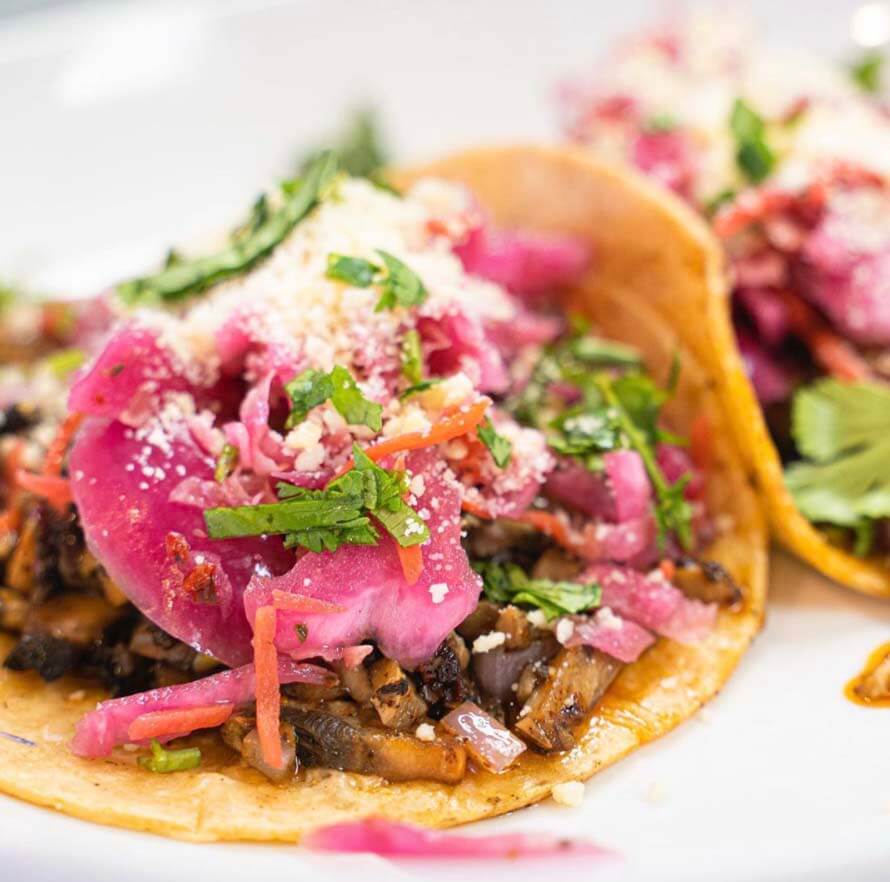 Pop-Up
Hunt down the pop-up to get your plant-based taco fix. In addition to tacos, you'll find nachos, burritos, and more on their menu. Follow the company's Instagram (@tacossinkarma) for time and location details.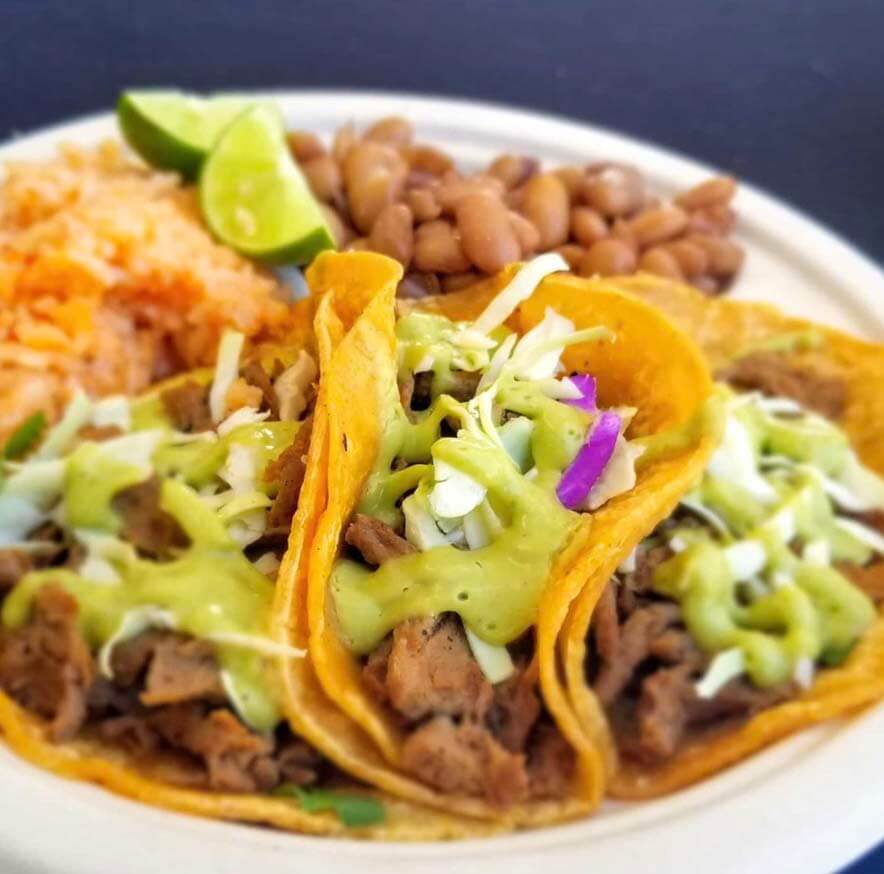 Multiple Locations
This organic Mexican SoCal chain has three vegan taco options, and each is customizable based on your choice of plant-based protein and non-dairy cheese. Get spicy vegan picadillo topped with avocado and onion salsa by ordering the Cali taco; go Baja with adobo tofu, vegan mozzarella, shaved cabbage, sweet chipotle sauce, and crema; or choose the Barrio style to pair your choice of protein with roasted tomato salsa, avocado, red onion, and cilantro. If you're picky and insist on modifications, this will be your new favorite taco spot.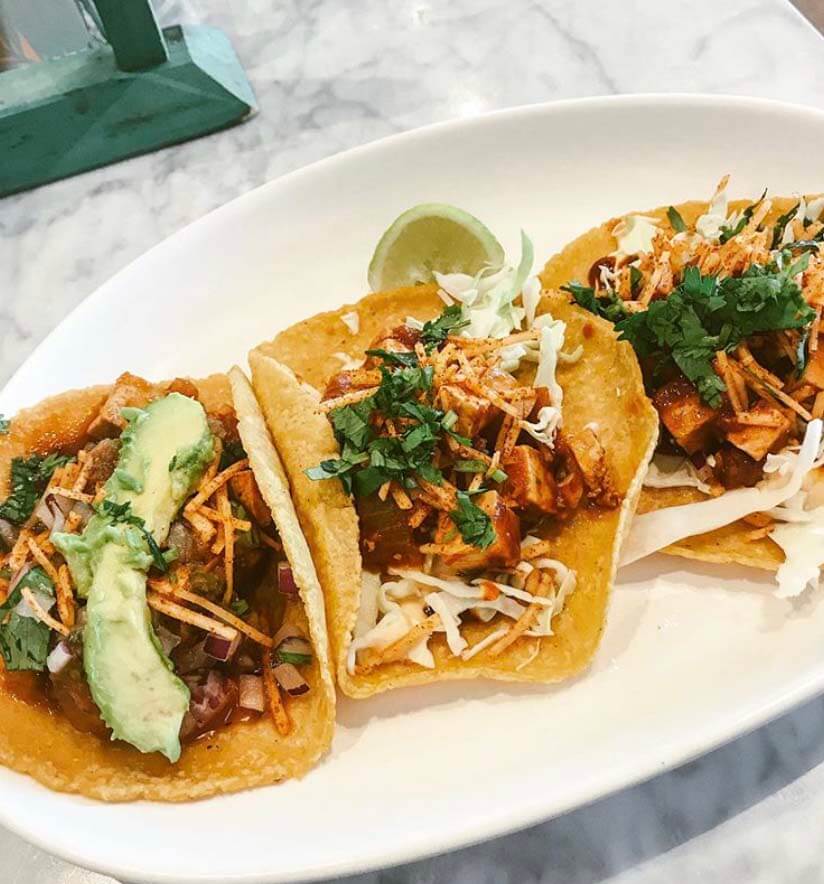 Photo credit: @laveganplug on Instagram
West Hollywood
When you're craving more than the typical taco filling, check out this vegan-friendly hot spot. The plant-based menu features complex flavor combinations such as vegan fried chicken with spicy agave Sriracha and poblano ranch slaw, fried squash blossom stuffed with vegan chihuahua cheese, eggplant soyrizo with crispy kale, and more. Note: Tacos Tu Madre has other locations, but only serves their plant-based specialty tacos at the West Hollywood location.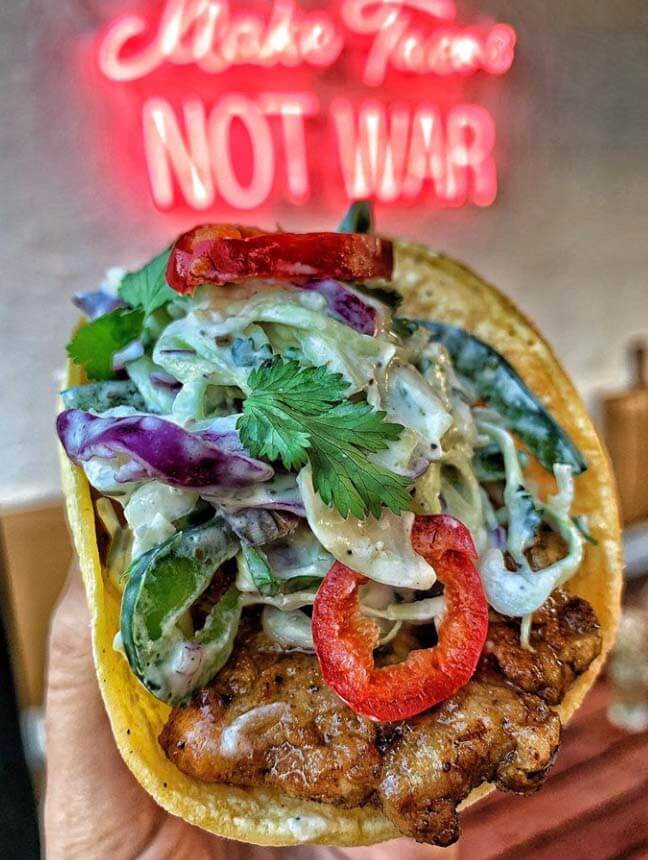 Silver Lake
This local vegan joint has a bit of everything—salads, burgers, deli sides, bowls, burritos, and three kinds of tacos. Even if you're trying to eat more raw foods, you can still celebrate Taco Tuesday here with the raw jicama tacos packed with seasoned jicama, kale, cilantro, cashew cheese, pico de gallo, sunflower seeds, and avocado. For a warm, corn tortilla-wrapped handheld, opt for the Eastsider or the Portobello Tacos. Each two-taco plate comes with beans and rice or a large green salad.