Back
12 Places to Get Vegan Burgers in Los Angeles
It's National Cheeseburger Day. You have to celebrate, right?
Burgerlords
Chinatown & Highland Park
Check out the vegan burger options at Burgerlords. Their Housemade Vegan Burger consists of a patty made fresh daily that's topped with lettuce, onion, tomato, and vegan Thousand Island. And if you prefer cheese with your burger, they've also got their Housemade Vegan Cheeseburger, which includes the additional vegan American cheese. Still not enough? There's also their Vegan Double Cheeseburger, which comes with double the patties and cheese slices.
by CHLOE.
Silver Lake
Fully-vegan By Chloe has two burger options, The Classic Burger and The Guac Burger. The first is comprised of of their tempeh-lentil-chia-walnut patty, pickles, lettuce, tomato, onion, beet ketchup, and special sauce, all on a potato bun. And the second is made up of their black bean-quinoa-sweet potato, guacamole, corn salsa, lettuce, tomato, onion, tortilla strips, and chipotle aioli on a whole grain bun.
Doomie's Home Cookin'
Hollywood
Choose from the Classic Cheeseburger, Bacon Cheeseburger, Chili Cheeseburger, Peanut Butter and Bacon, Western (onion rings, bacon, BBQ sauce), Memphis Burger at all-vegan Doomie's. Their burgers come with the expected bases, along with house-made cheese, lettuce, tomato, onion, and pickles on top, plus, a side of fries.
Healthy Junk
Anaheim
Vegan Healthy Junk also has plenty of burgers to choose from–their Classic Burger, Big Burger (4-ounce patty, lettuce, onion, tomatoes, pickles, Thousand Island), Anaheim Chili Pepper Burger, Portobello Burger, BBQ Chicken Burger, Crispy Chicken Burger, and Spicy Chick Burger.
Mohawk Bend
Echo Park
Looking to try the Impossible Burger? Then order The Big Mohawk at Mohawk Bend. It's two Impossible Burger patties, shredded lettuce, special sauce, vegan American cheese, pickles, and onions on a sesame seed bun. But if you want something lighter, there's also their Southwest Vegan Burger, which is their own patty topped with arugula, tomato, crispy onions, and jalapeno aioli, all on a potato bun.
Native Foods
Westwood & Costa Mesa
Native Foods' Native Double Cheeseburger is two Native patties, melted American cheese by Follow Your Heart, house-made pickles, red onions, shredded lettuce, Thousand Island dressing, and spicy BBQ sauce on a slightly-toasted, whole-wheat bun. Plus, it comes along with a side of seasoned fries, lemon dill potato salad, side salad, or steamed kale.
Organix
Eagle Rock
If you're searching for a vegan version of the Big Mac, head to vegan deli Organix for their Mac Daddy. And they've got other burgers too–their All-American, Castro (veggie-bean-seed patty with veggies, Chipotle aioli, whole wheat bun), Cali (their take on In-N-Out), Southern Belle (deep-fried chicken patty, Vegenaise, mashed potatoes, vegan gravy, sesame seed bun), and Spicy Crispy Chicken Burgers. Add avocado, vegan cheese, kale, vegan bacon, or extra meat to any of them for $2 extra.
Seabirds Kitchen
Long Beach & Costa Mesa
Seabirds totally-vegan menu includes their Beets Me Burger, which is their house-made shiitake, beet, and chia patty topped with almond butter, grilled onions, arugula, dill pickles, herb mayo on a burger bun, and served with their natural cut fries.
Veggie Grill
Multiple Locations
Try out the Beyond Burger by ordering Veggie Grill's VG Beyond Burger, which is a classic burger with the Beyond patty. Or, there's also their Steakhouse Burger, which has ingredients like steakhouse sauce and VG bacon. Or, their Lucky Star Burger, which includes blue cheese sauce and balsamic onions toppings, on a pretzel bun. Additionally, there's their Grilled Quinoa + Veg Burger–their scratch-made veggie burger with toppings like Gouda, veggies, mayo, and pesto, on a brioche bun. Add sliced avocado to any for $1.25. And, all come with a side.
Word of Mouth
Multiple Locations – See Their Website for Their Schedule
Word of Mouth offers their WOMT Classic Burger, which is made up of sweet potato + black bean patty, Follow Your Heart American cheese, lettuce, tomato, onion, pickle, and mayo; plus, their Western Cheeseburger–the same patty and cheese, mushroom bacon, onion rings, and BBQ sauce. Both are served with a simple salad, or you can upgrade to fries or a kale Caesar for $2. The vegan food truck also offers add-ons of BBQ sauce, cashew ranch, cashew sour cream, buffalo sauce, and nacho cheese for $1 each.
Beelman's
DTLA
This 100% vegan pub serves the Impossible Burger–Impossible Meat, Chipotle Aioli, Tomato, Greens, Spicy Ketchup, Pickles on Brioche Bun. And while you're there, you might as well get a side of Beelman's famous Tachos as well–Tater Tots, Soyrizo, Cashew Cheese, Salsa, Gochujang Crema, Housemade Pickled Jalapenos, Pinto Beans & Cilantro.
Monty's Good Burger
Koreatown & Riverside
One of the newest plant-based spots in LA, Monty's makes ordering easy. Choose either a single or double, add fries or tots, and dipping sauces. Made with Impossible Burger patties, Monty's burgers are as close to the real thing as you can get. Monty's has vegan milkshakes too!
Symphony Barnes
@symphonybarnes
Symphony is a Southern California native who is passionate about health and wellness. She enjoys writing, living in California, and sharing her vegan lifestyle. Symphony graduated from Pepperdine University with a Bachelor of Arts in Journalism.
Articles by Symphony
More from VegOut
Subscribe Now
Get the premier vegan food and lifestyle magazine delivered to your door (or inbox!)
Order the magazine!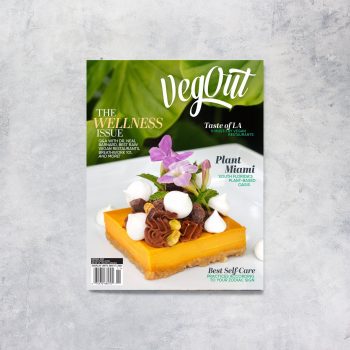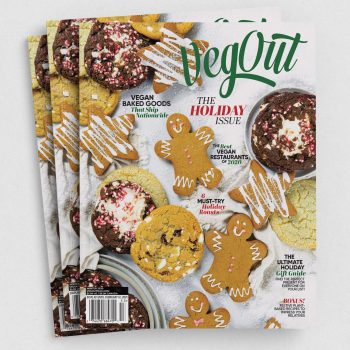 Navigation