Back
11 Store-Bought Vegan Yogurt Brands We Love
Ditching dairy doesn't mean you have to give up yogurt as a delicious and healthy snack. In 2020, it has never been easier to find a dairy-free yogurt in your favorite flavor, so all you have to do is make a simple swap. To help our already plant-based friends, along with those who just want to reduce their dairy consumption, we've compiled a list of our favorite dairy-free yogurts! Try them out and let us know what you think.
Nancy's Plain Oatmilk Yogurt
Tangy and delicious, you won't miss dairy yogurt after trying this. Boasting zero grams of sugar and protein derived from fava beans, it is a great base for a delicious bowl with fruit and granola. This one is a great option regardless, but especially so if you can't eat soy or nuts.
Lavva Plant-Based Yogurt
Lavva yogurt, a newer plant-based yogurt on the scene, is made with coconut, plantains, cassava root, and pili nuts, which are grown in Southeast Asia and are rich in magnesium and Vitamin E. This yogurt is so velvety and clean, and another great perk is that all flavors—even the fruit ones—are unsweetened (if you're into that sort of thing).
Culina Coconut Yogurt
This vegan yogurt is thick (no, like, really thick), craft-fermented, and loaded with billions of gut-healthy probiotics. Culina comes in flavors such as Blueberry Lavender, Strawberry Rose, Bourbon Vanilla, and Plain and Simple. The ingredients list cannot get more wholesome, containing no gums, starches, or fillers. Even better, the yogurt comes in glass jars that you can reuse, upcycle, or recycle. No food waste here!
Forager Project Yogurt
Forager Project created a line of cashew-based yogurts that come in Plain, Vanilla, Blueberry, Strawberry, Lemon, and Cherry flavors. The brand uses cashew milk, along with coconut milk, natural thickeners, and live active cultures. Plus, their plant-based protein line includes a unique blend of watermelon seeds, pumpkin seeds, and brown rice to boost its protein content.
Kite Hill Artisan Almond Milk Yogurt
If you've tried Kite Hill Cream Cheese, you know this brand has got it going on. Kite Hill later created a line of almond milk yogurts (both regular, and more recently, Greek-style) in your usual flavors, such as plain, vanilla, peach, blueberry, and strawberry. This stuff is seriously good.
So Delicious Yogurt Alternatives
We just couldn't choose between So Delicious oat milk and coconut milk yogurts, so we suggest you try both and decide for yourself. Rich, creamy, and always vegan, gluten-free, and non-GMO verified, this yogurt is an easy-to-find dairy-free treat. With sweetened and unsweetened options, and with seemingly endless flavors, you're sure to find some new favorites among this brand.
Le Grand Plant-Based Yogurt Alternative
Le Grand is a new kid on the block that offers a wide variety of vegan products, including yogurts made from cashews. Boasting the USDA Organic label, along with being gluten-free, preservative-free, and non-GMO, this yogurt is another super clean, delicious, and dairy-free alternative available to you. Their current flavor offerings are: Creamy Cold Brew, Creamy Vanilla, Creamy Mixed Berries, Creamy Unsweetened, Creamy Raspberry, and Creamy Lemon. Something tells us these yogurts are … creamy.
Silk Almond Milk Yogurt
One of the OGs when it comes to dairy-free alternatives, Silk has got you covered with oat, almond, and soy yogurts, in all of your favorite flavors. Though many are higher in sugar, they each have added calcium and vitamin D, and are cholesterol-, dairy-, soy-, lactose-, gluten-, carrageenan- and casein-free. Silk is also easy to find in standard grocery stores, so pick one up (or several, if we're being honest) and give it a try!
Chobani Oat Yogurt
You may know Chobani only from your pre-vegan days, but they've adapted to growing demand for more plant-based options by creating a line of oat milk products, and we honestly couldn't be happier. They now offer oat yogurts in Vanilla, Peach Mandarin, Blueberry Pomegranate, and Strawberry Vanilla. Taking it one step further, Chobani also introduced a line of mix-in yogurts, with flavor offerings of Blueberry Almond Crumble, Peach Coconut Crisp, and Strawberry Granola Crunch.
Harmless Harvest Coconut Yogurt Alternative
Your favorite coconut water has entered the yogurt scene. Made with organic, hand-scooped meat from young Thai coconuts, Harmless Harvest is soy-free, certified USDA organic, 92% fair trade, and contains no artificial stuff in the ingredient list. Naturally cultured with 7 live and active yogurt strains, it's available in Plain, Strawberry, Vanilla, and Blueberry. Dig in!
AYO Yogurt
Rather than using soy, oats, or coconut, AYO Yogurt sticks to organic almonds grown on their fourth generation farm in California's sunny San Joaquin Valley. AYO Yogurt comes in blueberry, strawberry, peach, and vanilla. These yogurts also boast a higher fiber content than most yogurts, with 7 grams per 5.3 ounce container. Now that's something we can get behind.
As companies have quickly realized that dairy is a thing of the past, we have more options now than ever before. Whether you are soy-free, nut-free, gluten-free, sugar-free, or all of the above, you can still find a vegan yogurt to fit your diet and taste buds. Giving dairy the boot benefits your health, animals, and the planet, so we hope you try some of our favorites and let us know how you like them.
RELATED: 6 Healthy Vegan Granola Brands to Try for Breakfast
---
Want even more vegan food, news, and lifestyle content? Subscribe to VegOut LA Magazine or VegOut NYC Magazine!
Chelsea Wilkins
@chelsea__wilkins
Chelsea is an attorney and Virginia native who spent two years living and working in Los Angeles. Passionate about climate change, energy policy, and food systems, she is currently completing a Master of Laws in Energy and Natural Resources Law at Queen Mary University in London. She discusses these topics and more in her newsletter, found at nettingzero.earth. Chelsea enjoys cooking, camping, hiking, and photography and has traveled to nineteen countries, seeking out the best vegan food she can find along the way.
Articles by Chelsea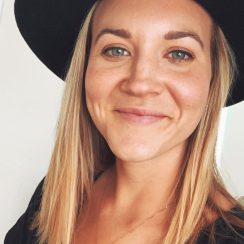 More from VegOut
Subscribe Now
Get the premier vegan food and lifestyle magazine delivered to your door (or inbox!)
Order the magazine!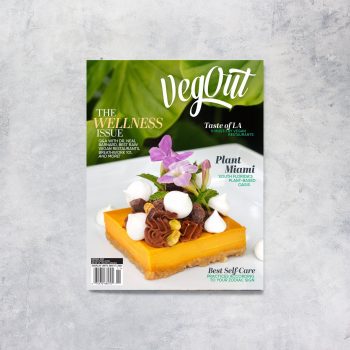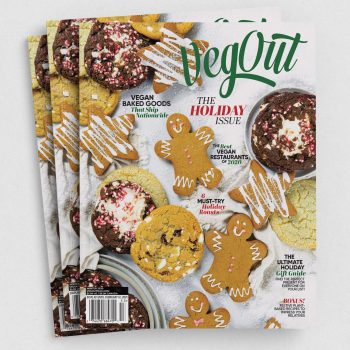 Navigation