Back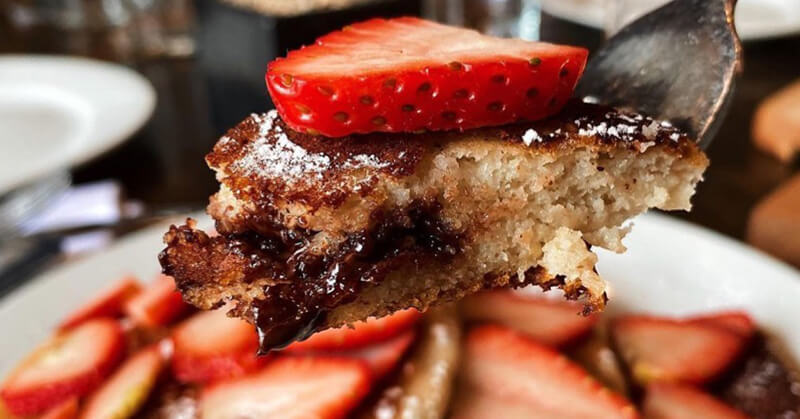 11 Best Vegan Brunch Spots in Los Angeles
Nothing screams "Los Angeles" more than an epic vegan brunch spread. C'mon, what's more satisfying than biting into a tall stack of pancakes with a mimosa to wash it all down? Absolutely nothing. If you agree with us, check out this list of our favorite all-vegan brunch-serving restaurants in LA!
Silver Lake
From their aesthetically pleasing patio and generous staff to outrageously delicious dishes and drinks, Little Pine's brunch passes the vibe check with flying colors! The charming Silver Lake restaurant offers a nice range of meals to kick off your weekend. For our sweet connoisseurs, order the Lemon Poppy Pancakes or Pain au Chocolat (chocolate croissant). If you're craving something savory, try the Avocado Toast, Nacho Mama, or fan-favorite Little Pine Burger. Can't choose between sweet or savory? Then order the Apple Sandwich to experience the best of both worlds. This innovative handheld is layered with apples, prosciutto, smoked gouda, avocado, peanut butter, heirloom tomatoes, capers, vegan mayo, and coleslaw on toasted sourdough bread.
Beverly Grove
If you haven't brunched on Nic's On Beverly's stunning patio, you're missing out on one of the most Instagrammable and delicious experiences of your life! From their classic Breakfast Sandwich and Benedict to their mouthwatering Wet Burrito, Tempura Avocado Tacos, and Falafel Burger, Nic's offers a wide range of noms to indulge in. One of our favorite dishes is the new waffle breakfast sandwich, The Waffler. Paired with a fresh and fruity Frosé, Blue Hawaiin, or glass of Sparkling Wine, your brunch is bound to be one for the books!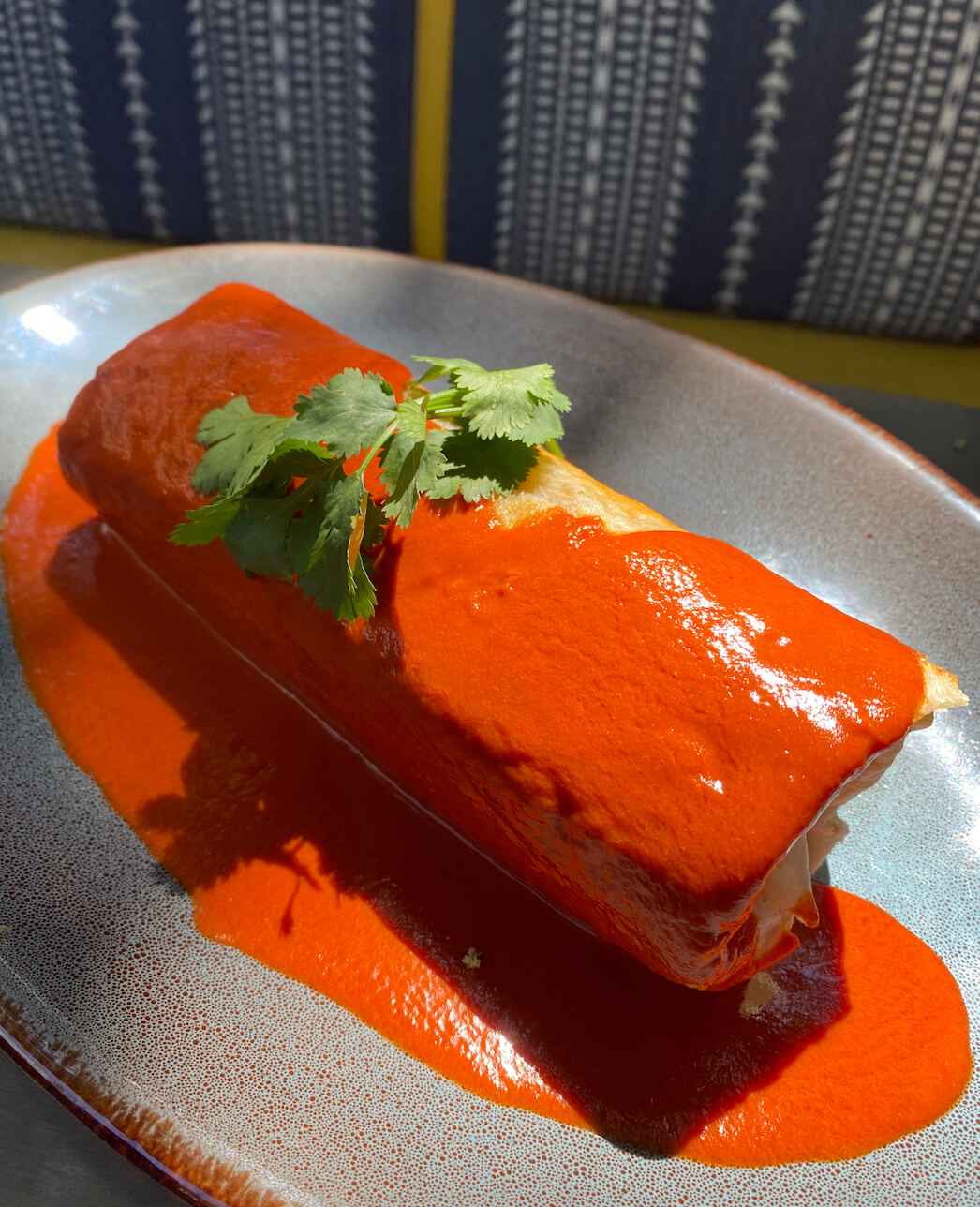 Beverly Grove
If you're looking to start your day with something a bit more innovative than a green smoothie or bowl of oatmeal, make your way to Crossroads! The brunch menu at this upscale eatery features unique dishes like the Spinach & Feta Frittata, Cheese Plate, Chicken & Waffles, and Stuffed French Toast. If you're looking to add some other options to your brunch spread, Crossroads also offers some of their iconic pasta, pizza, salads, and desserts.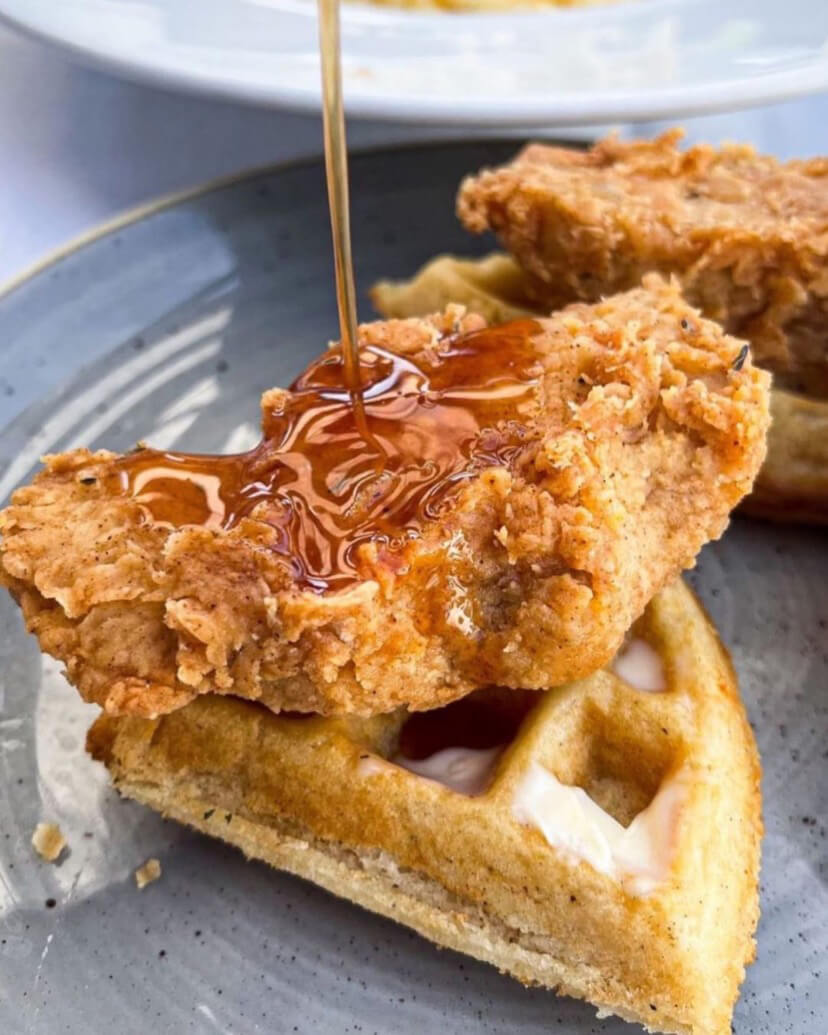 Photo credit: @mayortiz7 on Instagram
Echo Park, Pasadena, Culver City, & Agoura Hills
Brunch at Sage is always the move! The abundant offerings at this all-vegan restaurant range from Cornbread Jalapeño Pancakes, Chilaquiles, and Breakfast Tacos to Chia French Toast, Organic Wild Blueberry Pancakes, and a fresh and nutritious Açaí Bowl. Aside from the main plates, you can find pastries, smoothies, sides, and beverages on the brunch menu. But at Sage, brunch isn't just on the weekends! You can order their morning noms from 8-11am on weekdays and 8am-4pm on weekends.
Studio City
If you want to dine on the fresher side of the vegan scene, pop by SunCafe! This plant-based spot features nutrient-dense dishes with raw, gluten-free, and soy-free options galore. The Sun Florentine, Breakfast Burrito, and Super Sun Nachos (can be made raw when ordered with jicama) are perfect for all our savory dish lovers. For all our sweet-toothed vegans, we'd suggest ordering the French Toast GF Buckwheat Pancakes, or one of their many shakes and smoothies.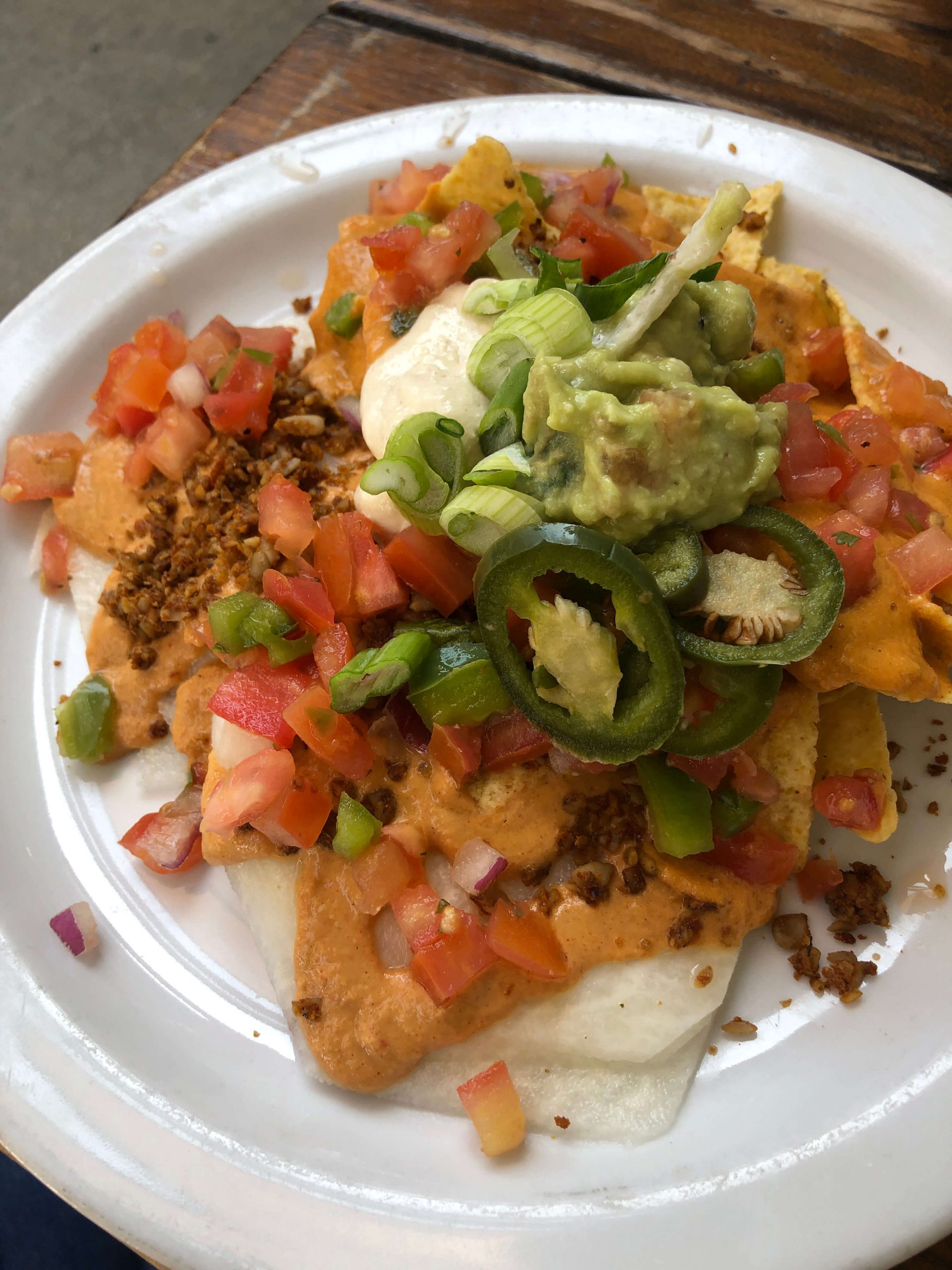 West Hollywood & Redondo Beach
Aside from serving mouthwatering pizza and pasta, this all-vegan Italian eatery has made quite a name for itself in the brunch category. From sweet and dreamy "Nutella" Pancakes to the savory and filling Queen Cornetto breakfast sandwich, Pura Vita has so many great options for you to start the weekend with. Maybe even order a mimosa or two if you're feeling it!
West Hollywood & Pasadena
Is anyone else obsessed with pizza? Well, thanks to Real Food Daily, you don't even have to wait until lunchtime to get your fix. That's because their brunch menu features an outrageously delicious Breakfast Pizza topped with tofu scramble, tater tots, tempeh bacon, and fresh cashew mozzarella cheese. Pro tip: Pull up with your brunch crew and order a few dishes to split so you can try multiple items—VegOut style!
Silver Lake
If you're looking for a place to grab some grub after stopping by the Silver Lake Farmers Market, head over to Flore Vegan! This locally owned plant-based hot spot has quite the show-stopping brunch menu with dishes like Huevos Rancheros, Chicken & Waffles, and Sriracha Avocado Toast. The restaurant's beverage options range from cold-pressed juices and smoothies to coffee, tea, and kombucha.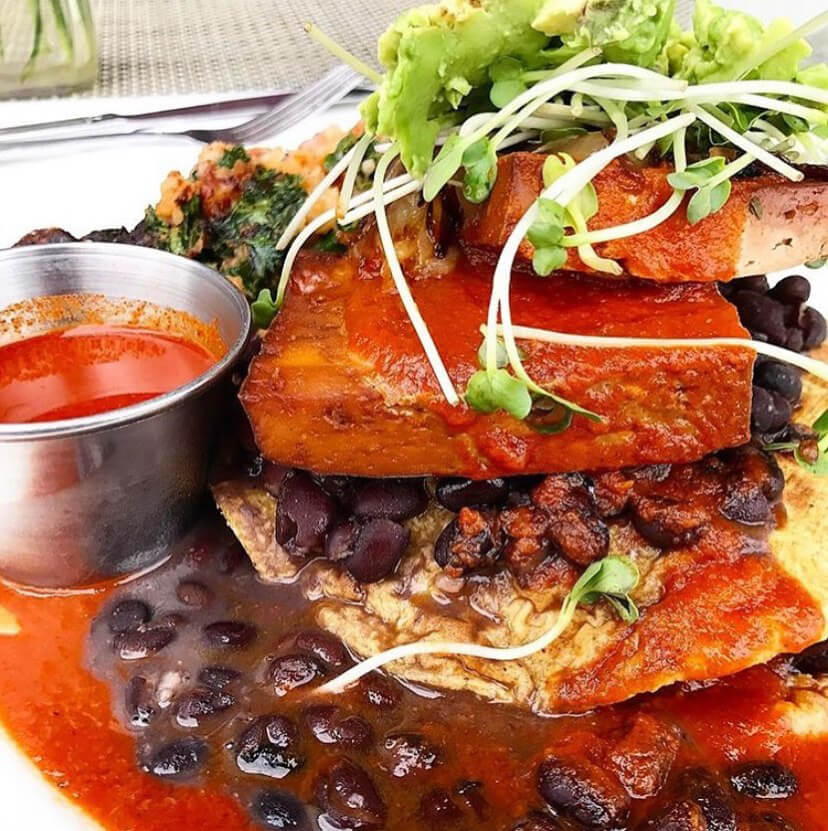 Photo credit: @veganfatkid on Instagram
Mid-City, Culver City, Redondo Beach, & Long Beach
For all you indecisive brunchers, The Grain Cafe is the perfect place to eat at! This restaurant has one of the largest breakfast menus in town with selections ranging from classic American favorites such as Egg & Bacon Bagels and Grain Pancakes to Mexican noms like Chilaquiles and Huevos con Chorizo. They even offer sweet AND savory crepes! So basically, what we're trying to say is this spot is the sh*t!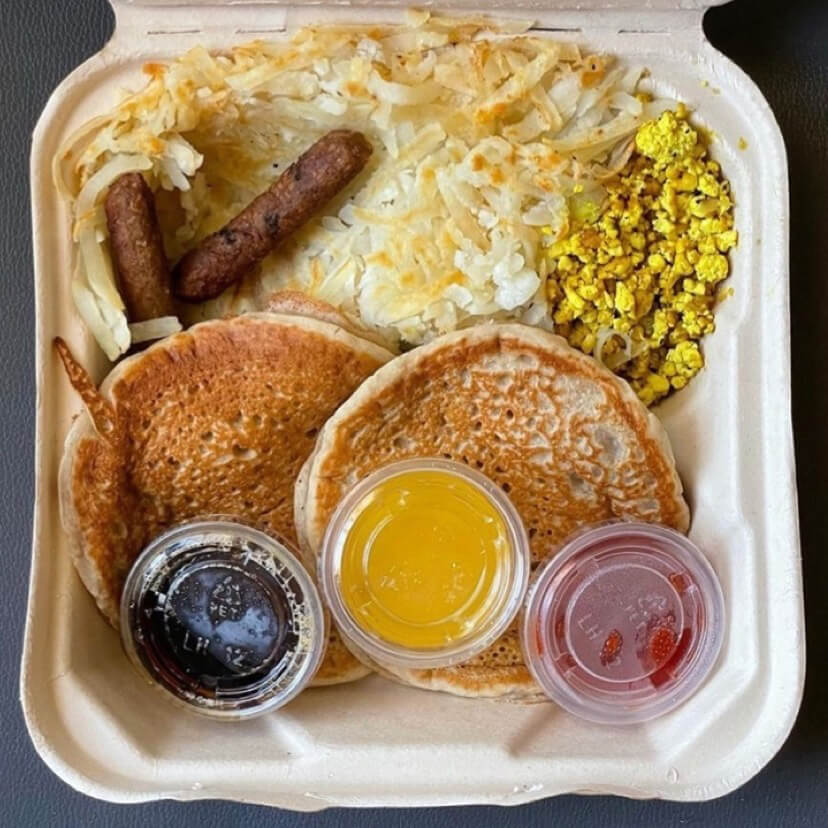 Photo credit: @mayastooth on Instagram
Long Beach & Costa Mesa
The Brunch Tacos from Seabirds Kitchen are proof that the iconic Mexican handheld can be enjoyed no matter what time it is! The tacos feature tofu scramble, walnut chorizo, red chile salsa, chipotle sour cream, fermented pico de gallo, and pomegranate seeds. Other standout menu items include the Biscuit Bomb, Chipotle Florentine, and Flax Jax.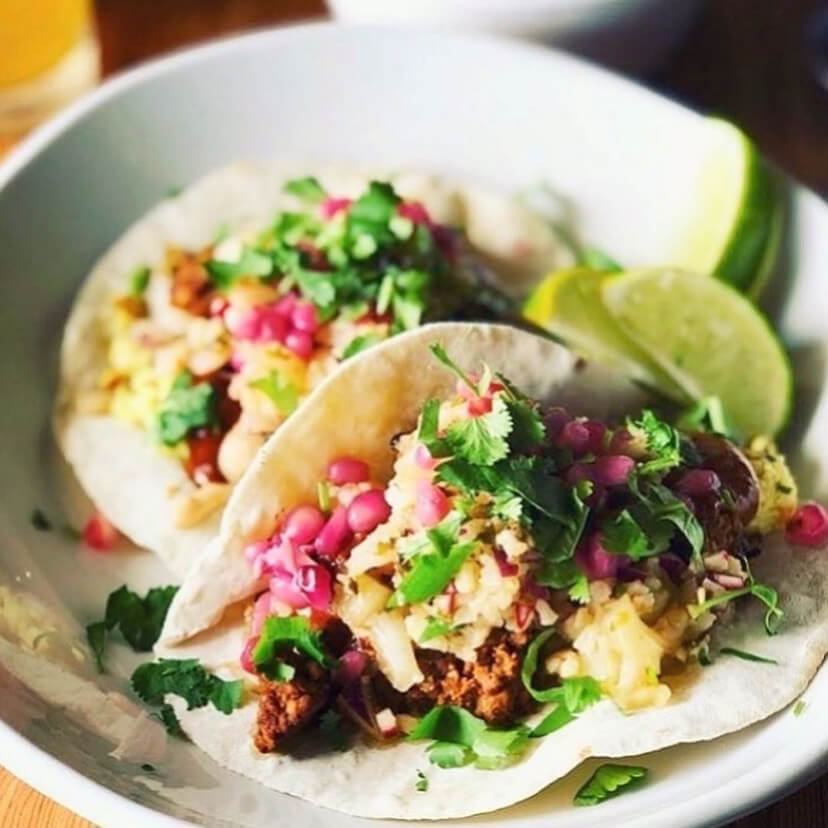 Long Beach
This vegan pop-up turned brick-and-mortar has some of the most mind-blowing brunch plates in the city. One of their most sought-after bites is the Monte Cristo, a caramelized potato French toast sandwich that's loaded with ham, cheese, strawberry jam, and maple syrup—with a generous dusting of powdered sugar on top! So, we'll see you there this weekend?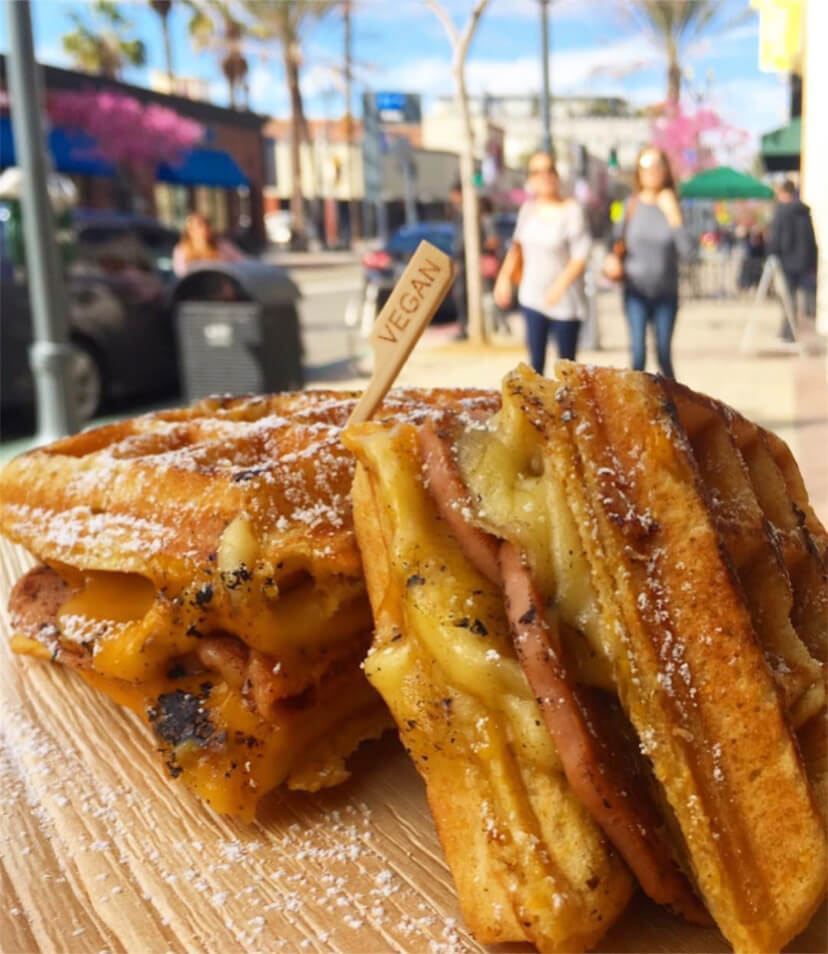 Allie Mitchell
@alliemitch
Allie is a writer, musical theatre performer, yoga instructor, and walking vegan restaurant directory. On any given day, you can catch her making tofu scramble, scouring Trader Joe's for new plant-based products, or watching The Lizzie McGuire Movie! Visit her website at alexandrammitchell.com.
Articles by Allie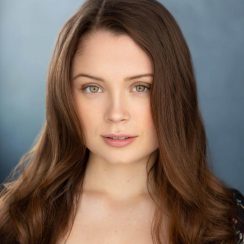 More from VegOut
Subscribe Now
Get the premier vegan food and lifestyle magazine delivered to your door (or inbox!)
Order the magazine!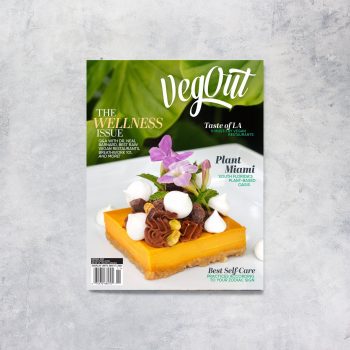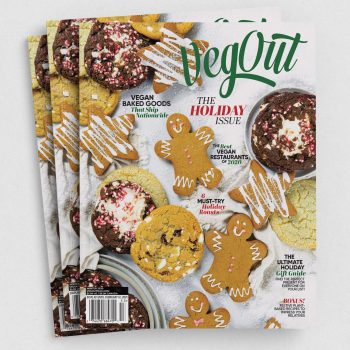 Navigation