America's favorite holiday is almost upon us and to make sure you're ready, we've rounded up some of the tastiest plant-based recipes for your Fourth of July BBQ.
Independence Day is coming up, and it's almost time to celebrate America—the land of the free and the home of the BBQ. If you want to be the ultimate pitmaster at your next cookout celebration, we've rounded up 10 vegan recipes perfect for your Fourth of July party. This selection of tasty treats is easy to make and will give your guests the perfect spread of appetizers, mains, sides, drinks, and desserts—guaranteed to please. Light your BBQ and check out below what we'll be grilling up this Fourth of July!
Corn on the cob is essential for every classic American BBQ. But with an added twist, this Grilled Corn with Sriracha Aioli recipe is sure to be a treat for your guests! With soaked cashews, sriracha, chili powder, lime juice, and nutritional yeast, this aioli is next level. The best part of this recipe? Corn is in season right now, so grab some fresh ears and get grilling!
Photo credit: Minimalist Baker
A cold drink on a hot summer day is a must. Go beyond the traditional cocktails and spice up your Fourth of July party this summer with a Red, White, and Blueberry Mojito—a classic drink with a patriotic twist. This cocktail is light and refreshing and will allow the fruity flavors of the fresh strawberries and blueberries to shine!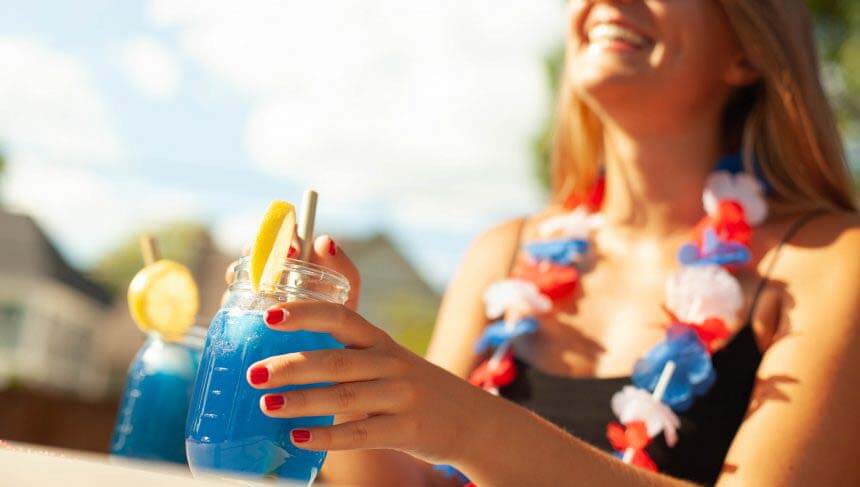 Photo credit: Amara Andrew
Nice, light, and oil-free, this Classic Vegan Coleslaw recipe is the perfect side dish to serve at your celebration. Even better? You can make it in less than 5 minutes, so no need to buy the store-bought stuff. Make it ahead of time and store it in your fridge for a day or two to yield the best results.
Photo credit: Nora Cooks
Everyone loves mac 'n' cheese, but this recipe is fire! Dubbed "The Best Vegan Mac N Cheese," this dish has the ratings and rave reviews to back it up. Topped with a light dusting of bread crumbs and spiced to perfection, this Baked Mac N Cheese is sure to be a hit at your Fourth of July BBQ. We can't promise there'll be any leftovers!
This deliciously creamy side dish couldn't be any easier to make! Seasoned with dijon mustard, fresh dill, paprika, celery seed, and old-fashioned salt and pepper, this Vegan Potato Salad will taste amazing and complement your other dishes perfectly. Make it ahead of time and store it in your fridge to make things easier on the day of your cookout.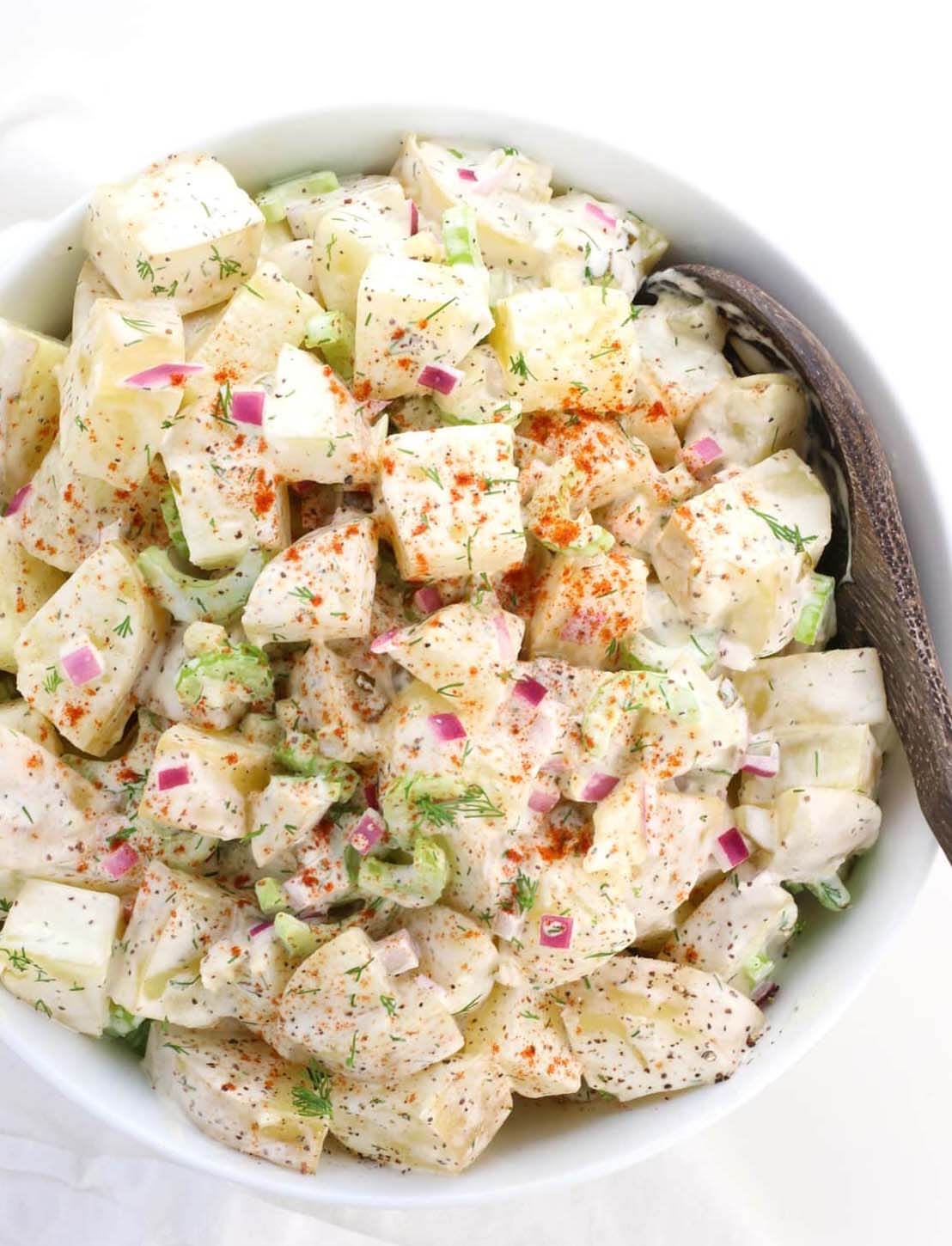 Photo credit: It Doesn't Taste Like Chicken
Need a recipe that's easy, fast, and sure to be a crowd-pleaser? These Grilled Veggie Skewers with Chimichurri Sauce are insanely delicious and stress-free. Get the whole family in on the action, and customize your own individual skewers together today! When the time comes, whip up the chimichurri sauce, slap the skewers on the BBQ, and let the heat work its magic—it couldn't get any easier!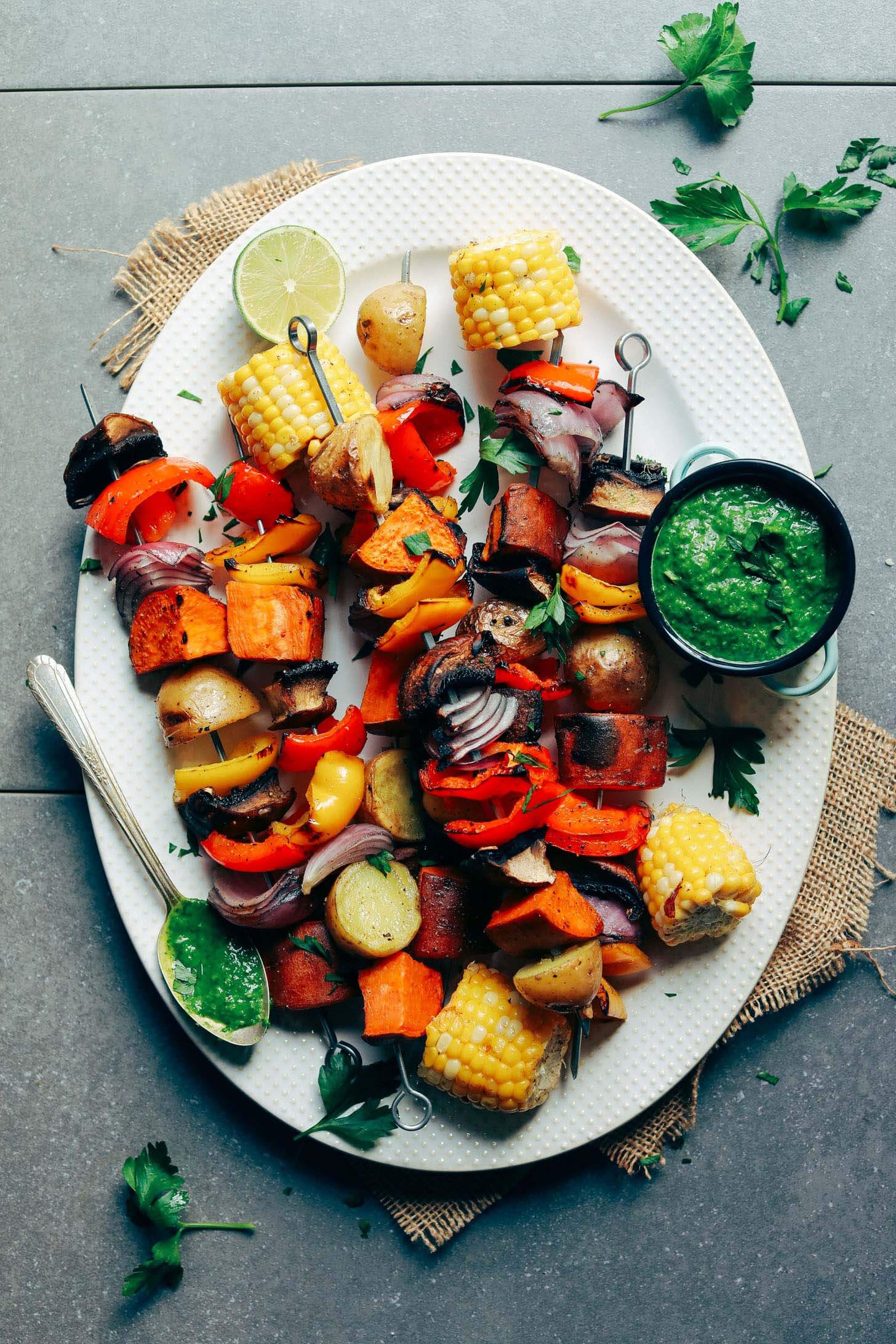 Photo credit: Minimalist Baker
Apple pies are the quintessential American dessert. But don't just make a classic apple pie—try out these Mini Vegan Apple Pies instead, which have all the same flaky, cinnamon-y goodness but in a fun size! Top with a scoop of vegan vanilla ice cream and a light drizzling of caramel sauce to elevate the dish and wow your guests!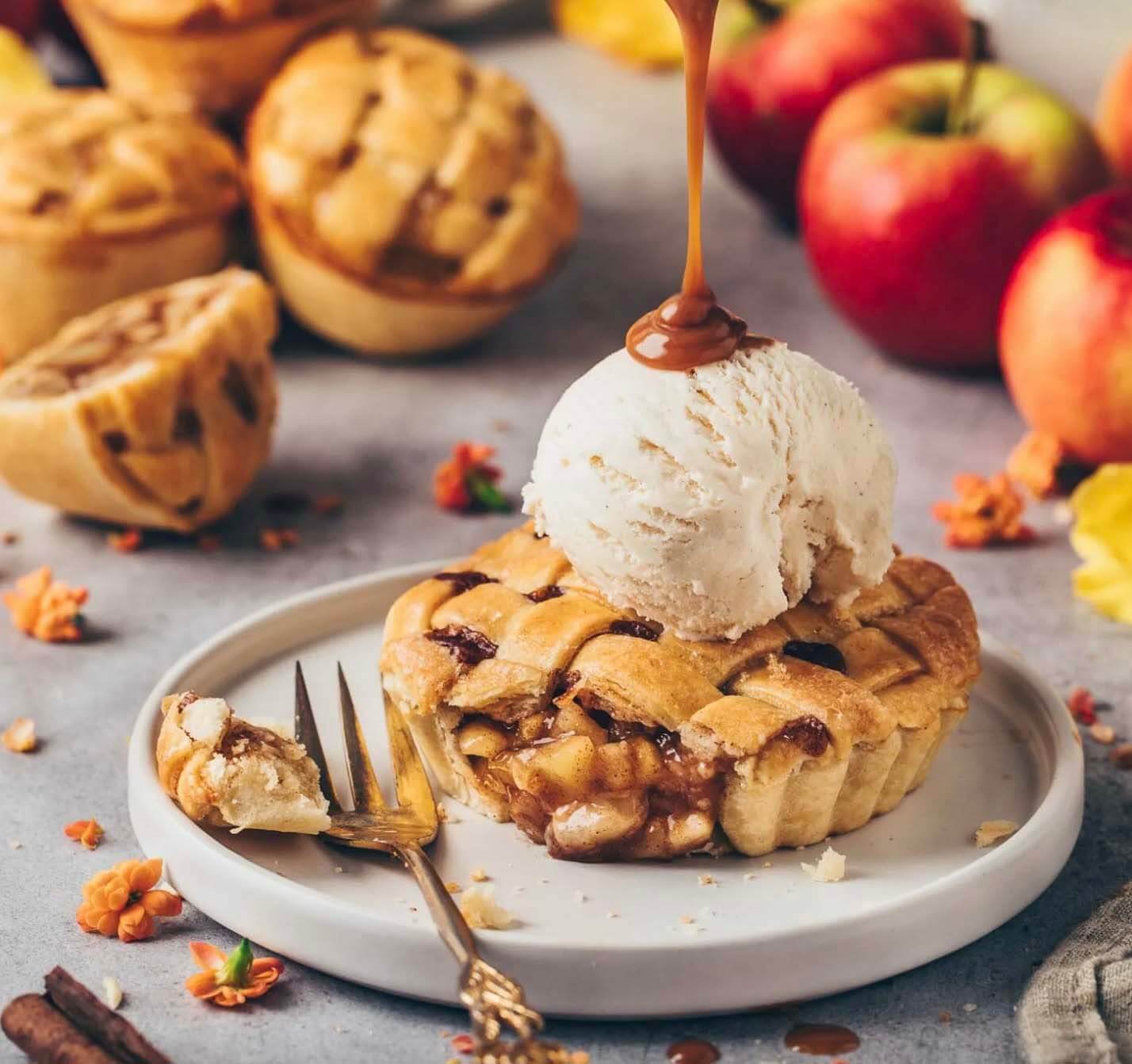 Photo credit: Bianca Zapatka
Looking to make a classic Caesar salad but don't know how to veganize it? Look no further, this crowd-pleasing Vegan Caesar Salad is the best side dish to offer your guests. Light and delicious, the creamy Caesar dressing and crunchy chickpea "croutons" make a mouthwatering combo to toss with some romaine lettuce.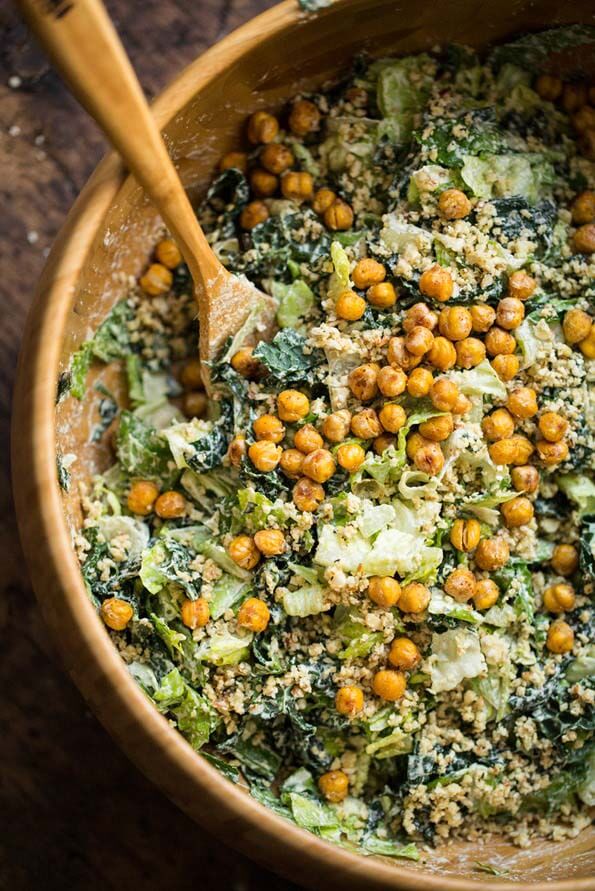 Photo credit: Oh She Glows
What would a cookout be without burgers? These Black Bean Burgers are known on the internet as being the best black bean burger recipe out there. Seasoned with BBQ sauce, Worcestershire sauce (choose a vegan brand), smoked paprika, garlic powder, and chili powder, these patties pack a flavorful punch! These thick, juicy, and hearty burgers are every vegan's dream. Make them ahead of time and pop them in the freezer so when the Fourth rolls around, you can just throw them on the BBQ! See recipe notes for vegan substitutions.
Photo credit: Sally's Baking Addiction
Entertaining doesn't have to be hard. This quick and easy Vegan Spinach Artichoke Dip is sure to leave your guests feeling satisfied and is fuss-free! Served with a side of pita chips or crackers, this dish makes the perfect appetizer, setting your dinner party up for success.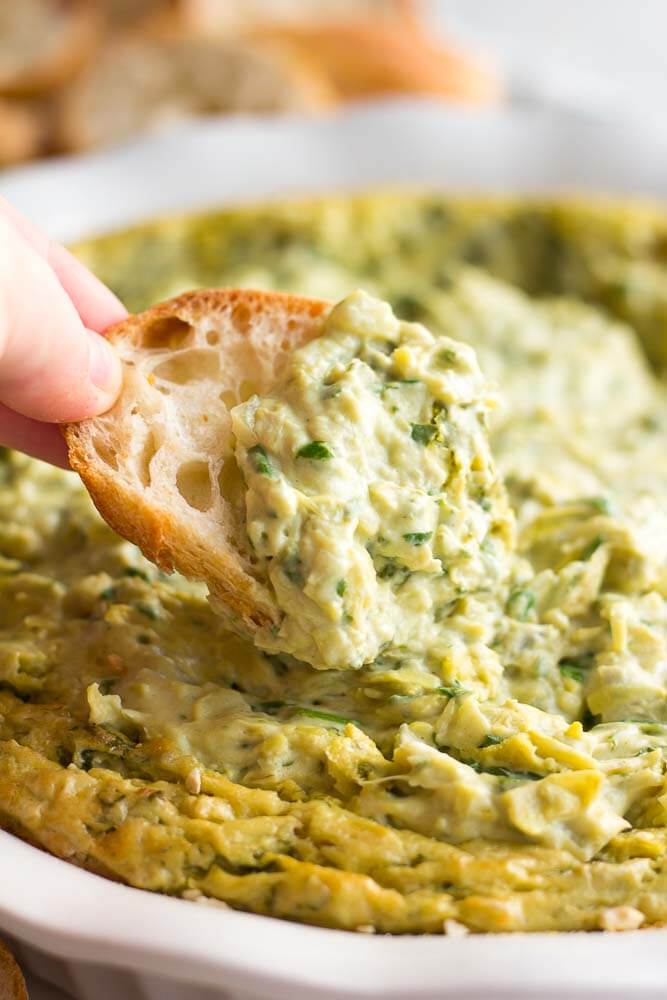 Photo credit: Nora Cooks