Back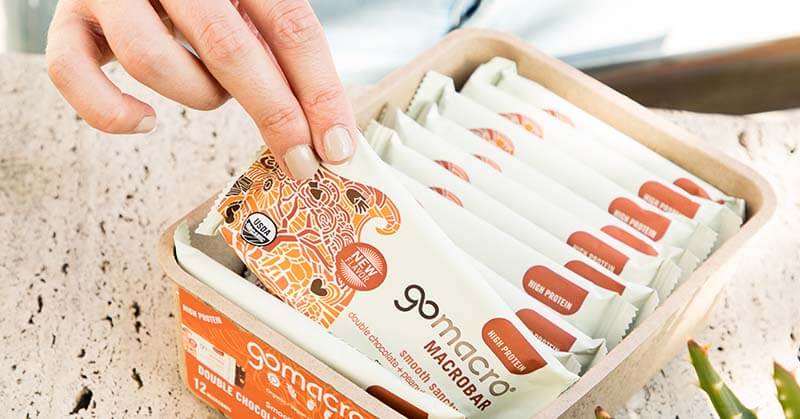 10 Vegan Protein Bars to Stock up On
Training for an athletic event or just need healthy snack ideas? We've got you covered! Here are ten brands that offer vegan-friendly protein bars to supplement your fitness and nutrition goals.
This mother-daughter owned business started out as a small operation in Viola, WI, but has now grown into a top-selling plant-based nutrition bar company. Gomacro bars are certified vegan and R.A.W (Real, Alive and Whole/minimally processed), gluten-free, soy-free, organic, and come in eco-friendly packaging. Some of our favorites include Oatmeal Chocolate Chip, Blueberry + Cashew Butter, and Maple Sea Salt. The newest flavor on the Gomacro scene—Double Chocolate + Peanut Butter Chips—tastes just like a classic peanut butter cup. Whether you're counting macronutrients or just looking for a sweet treat without added sugars, Gomacro has you covered!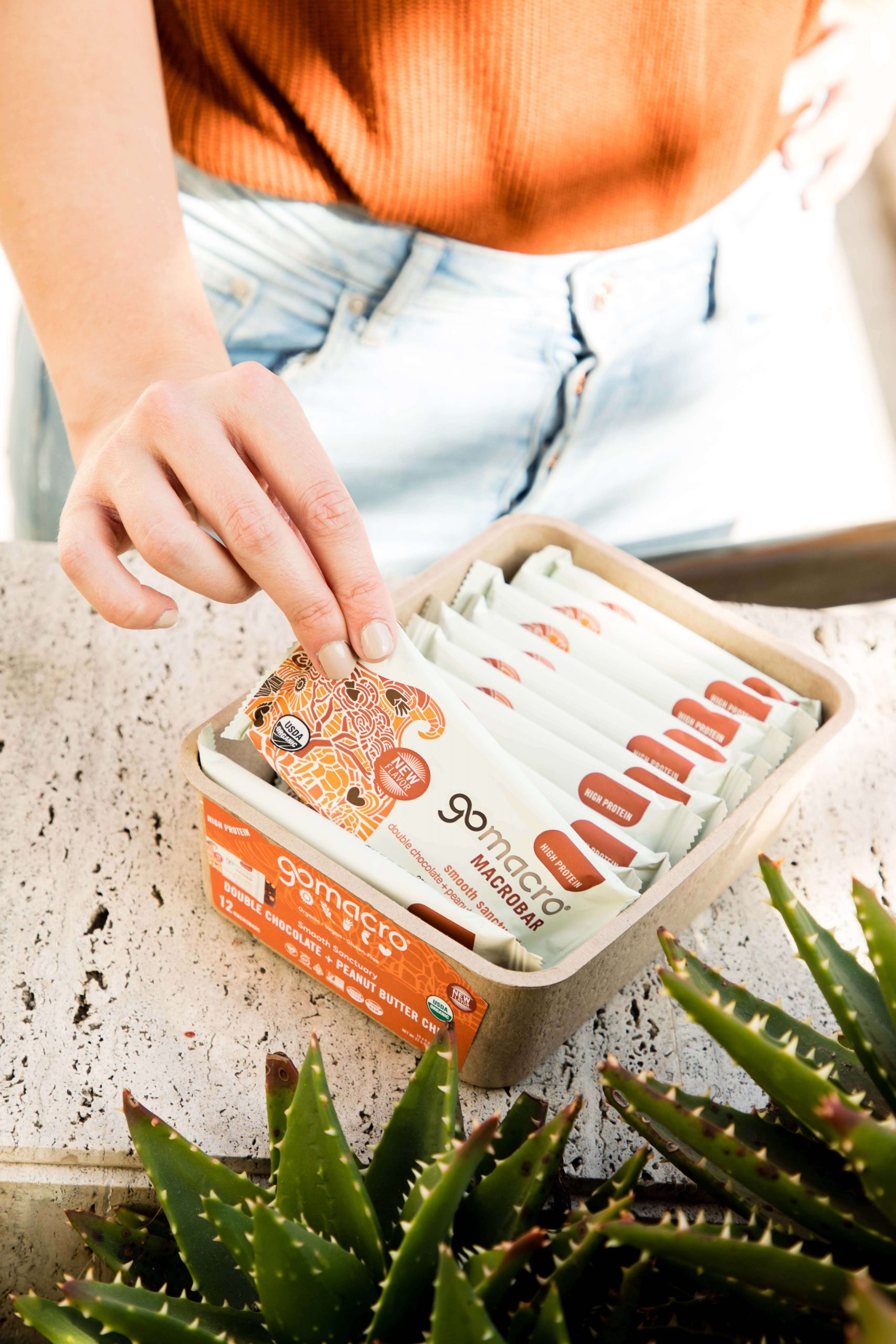 Raw Rev bars will leave you radiant from the inside out as they are made with 100% vegan, gluten-free, non-GMO ingredients. They are also free from preservatives, grains, and artificial sweetener. The Raw Rev Glo collection features eight different flavors, each high in plant-protein and only 2-5 grams of sugar per serving. We like to snack on the Birthday Cake and Chocolate Chip Cookie Dough bars, especially after a sweaty gym session. Raw Rev also makes organic fruit and nut bars that are perfect for a midday snack or dessert. Satisfy your sweet tooth with Chocolate Raspberry Truffle—a blend of almonds, cashews, chocolate and raspberry that is packed with superfood ingredients and tastes like the real thing.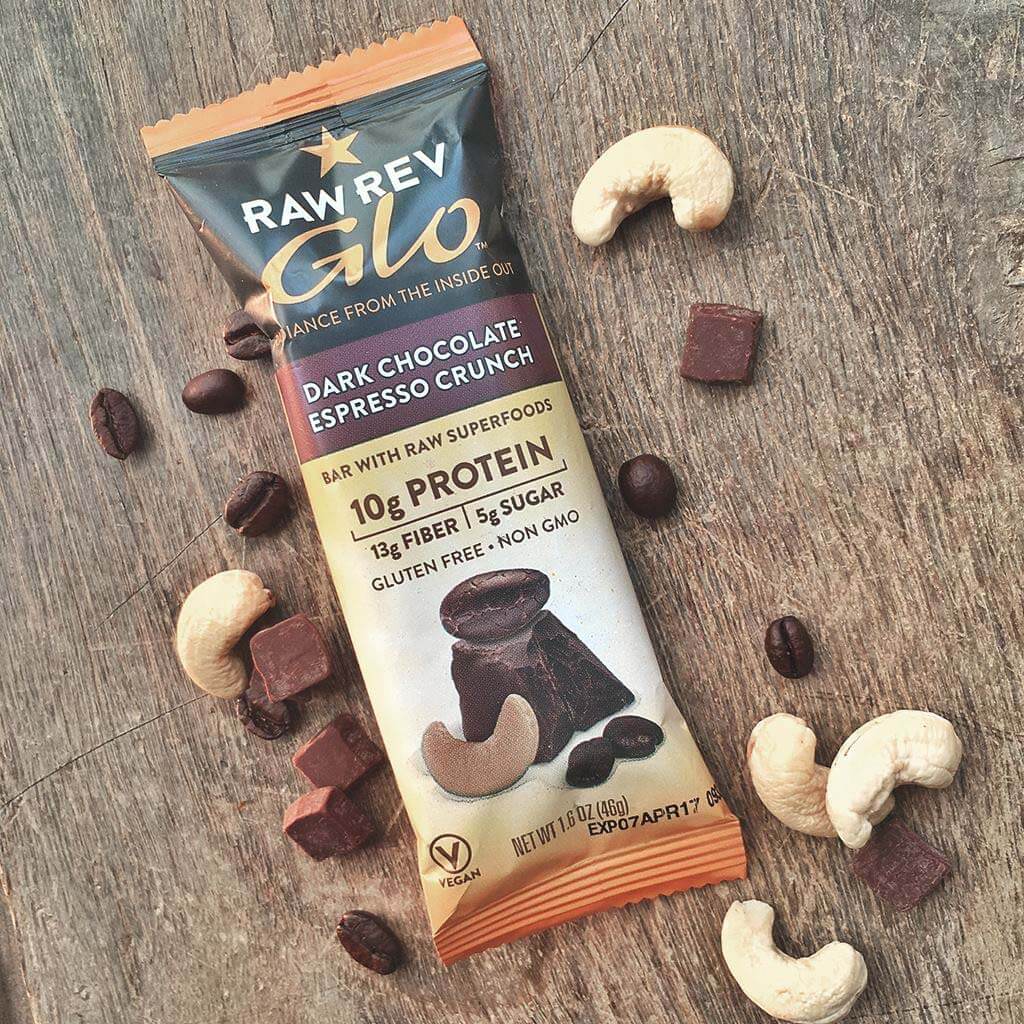 If you're looking for a bar that will provide long-lasting energy to get you through your day, look no further! Clif Bars are made with plant-based ingredients like organic oats, nuts, and seeds, and make for a perfect on the go breakfast or pre-workout snack. The Coffee Collection was introduced this past December and offers three flavors—Vanilla Almond Latte, Dark Chocolate Mocha and Caramel Macchiato—each containing one shot of espresso (65 mg caffeine). Clif's ingredient chart states that some products may contain trace amounts of dairy from manufacturing facilities, but there are no actual animal products in the ingredients. The Clif Whole Lotta Bar however is considered to be completely vegan as it is made in a separate facility to avoid any potential cross contact. Grab one of these tasty bars to fuel your next adventure!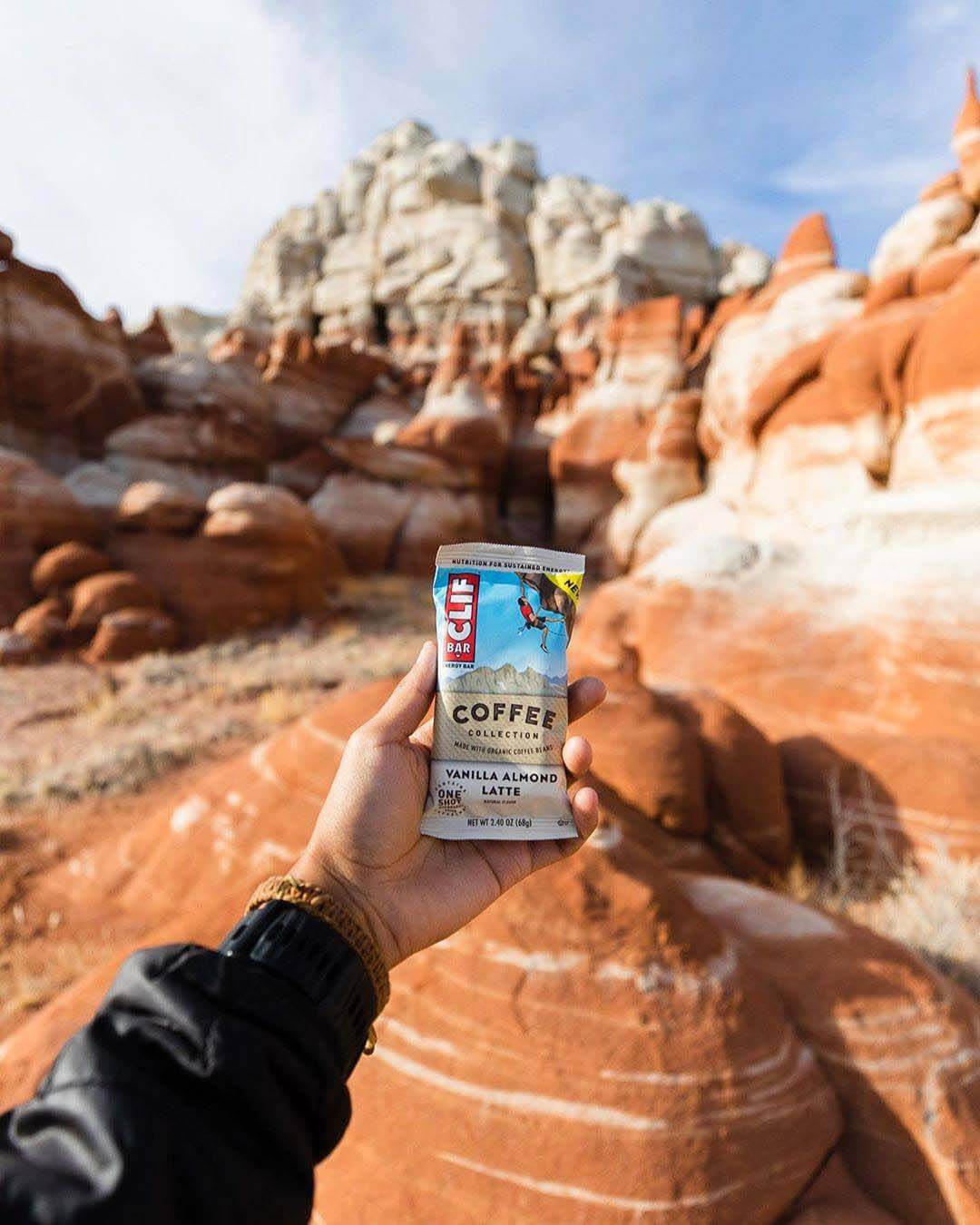 R.E.D.D.—Radiant Energy Deliciously Delivered—is exactly what these plant-based protein bars provide. Each has only 3-5g of sugar, 10g of protein, and is made with an adaptogenic mushroom blend. They are also gluten, soy, dairy and GMO free. Our favorites include the Chocolate, Peanut Butter, and Salted Caramel flavors. Each of these also contains pre- and probiotics, so you can stay on top of your gut health. If you're feeling fancy, you can dress up your R.E.D.D. bars with toppings like almond butter and fruit. You might think you're eating a decadent treat, but your body will thank you!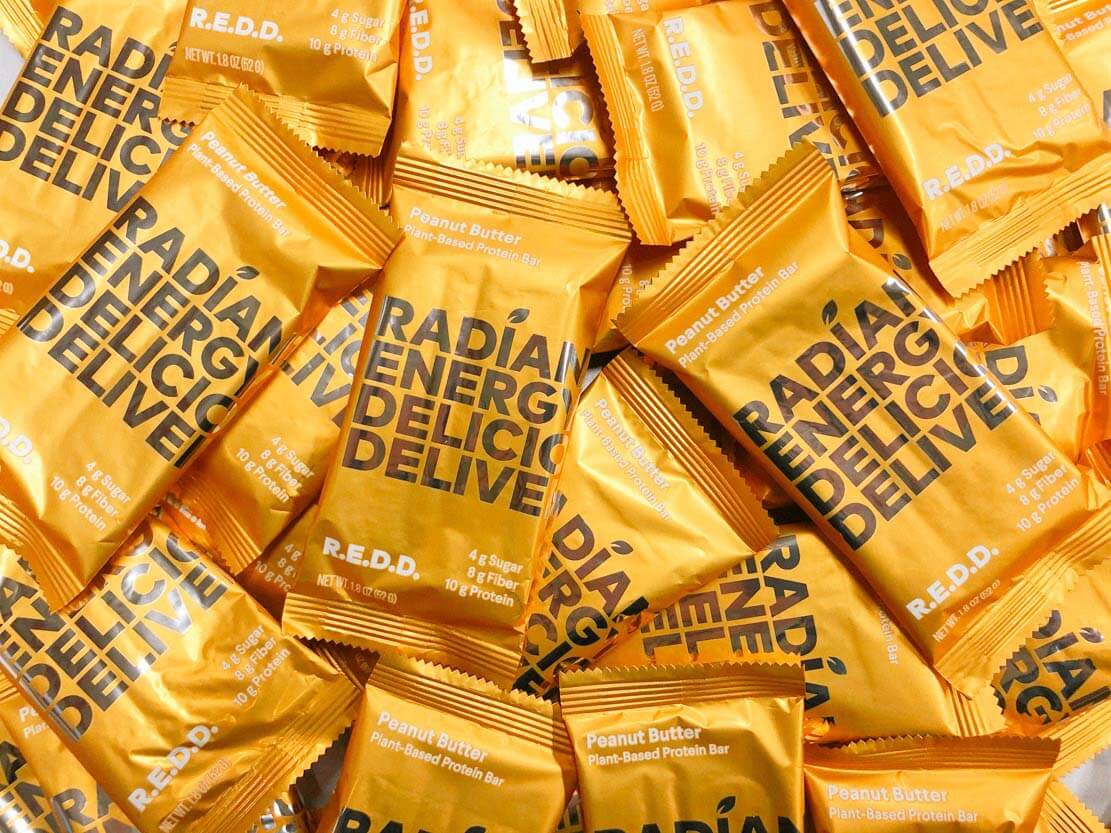 No cows here! These 100% vegan and keto-friendly bars provide about 20 grams of plant protein per serving and contain no dairy. They are also certified gluten-free and non-GMO. No Cow offers a variety of flavors like Birthday Cake (sprinkles included!), Chocolate Chip Cookie Dough, Chocolate Glazed Doughnut and more. With only 1g of sugar, you'll get the taste of your favorite sweet without a bunch of extra calories. If you need a pick-me-up but can't get to a coffee shop, try the No Cow Energy Bar, which is made with all-natural caffeine from patented coffee bean flour. Visit nocow.com to download a coupon for $1 off any 2 No Cow bars!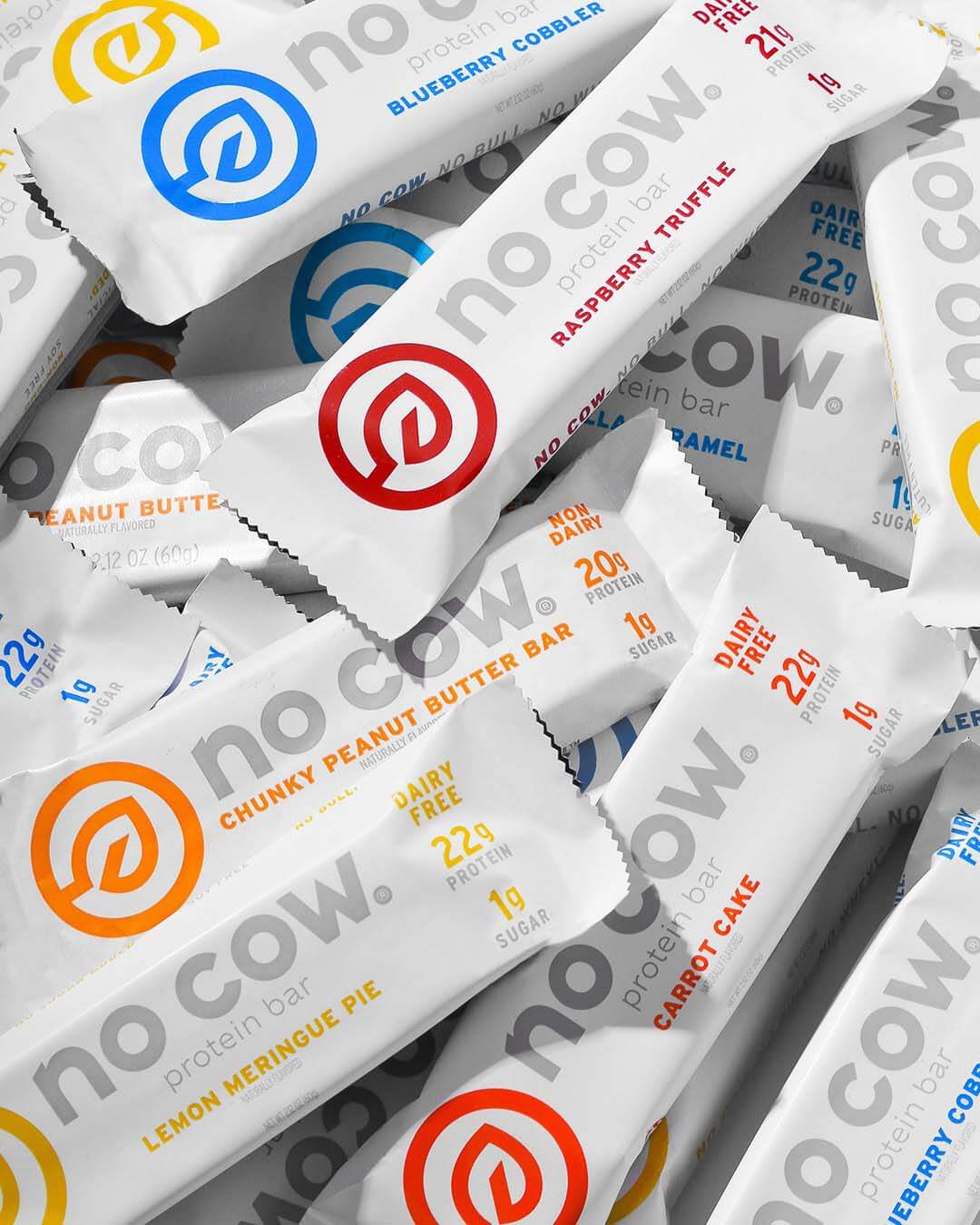 Less is more with Larabar Protein as each bar is made with eight or fewer ingredients and packs 11 grams of plant-based protein from peas and nuts. Choose from Lemon Blueberry Muffin, Apple Cobbler, Chocolate Peanut Butter Cup, and Almond Butter Chocolate Brownie—YUM! All flavors are gluten-free, vegan, and contain no preservatives, fillers or colorings. We like to snack on these in between meals or as a topping on a warm bowl of oatmeal.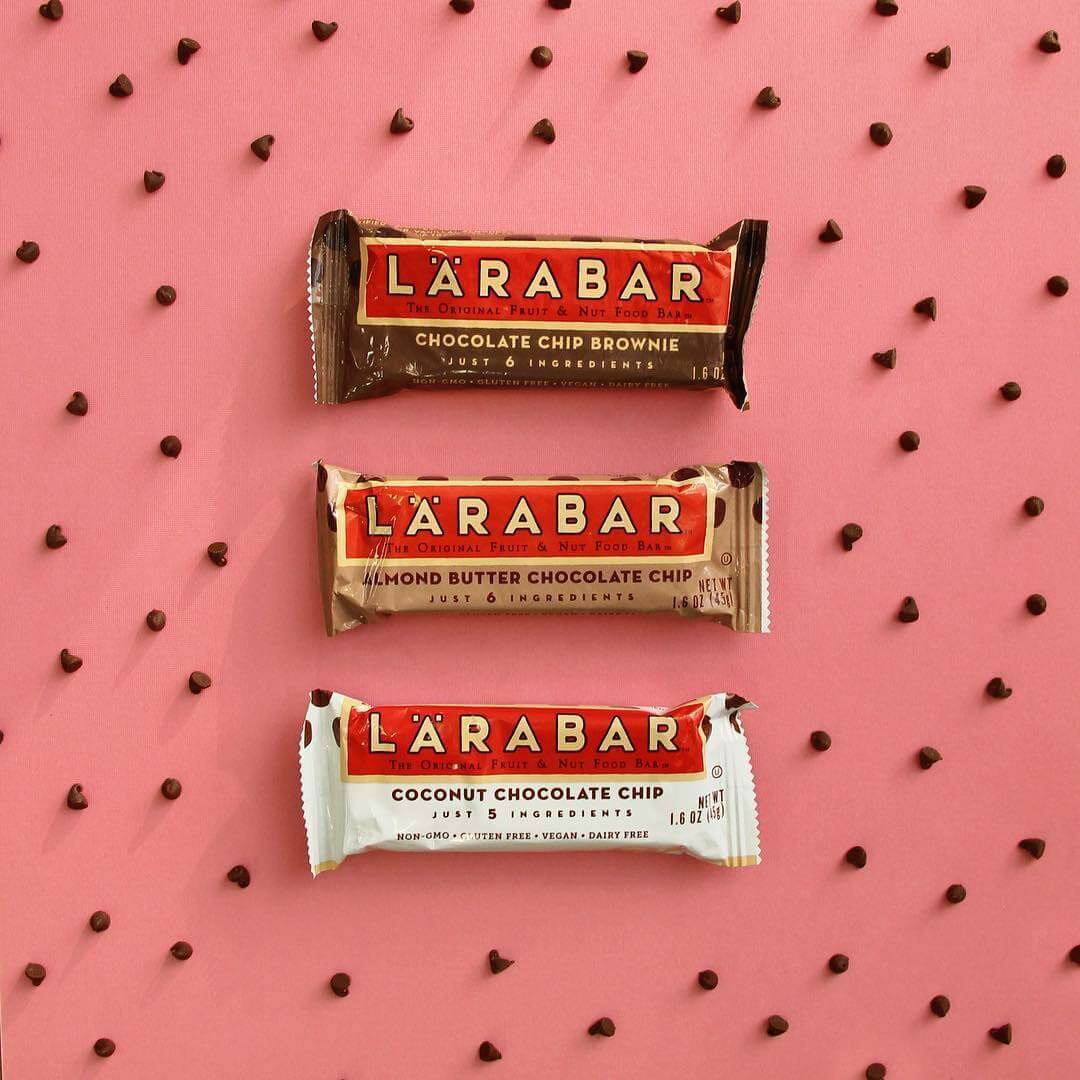 NuGo offers a variety of plant-based bars in their Dark, Slim, Gluten Free, Fiber, and Organic lines. NuGo stands out from other nutrition bars as they only use real dark chocolate as opposed to vegetable fats or palm oil. The brand also makes vegan protein cookies that hold 16 grams of protein and 12 grams of fiber, and do not contain margarine or soy ingredients. Choose from flavors like Peanut Butter Chocolate, Dark Chocolate Chip, Double Chocolate, and Oatmeal Raisin. We'll have one of each, please!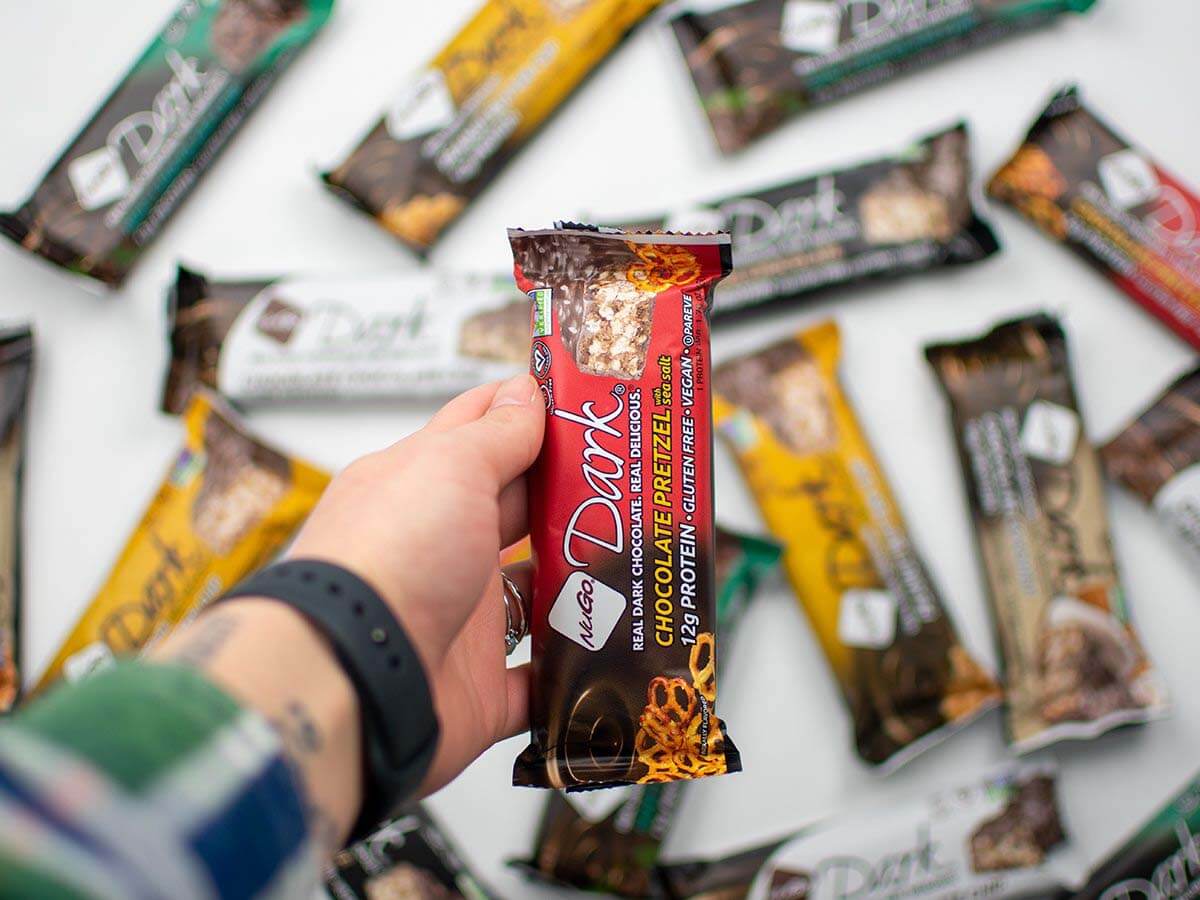 ProBar packs 20g of plant protein into their bars—great for post workout recovery or a quick breakfast. ProBar Protein is also filled with chia and flax seeds for sustained strength and energy. You can choose from a number of flavors, including our favorite—Frosted Peanut Butter. In addition to their protein line, the company also makes LIVE Probiotic Bars, Bolt Energy Chews and Organic Nut Butters. Whether you've just finished a spin class or have a long day of work ahead, ProBar is here to help you achieve those plant-based gains!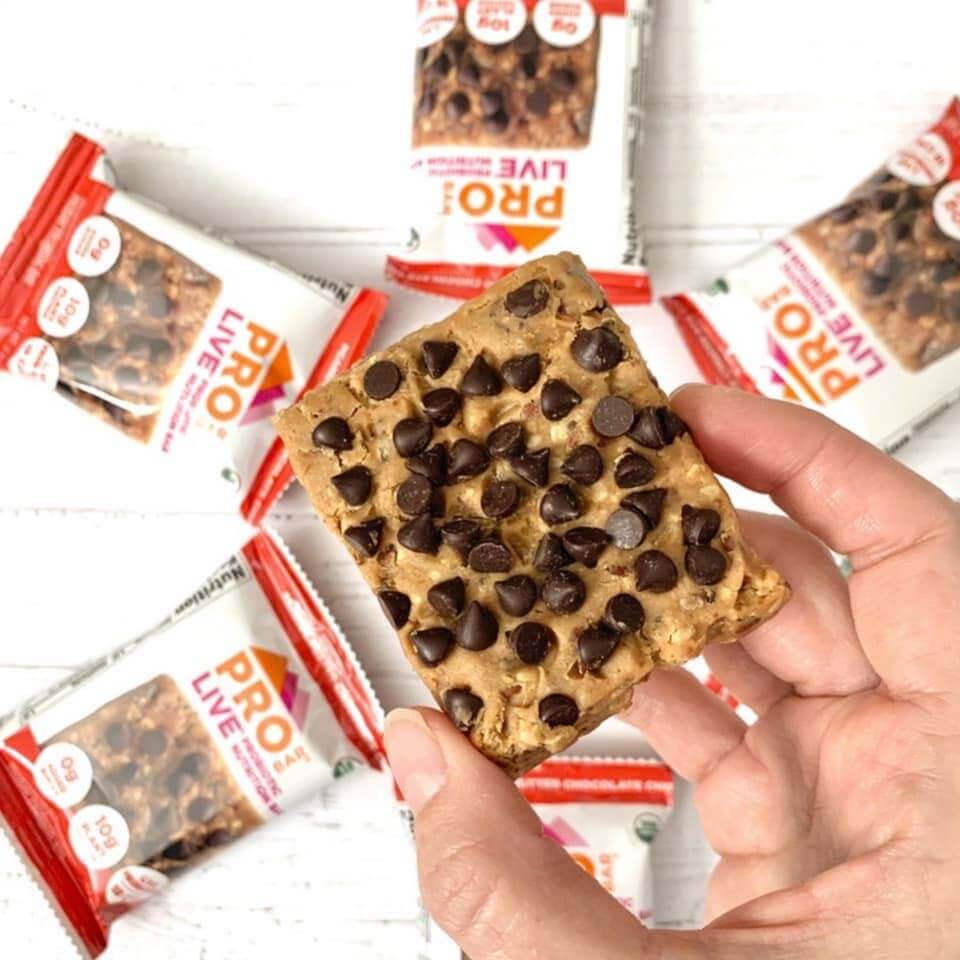 Created by professional nutritionists, Zing Bars were designed to offer the perfect balance of high protein, carbs and fats to help our bodies thrive. There are ten vegan options, each made with 10 g of protein and dietary fiber. The Dark Chocolate Mint bar tastes just like a Thin Mint cookie and is our go-to when we're craving a chocolaty treat. Zing products are also soy-free and do not contain gluten. Stay fueled and focused with these amaZing bars!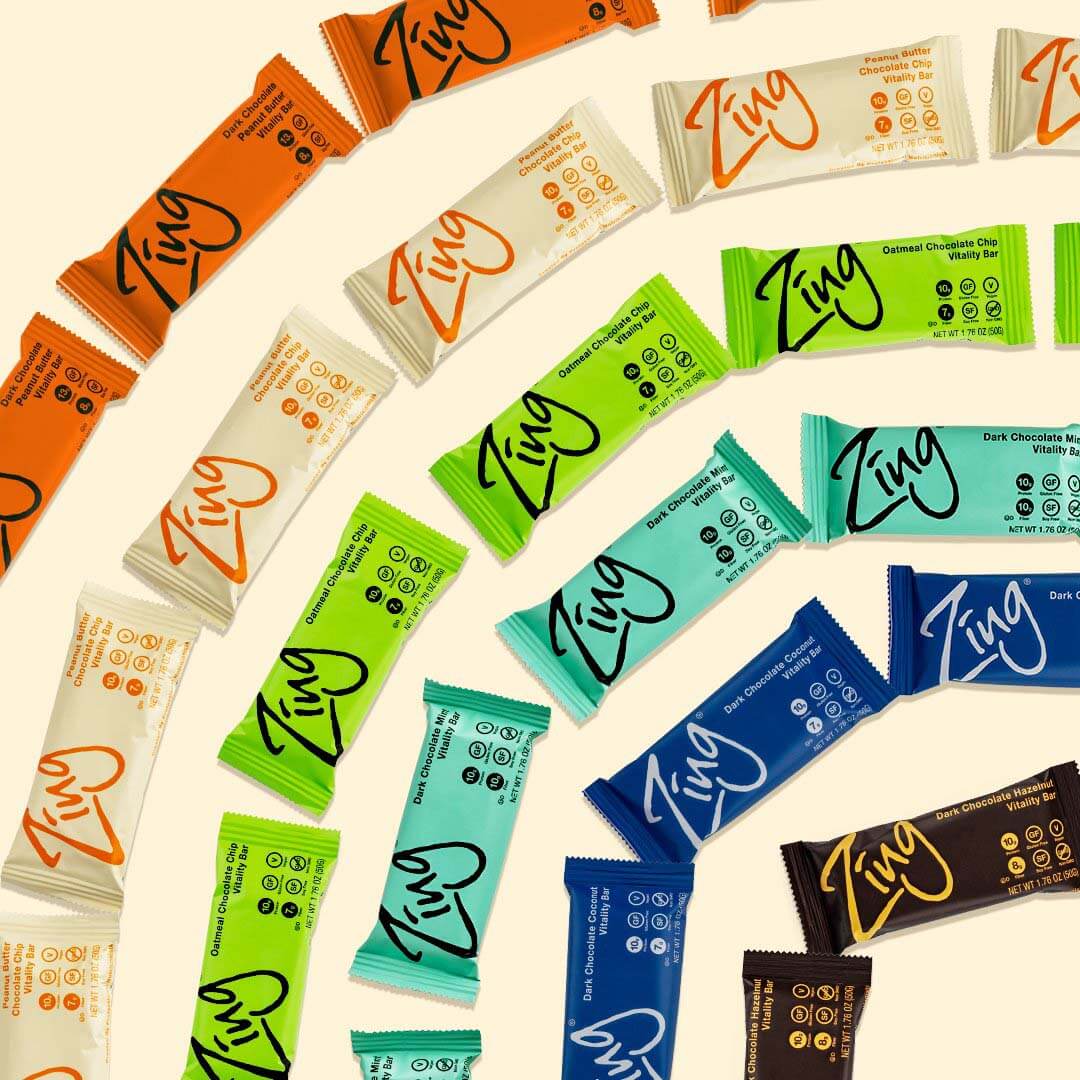 Enjoy Life makes it possible for everyone to try this tasty snack as the Protein Bites are vegan and free from 14 common allergens. Each bite is filled with 6g of plant-based protein per serving and blends ingredients like sunseed butter and chocolate to create a truffle-like taste and texture. Indulge in flavors like Dark Raspberry and Dipped Banana, or turn up the heat on your snack game with the Cinnamon Spice Protein Bites. If you like the creaminess of peanut butter but are allergic to nuts, go for the Sunseed Butter Bites. Happy snacking!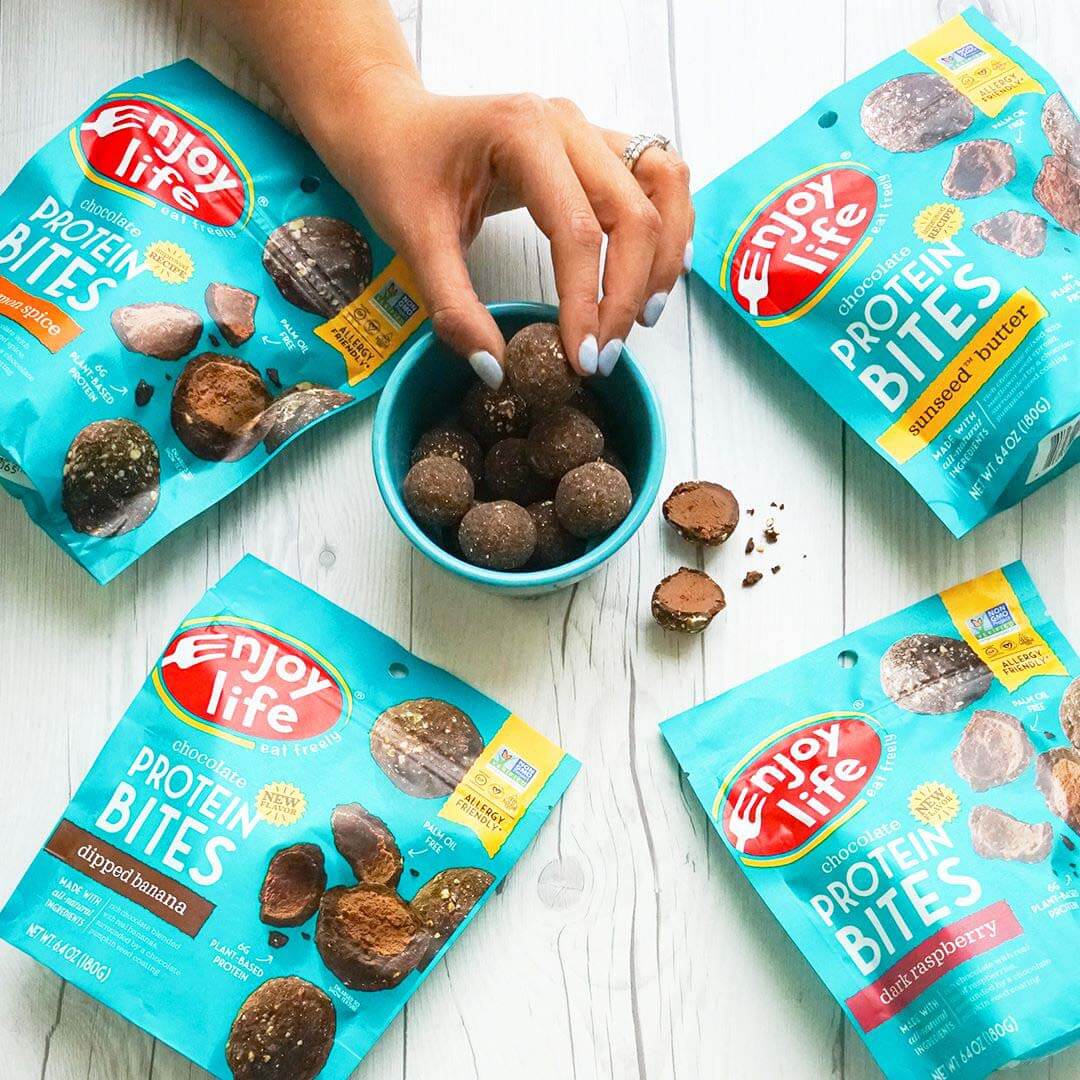 RELATED: 5 Vegan Chocolate Chip Brands Perfect for Baking
---
Want even more vegan food, news, and lifestyle content? Subscribe to VegOut LA Magazine or VegOut NYC Magazine!
Kayla Pasko
@kaylapasko
Kayla, a Midwest girl living in NYC, is a writer with a background in media sales. When she's not scoping out trendy vegan spots, she's usually taking a yoga class, shopping at Trader Joe's, or catching a Packers game.
Articles by Kayla
More from VegOut
Subscribe Now
Get the premier vegan food and lifestyle magazine delivered to your door (or inbox!)
Order the magazine!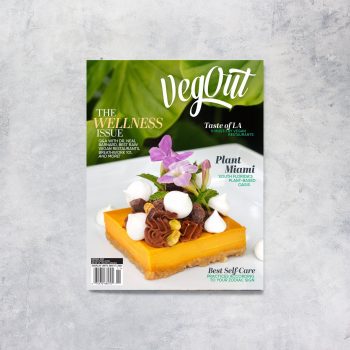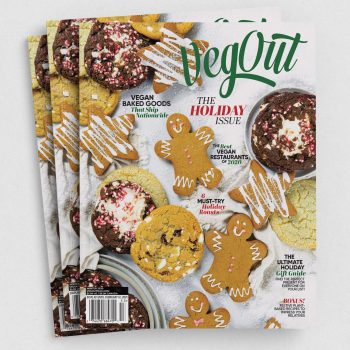 Navigation