Back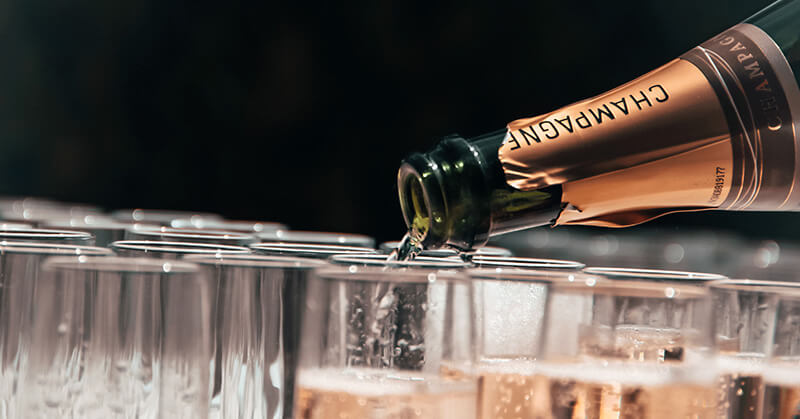 10 Vegan-Friendly New Year's Eve Celebrations in L.A.
It's almost time to start planning how you're going to ring in the New Year! No doubt, a glass of champagne at home with a few friends is always a solid option, but if you're feeling adventurous this year, these are 10 New Year's Eve celebrations with vegan accommodations that you'll keep your glass full and your taste buds tingling.
Bluebird Brasserie
Sherman Oaks
Bluebird Brasserie is a brewery native to LA that specializes in Belgian style beers with a full, indulgent menu that includes some comforting vegan-friendly food options. From 8PM-12:30AM on New Year's Eve, a $75 ticket will get you all you can drink beer, passed around appetizers, and party favors, of which about 50% will be vegan! Buy your tickets here.
Block Party Highland Park
Highland Park
Block Party Highland Park is a bar that functions a little bit like a daily party with beer, wine, liquor, mixed drinks, and some of LA's most iconic vegan pop-ups, including Cena Vegan, Clean South, Senoreata, Word of Mouth, and more. Like any well-respected party throwers, they'll be hosting a big New Year's Eve celebration with free entry, tons of drinks, and mouth-watering plant-based options. Keep up with them on Instagram @blockpartyhlp for more details as the date gets closer!
Broxton
Westwood
This new Westwood brewery, located in one of LA's most beautiful buildings, is celebrating New Year's Eve with a masquerade party, including an open bar of spirits, beer, and wine, as well as passed-around appetizers, many of which will be vegan-friendly. Advanced tickets are $99, the event is 21+, and masquerade attire is recommended!
Corner Cantina
DTLA
Mezcal, a piñata, frozen margaritas, and vegan options make the Corner Cantina's New Year's Eve celebration a fiesta to behold! Cover is free or you can get the VIP Package for $50, which includes an open bar 'til 12, as well as a midnight toast.
Crossroads Kitchen
Melrose
If you're feeling fancy, join Crossroads (all-vegan) for a five-course tasting menu and viewing of the ball drop from Times Square, meaning this party will be starting earlier than 9pm. Make your reservations here!
Mohawk Bend
Echo Park
Trying to wild out on New Year's Eve? Head over to Mohawk Bend for free entry, a live DJ set from 9pm-1am, and 70 craft beers on tap. If you know you're going to hit the bar more than just a handful of times, you can purchase their Open Bar Package for $50, which will get you unlimited drinks from 9pm-12am.
Bacari W. 3rd
Miracle Mile
This newer, cozy spot located near The Grove will be celebrating New Year's Eve on their atmospheric patio with happy hour specials all night long and small Mediterranean plates, including a handful of vegan options. Overall, it's a relaxed kick back to casually celebrate the New Year with your friends.
Tony's Darts Away
Burbank
This Burbank pub, known for vegan bar food, California craft beers, and vegan chili cook-offs, is bringing that same energy on New Year's Eve. An $80 ticket will get you unlimited eight ounce pours of beer and access to an all-you-can-eat vegan buffet! May as well splurge before committing to that rigorous gym routine in 2019, right?
Stalking Horse Pub
Century City
No cover, $31 endless beer, and normal dinner service? Dreams do come true when you head to Stalking Horse Pub for a casual and wallet-friendly New Year's Eve outing. RSVP ahead of time here!
Beelman's
Downtown
Beelman's always impresses and for NYE, they'll be celebrating with drinks and their mouth-watering vegan grub. RSVP for free or purchase a $50 ticket here for open bar access! Then get ready for a night full of fun with an Impossible Burger in one hand, champagne glass in the other, and a toast to the New Year!
With these handful of places in mind, you're able to choose exactly how you want to celebrate your New Year's Eve evening. Whether its with a fancy tasting course or high-energy dance party, let's enter the New Year with close friends, bubbly drinks, and compassionate food in hand.
Ryan Tempfer
@ryantempfer
Ryan is a cook, writer, and musician born and raised in Tampa, FL. With years of recipe testing for his Asian-American food blog, No Eggs or Ham, behind him, he strives to sharpen the image of vegan food by highlighting chefs who push the boundaries of plant-based cuisine. Unlike the advice your mom lent you, he encourages you to play with your food every chance you get!
Articles by Ryan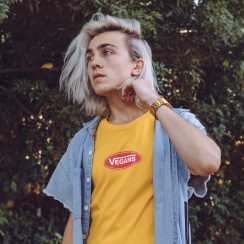 More from VegOut
Subscribe Now
Get the premier vegan food and lifestyle magazine delivered to your door (or inbox!)
Order the magazine!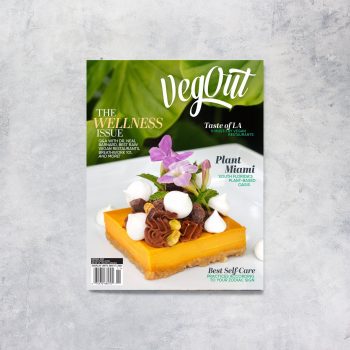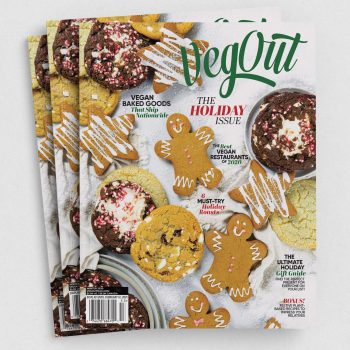 Navigation