Back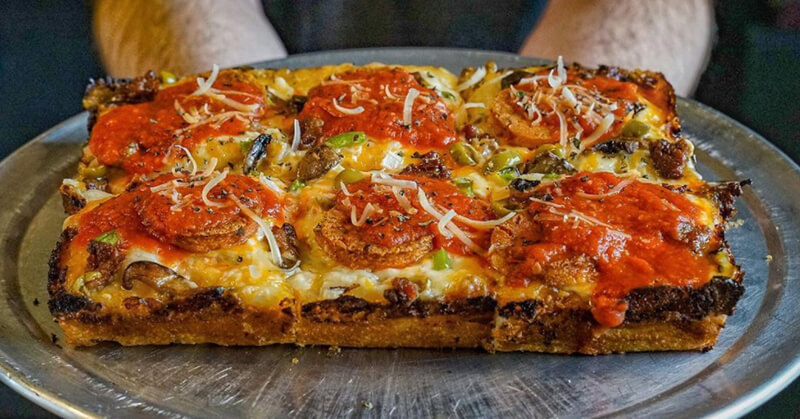 10 Vegan and Vegan-Friendly Restaurants to Try in Metro Detroit
The Detroit area is home to a diverse music scene, world-class museums, and amazing vegan food. Gone are the days of lackluster veggie burgers and iceberg lettuce salads. The area is packed with a wide variety of plant-based options. No matter where you visit, there will be something delightful for your taste buds. Check out these 10 vegan and vegan-friendly restaurants in Metro Detroit.
Detroit (two locations)
This Black women-owned business is reimagining traditional soul food with a vegan twist. The menu features staples like catfish, po' boys, and collard greens. Interested in trying all our favorites? Check out the Soul Platter! The platter features catfish tofu, mac 'n' cheese, smoked collards, candied yams, black-eyed peas, and a cornbread muffin. They also have a great selection of smoothies, teas, and desserts.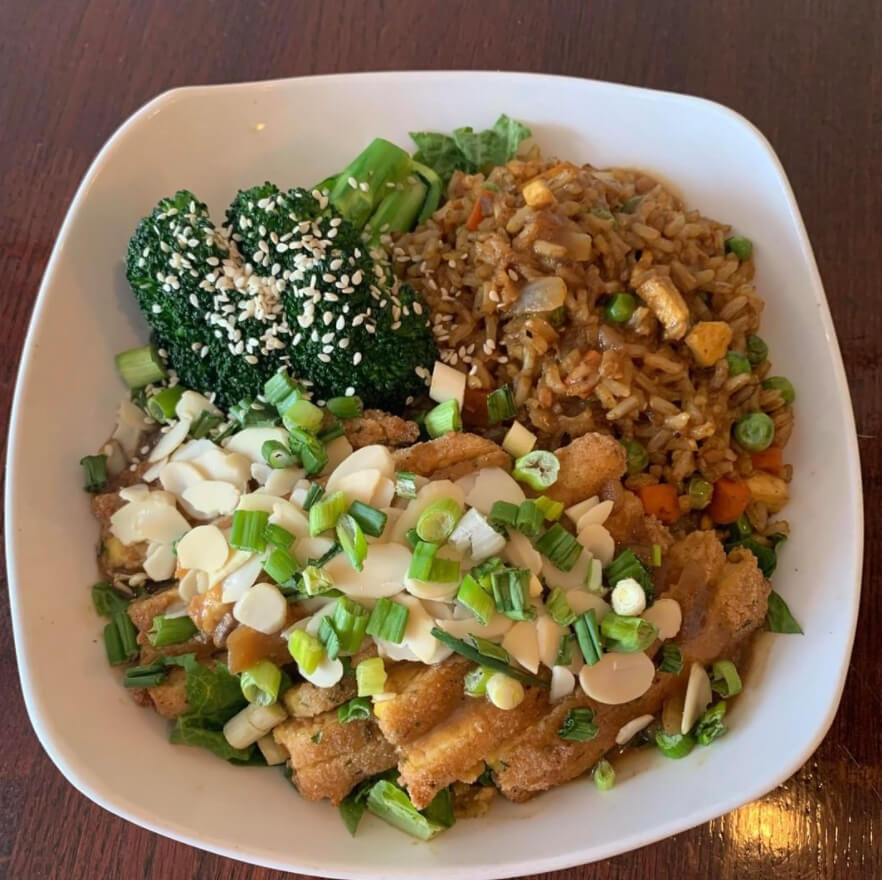 Farmington Hills (online orders & events)
The team at Chive offers vegan hot-and-ready meals, baked goods, vegan groceries, and catering. Their online menu changes regularly to feature specials like chocolate donuts stuffed with cream filling and topped with peanut butter glaze as well as homemade black bean enchiladas smothered in a rich mole. Make sure you don't miss their special wine tasting events which feature multiple vegan wines paired with appetizers and canapes.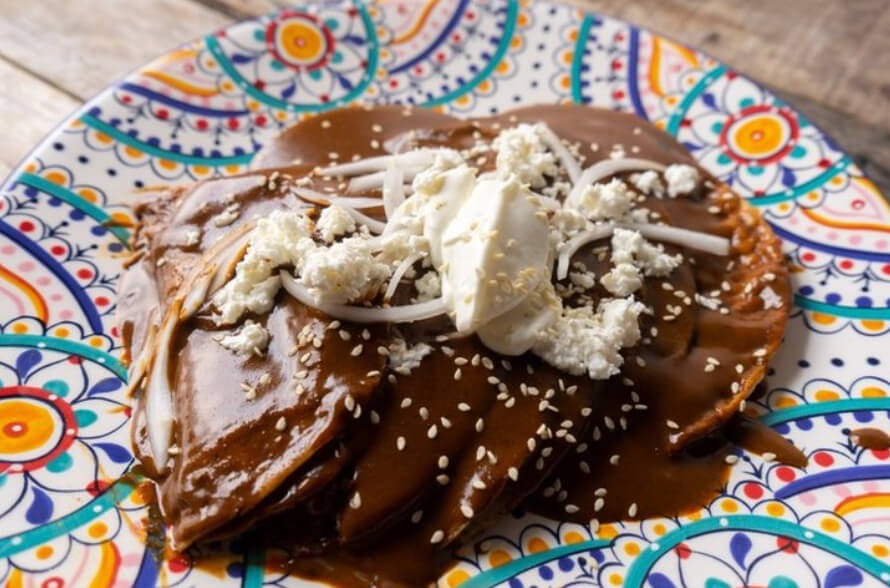 Detroit
Detroit is known for its thick, crusty deep dish pizza loaded with cheese—but a vegan version? You're in for a treat! Grandma Bob's is dishing out incredible plant-based Detroit-style pizzas. Grab a vegan supreme loaded with Violife cheese, pepperoni, sausage, and veggies, or stay traditional with a simple vegan cheese. Your pizza order isn't complete without a cashew Caesar salad or an order of vegan cheese bread! Can't decide? Then, order both!
Detroit & Madison Heights
Oodles and oodles of noodles! While this hip Japanese-inspired noodle joint isn't 100% vegan, it offers plenty of vegan options and a selection of gluten-free vegan items as well. Their menu features tons of ramen, pho, and udon plus sandwiches and little bites to share. Your pho and ramen aren't complete without an order of their steamed edamame. The bowls come smothered in chilis, lemon, sesame oil, and sea salt.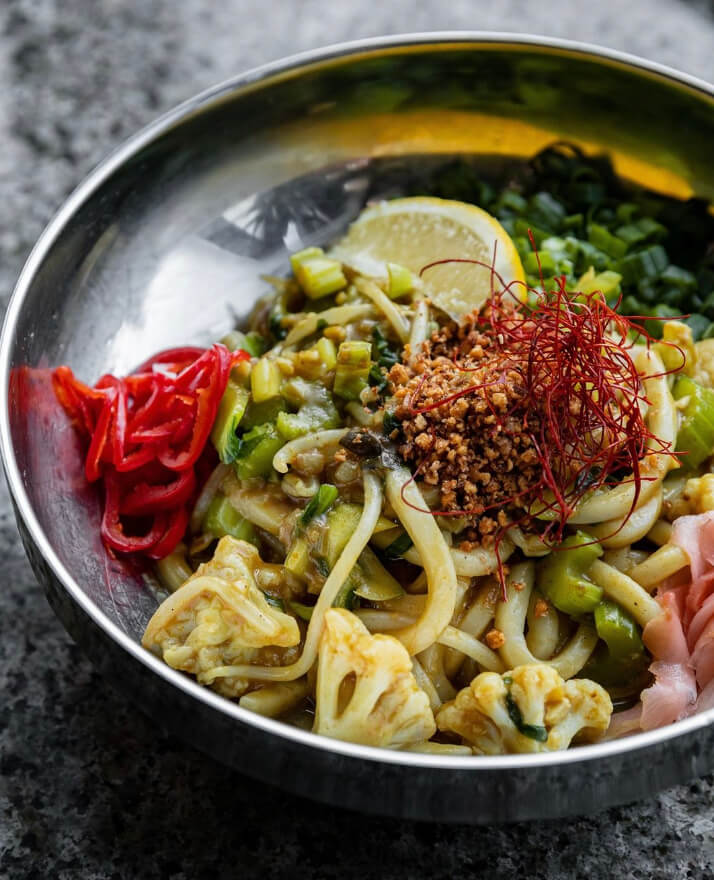 Troy
This fast-casual Indian restaurant offers an extensive menu of 150 vegetarian dishes that include a huge selection of vegan options. Their must-trys include a variety of dosas served with a selection of delicious chutneys, fried samosas filled with spiced potatoes and peas, and crusty pani puri made with a mix of potatoes and black chickpeas. The food is so good, you'll want to order up multiple dishes, including our favorite, veg pakoda—a mix of veggies deep-fried in chickpea flour.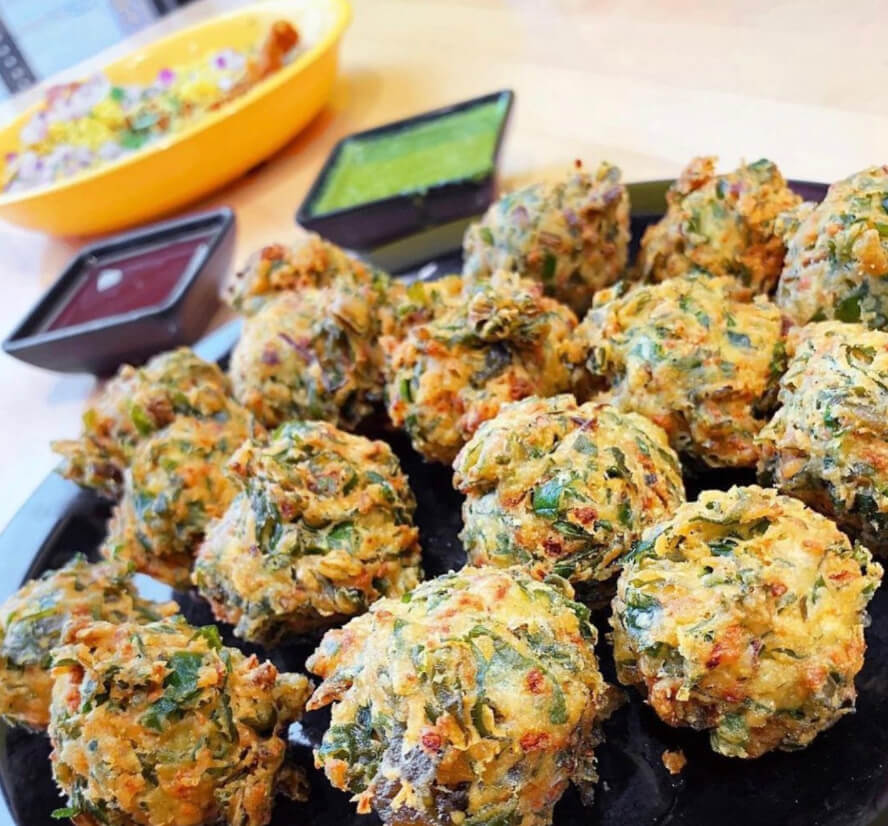 Photo credit: @thevegandetroiter on Instagram
Detroit
Check out this family-owned café that focuses on making healthy food accessible to everyone! Their menu features traditional favorites like hearty lasagna made with rich homemade marinara and homemade vegan cheese. Don't miss their Mamba Black Bean burger—a secret family recipe that has been passed down through generations. It will not disappoint! Need a tasty kick of health? Grab their antioxidant-packed Sea Moss Shake!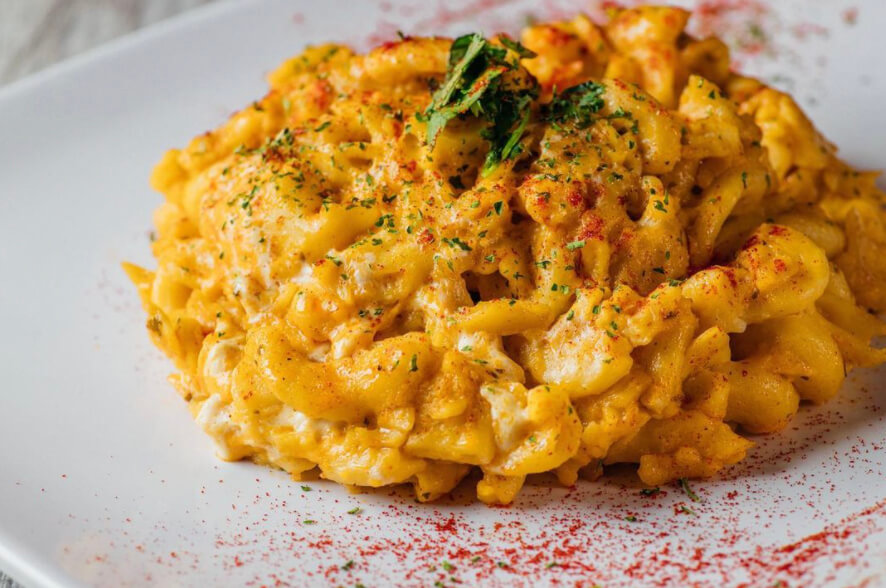 Midtown Detroit
Located in the heart of Midtown, Seva's extensive menu is filled with globally inspired vegan and vegetarian dishes. There are loads of favorites like cilantro peanut stir fry, grilled pesto pizza sandwich, and hearty jambalaya made with Field Roast Chipotle Sausage. We suggest you start dinner with an order of their zesty and slightly spicy buffalo tempeh that comes with their homemade garlicky goddess dressing. They also serve breakfast all day!
Plymouth
This 1950s retro café is 100% vegan and gluten-free! Their menu takes American classics like burgers, Coney dogs, and shakes and gives them a vegan spin. Try their classic burger made with Shimmy's lentil patty, or go for the nachos piled high with homemade sweet potato-black bean chili. And don't leave without ordering their famous Cookie Monster shake. It's blended with their Cowgirl cookies and vanilla soy ice cream. Go on, indulge!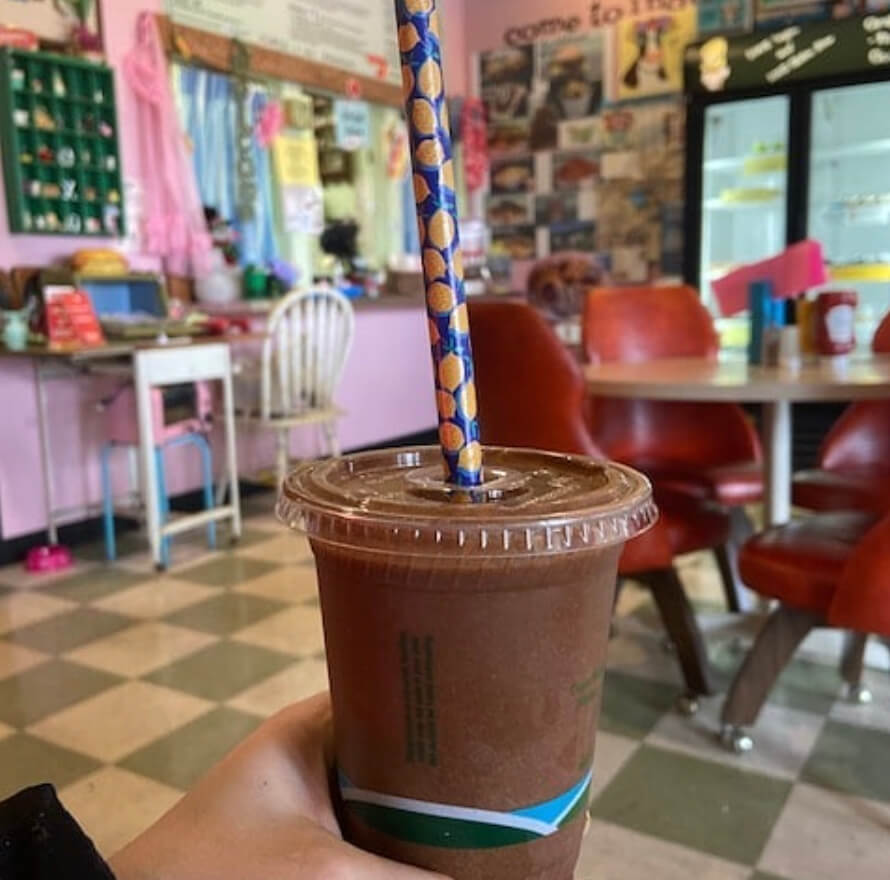 Ferndale
This new kid on the vegan block opened in 2020 and serves up out-of-this-world vegan comfort food for brunch and lunch. Their menu features fun dishes like a Chkn & Waffle Sandwich (homemade seitan patty sandwiched between two golden, syrupy waffles) as well as the Hot Mess (grilled seitan with peppers, onions, and cheese on a hoagie roll). We suggest that whatever you order you make sure to add on a slice of homemade cinnamon chocolate coffee cake—it's the perfect way to end brunch or lunch!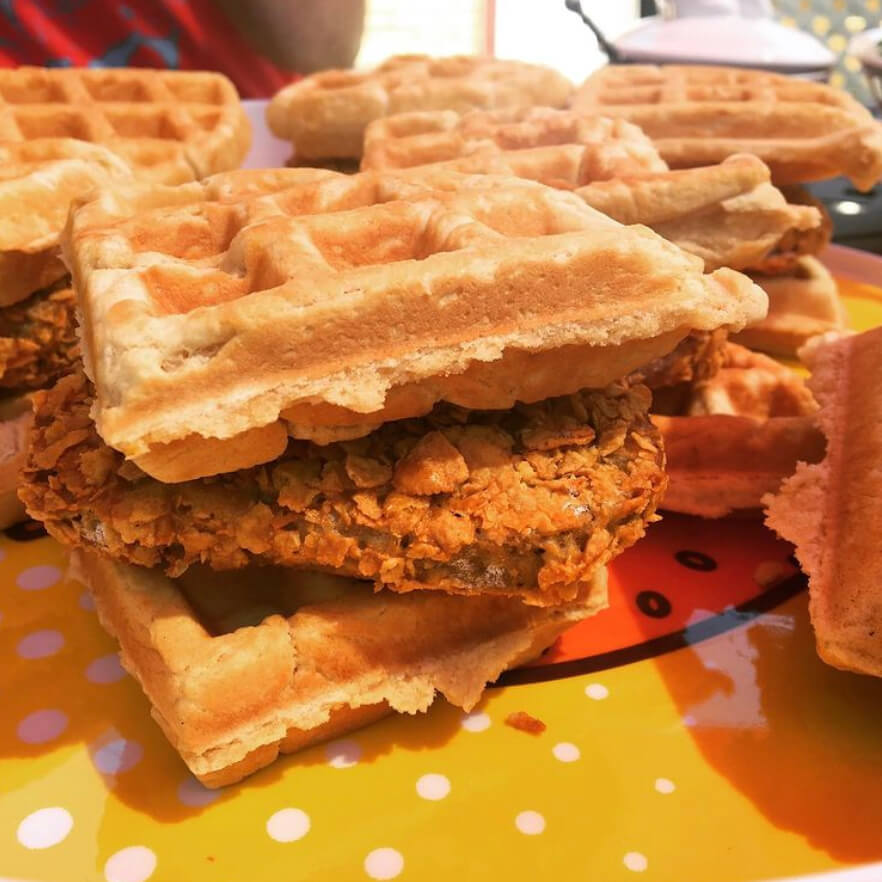 Dearborn
Welcome to the most incredible burger creations that will tantalize your eyes and taste buds! Boring veggie patties are replaced with homemade patties made from black beans, chickpeas, veggies, and savory spices. The burgers are piled high with a selection of delectable toppings like sautéed mushrooms, pineapple, BBQ sauce, and more. Don't miss one of their newest burger creations, the Jamaican Me Crazy! The Caribbean-flavored beefless patty comes topped with grilled pineapple, creamy lime-cilantro dressing, shredded crunchy kale, and cabbage.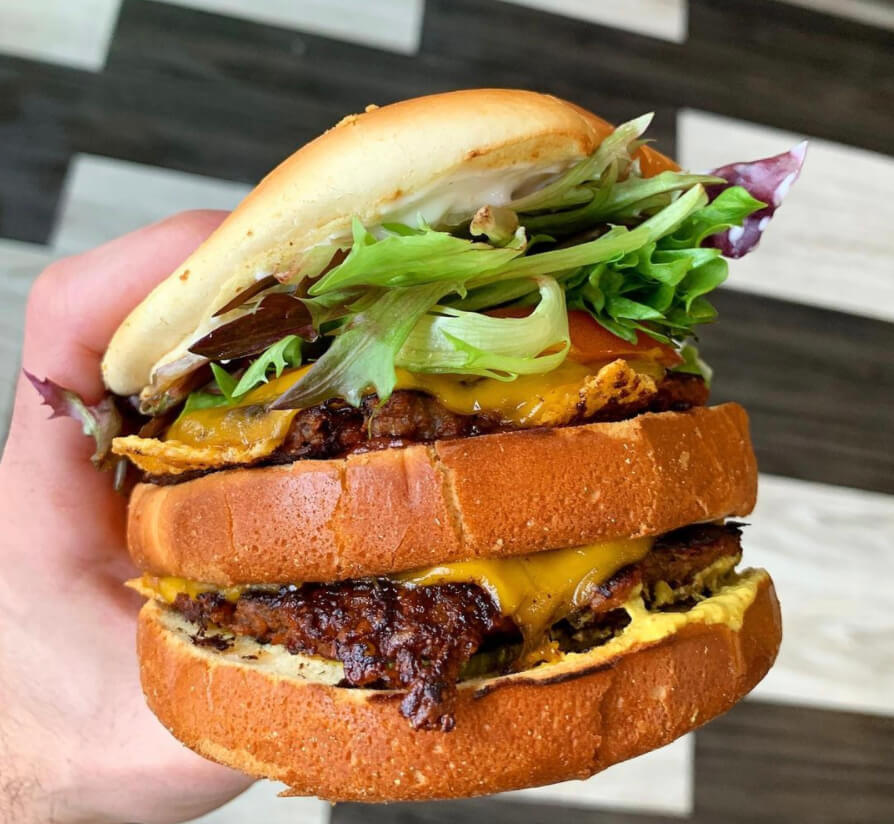 Photo credit: @thevegandetroiter on Instagram
Rebecca Gade Sawicki
@veggiesabroad
Rebecca lives in Metro Detroit and is the creator of the vegan travel blog Veggies Abroad, which was born from her love of travel, and the question she gets asked after every trip, "What in the world did you eat?" When she isn't checking out new vegan hot spots, you can find her hanging out with her furry children or daydreaming about traveling to new destinations full of vegan food.
Articles by Rebecca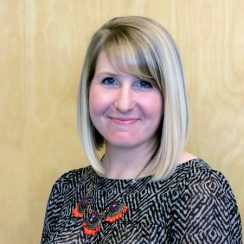 More from VegOut
Subscribe Now
Get the premier vegan food and lifestyle magazine delivered to your door (or inbox!)
Order the magazine!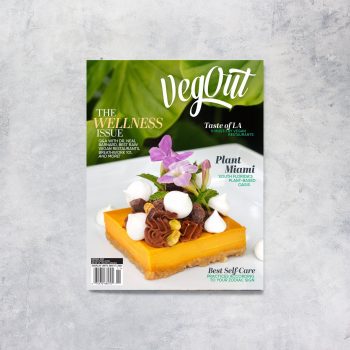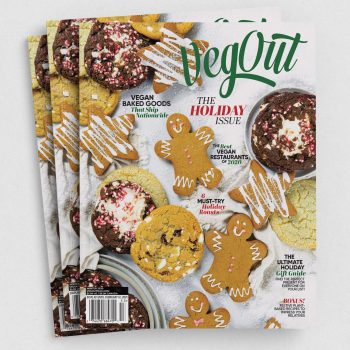 Navigation