If you're in the NYC area, you know there's no shortage of delicious vegan taco options. From chick'n to chorizo, we've located some of the best plant-based tacos in the city. Here are 10 spots where you can get vegan tacos in NYC.
Manhattan
Jajaja serves Mexican street food with a New York City flair. The menu offers tacos with a modern twist, like gluten-free Buffalo Flower, Mezcal mushroom, and crispy Chayote fish tacos. The sweets menu is also worth taking a peek at, as they offer everything from Coconut Dream Pie to Raspberry Cheesecake—sold!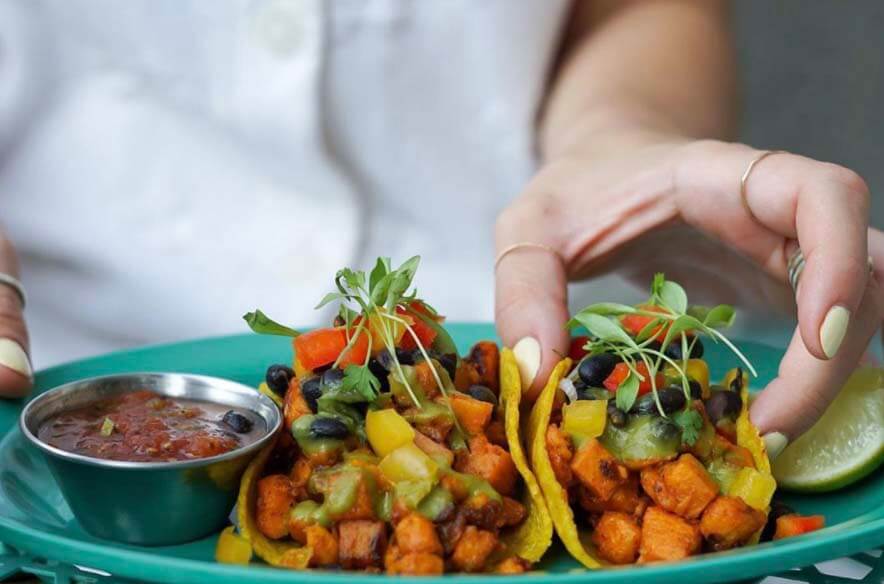 Brooklyn
A taquería by day and a discotheque by night, Black Flamingo serves a variety of unique taco entrees, such as the Asada (grilled seitan, refried pinto beans, pineapple jicama salsa, and avocado), the Tinga (slow-cooked jackfruit, fingerling potato, pickled red cabbage, crema, radish, and salsa verde), and more. Pair your tacos with an order of Tostones, made with twice-fried green plantains, garlic chimichurri, and cilantro aioli.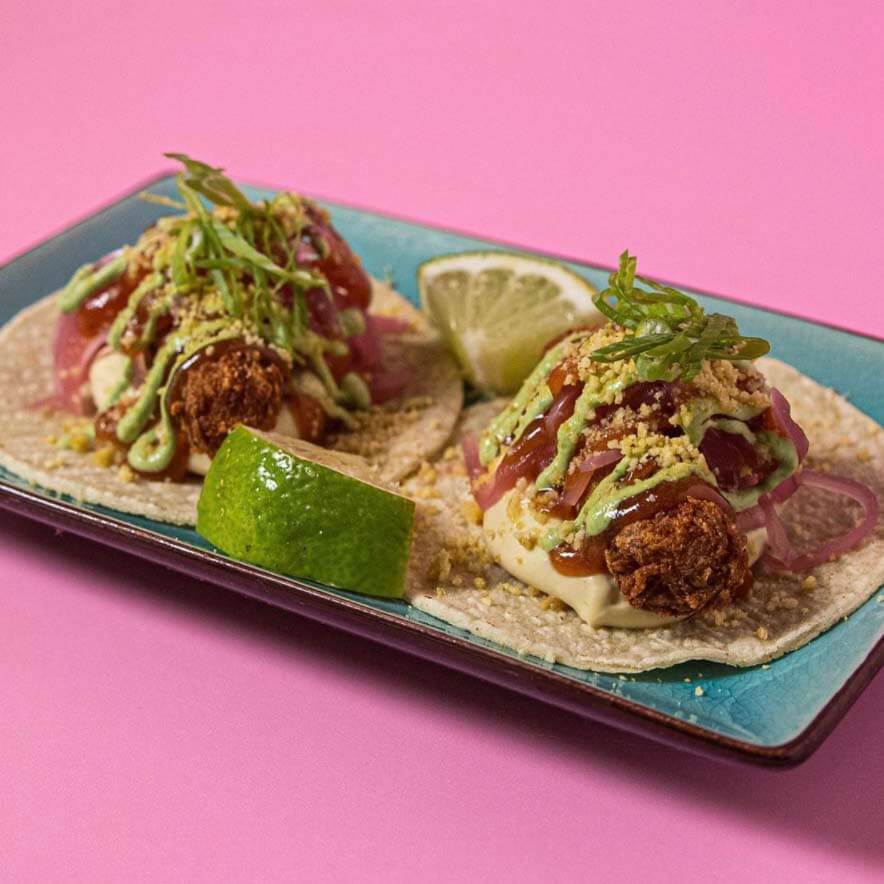 Manhattan
Founded by esteemed plant-based chef Matthew Kenney, Bar Verde has taco Tuesday covered with sophisticated bites such as the Cauliflower Al Pastor Taco (smoked pineapple, salsa enchilada, and scallion), and the Farro Chorizo Taco (potato, cabbage, salsa roja, cashew crema, and avocado). Pair your tacos with a side of Plantain Chips, as well as Churros and Chocolate for dessert—yum!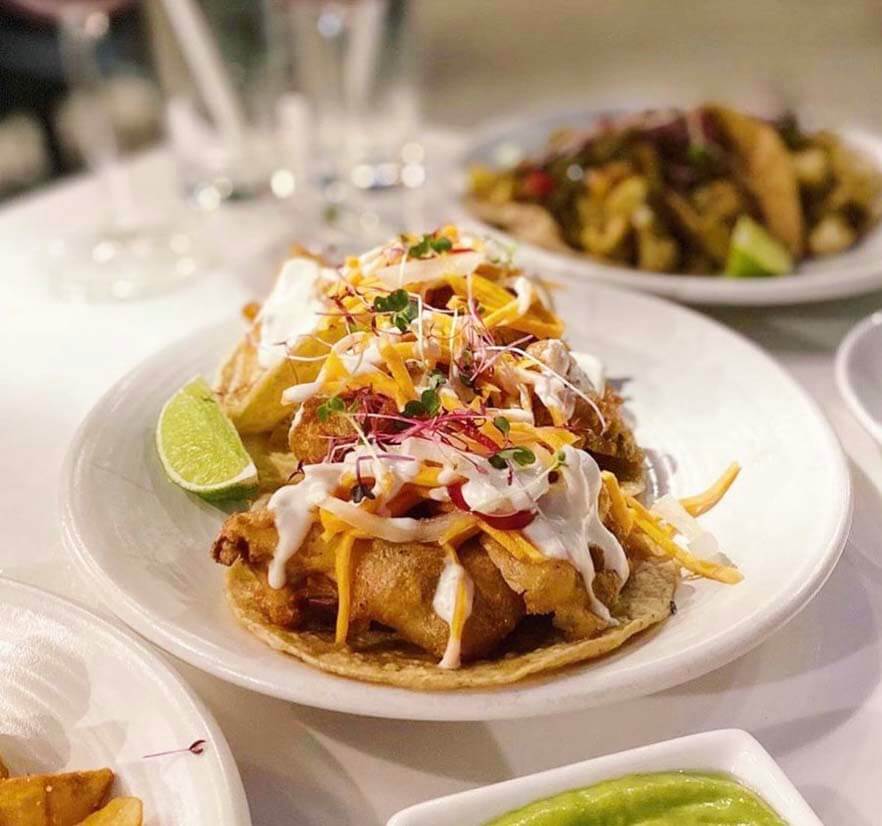 Multiple Locations
Get your taco on at Taco Dumbo, which offers vegan-friendly options such as the Shroom Duo Taco (shiitake and cremini mushrooms, pumpkin seed salsa, red cabbage, and shredded kale), and the Charred Cauliflower Taco (charred cauliflower, black bean mash, shaved white cabbage, toasted sunflower seeds, and pickled onion). Jazz up your meal with a side of Street Corn (char-roasted corn rubbed in chili-lime powder served with vegan poblano crema and a side of red cabbage slaw) or Tortilla Soup (roasted poblano and tomatoes, red Fresno pepper, Morita chili, and lime juice topped with avocado and corn tortilla chips).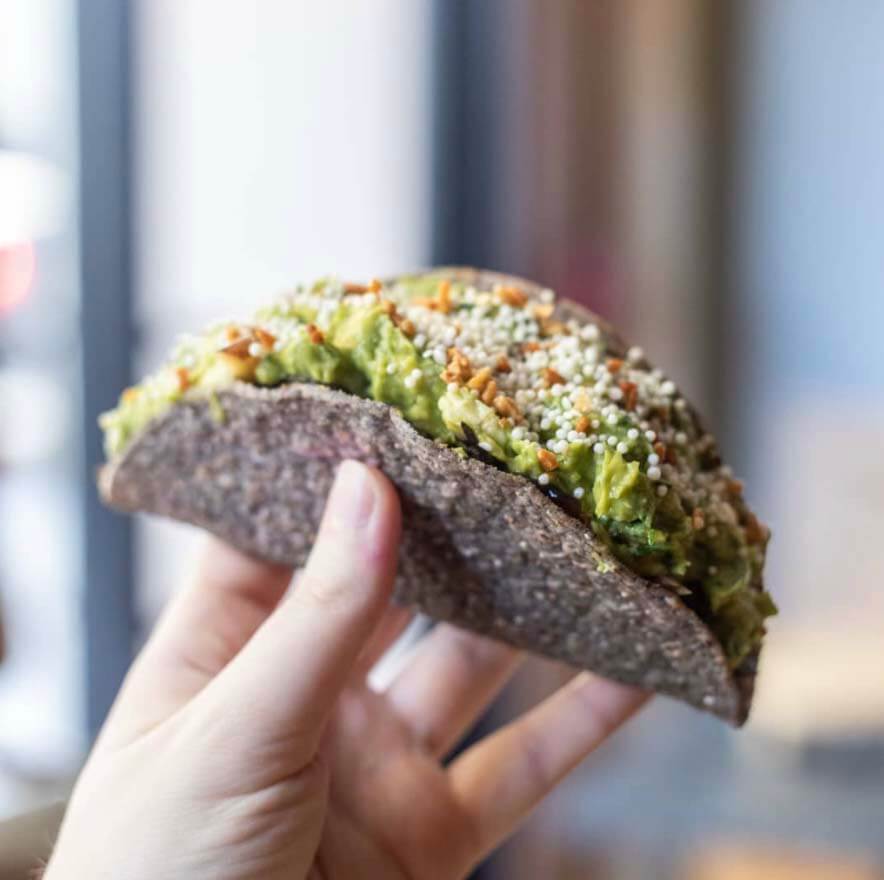 Brooklyn
Enjoy taco night at this vegan-friendly eatery, which serves plant-based options such as grilled cauliflower tacos, spinach & mushroom tacos, and poblanos & potatoes tacos to name a few. The TVP Al Pastor Taco made with texturized vegetable topping is also a tasty choice and can be topped with guacamole or vegan chipotle mayo.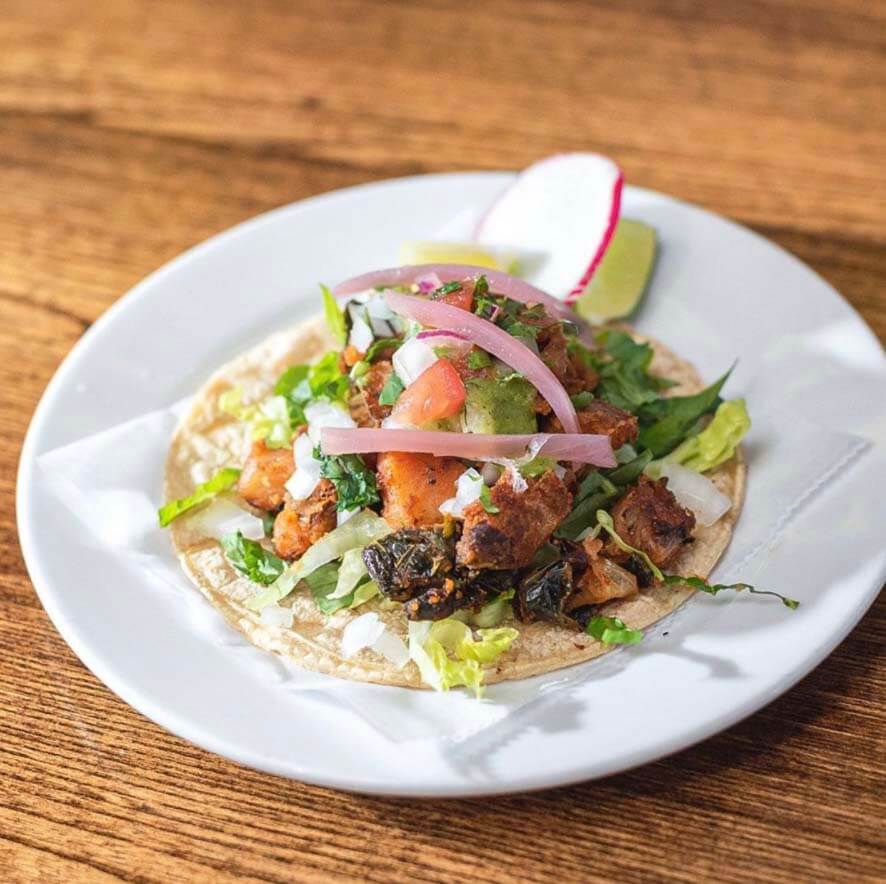 Multiple Locations
Prefer your taco in salad form? by CHLOE. is the spot for you! The Quinoa Taco salad is packed with romaine, quinoa, spicy chorizo, black beans, sweet corn, avocado, tomato, tortilla strips, tofu crema, and agave-lime vinaigrette—a perfect way to get your taco fix while also getting your daily greens!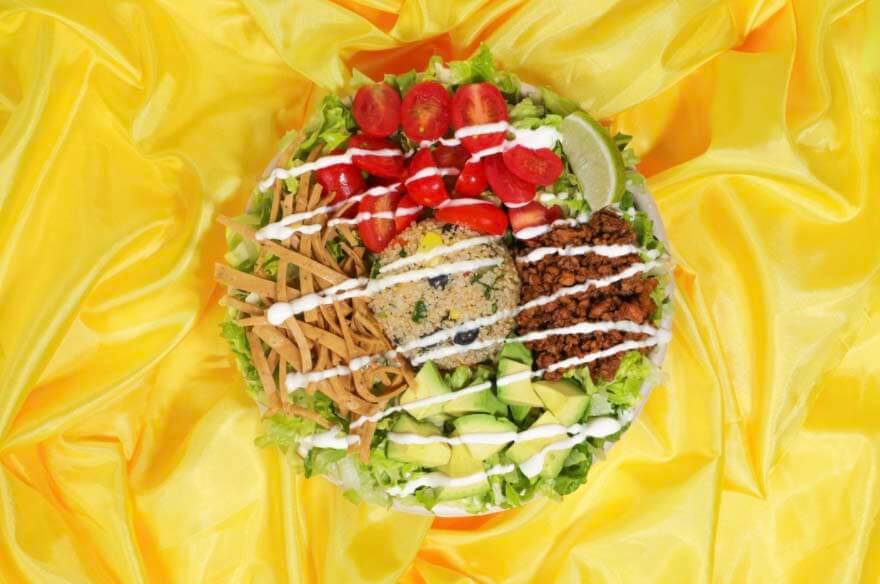 Manhattan
Can you ever go wrong with Veggie Grill? Of course not, especially when they have tasty tacos! The Two Taco Plate comes with your choice of two Baja fish tacos with pico de gallo, or two spicy fried chickin' tacos with roasted poblano ranch, both of which are served on warm corn tortillas. Accompany your tacos with the Southwestern Nachos (corn chips, queso sauce, achiote taco meat, ranchero beans, tomato corn salsa, mashed avocado, crema, and pickled chiles).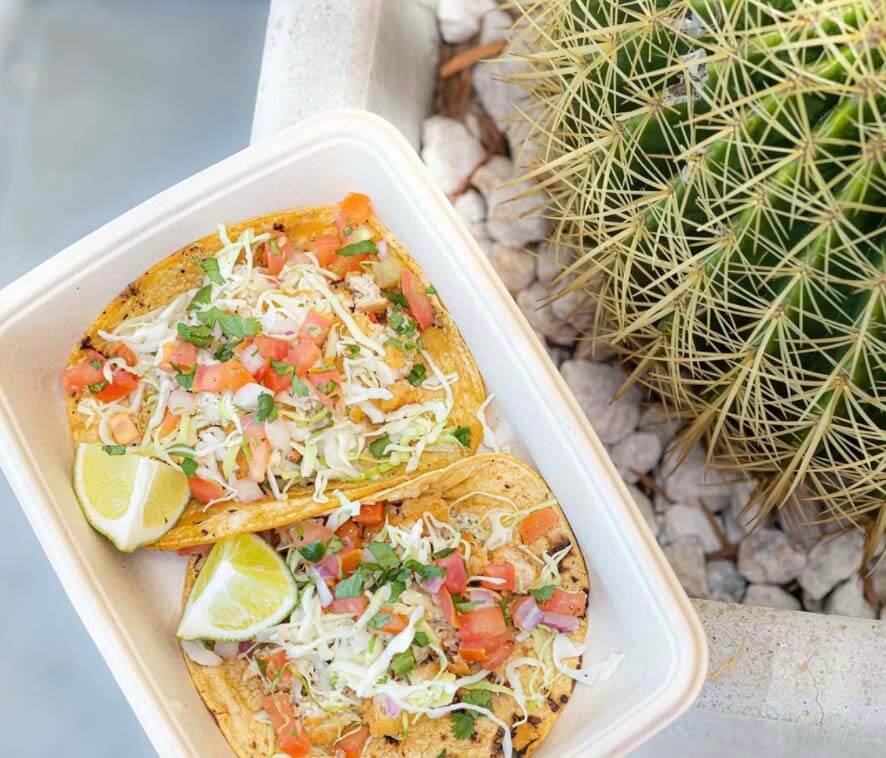 Multiple Locations
A taste of Mexico in NYC, Oaxaca Taqueria offers a separate plant-based menu with dishes like the vegan Carrot & Kimchi Taco (roasted baby carrots, kimchi, crispy shallots, and Oaxaca hot sauce), the vegan Smoked Jackfruit Taco (smoked jackfruit, chipotle BBQ sauce, pickled habanero slaw, and cilantro), and the vegan Papas Y Rajas Taco (roasted potato, poblano peppers, Spanish onions, pickled red onion, pico de gallo, salsa verde, avocado lime salsa, and cilantro). Order a bottle of Jarritos Mexican soda with your tacos, and you'll feel like you're on a beach in Cabo.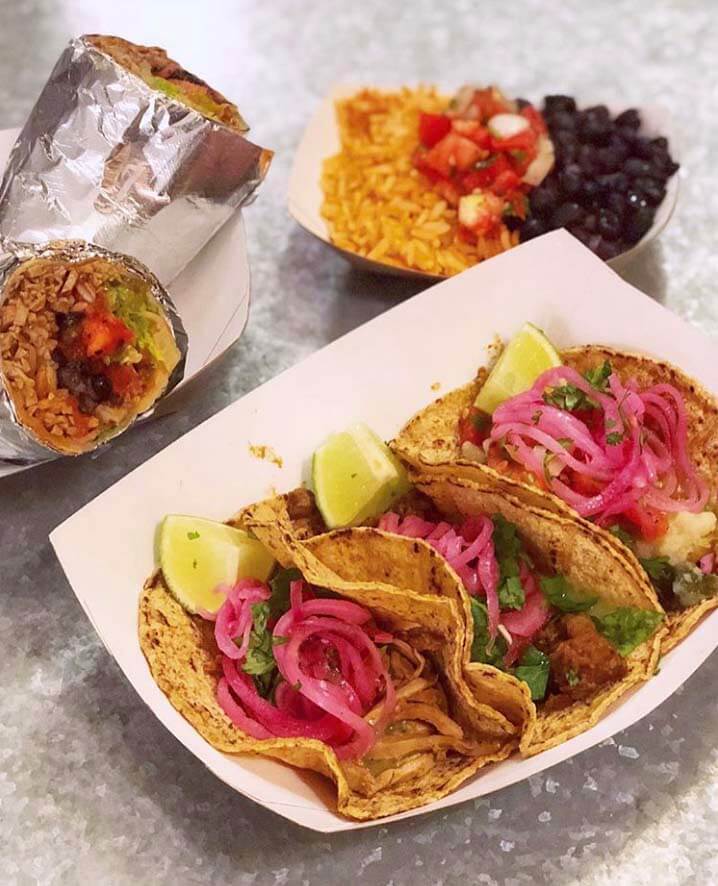 Photo credit: @thehappyveganbelly on Instagram
Brooklyn
The VSPOT is known for its delicious empanadas and sandwiches, but the tacos are not to be overlooked! The Park Slope eatery offers a two-taco special with your choice of carne molida tacos, portobello spinach tacos, and soy chik'n tacos—all of which you can mix and match per order!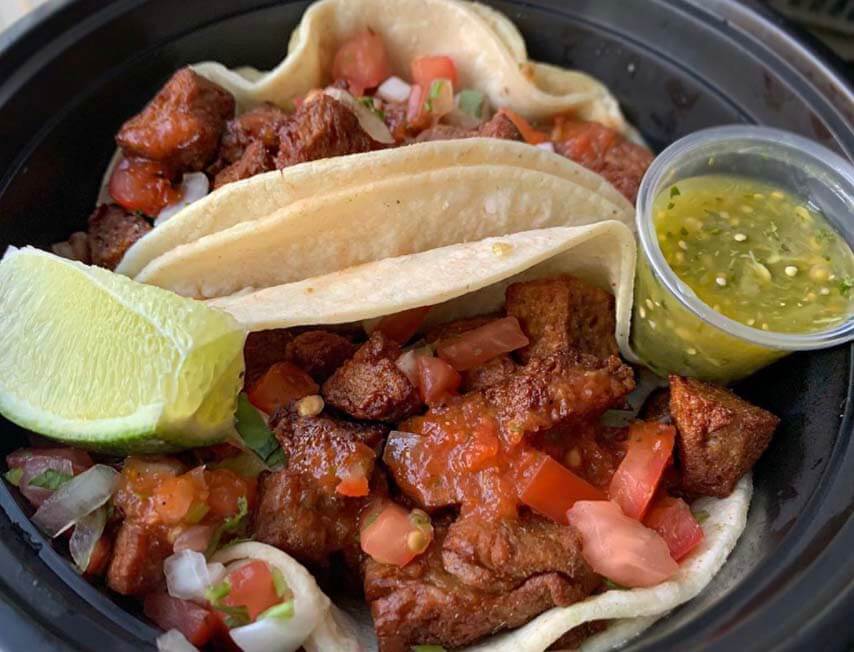 Manhattan
Brought to you by the team behind Veggie Grill, Mas Veggies Vegan Taqueria is an all-vegan taco spot that serves flavorful bites like Tejano style tacos (Tex-Mex style taco meat topped with queso sauce, shredded lettuce, roasted corn pico de gallo, and Cholula cream), Chipotle Carnitas Tacos (shredded jackfruit braised in smoky chipotle broth topped with pickled and caramelized onions, cilantro, jalapeño slaw, and guacamole), Chickin' Tinga Tacos (shredded chickin, grilled onions, red bell peppers cooked in spicy roja sauce and topped with shredded romaine, roasted corn pico, queso sauce, green onions, and jalapeño cream), Smokey Mushroom Tacos (marinated mushrooms topped with shredded cabbage, purple pickled onions, jalapeño cream, and guacamole), Crispy Baja Fish Tacos (crispy plant-based battered fish, creamy jalapeño slaw, and roasted corn pico de gallo), and much more!