Back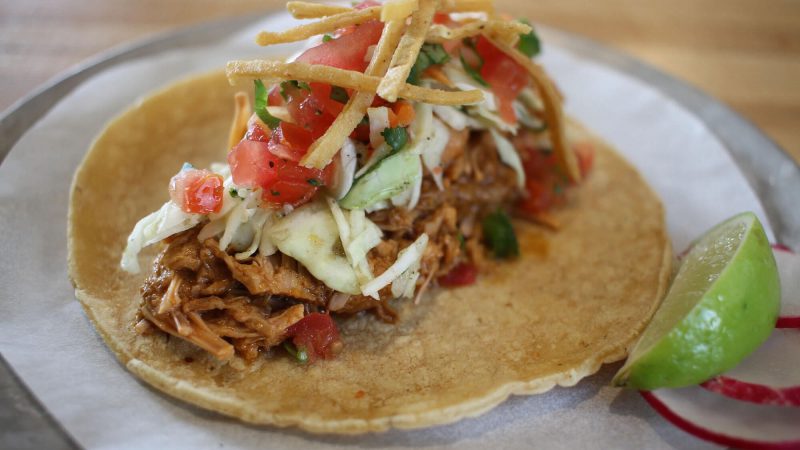 10 Spots for Vegan Tacos in Los Angeles
Whether you're celebrating Taco Tuesday or just have a craving for tacos that needs to be filled, we've got you covered. Here's your list of the top ten places in Los Angeles to grab plant-based tacos!
Cena Vegan
Pop-up
At this vegan pop-up, choose from either their Taco Trio, Four Taco Platter, or One Taco a la Carte, and then select a filling of carne asada, pollo asada, al pastor, or barbacoa (gluten-free). Tailor them to your taste by adding toppings from their salsa bar. Or opt to add extra meat or guacamole at an additional charge. If you want to bring Cena home, you can purchase one-pound frozen packs of their meats.
Doomie's Next Mex
Hollywood
If you didn't know that Doomie's, an LA vegan spot for comfort food, had a Mexican restaurant next door, well now you know. And, of course, they've got tacos. Selections include asada, pollo, carnitas (gluten-free), al pastor, Korean, and Baja artichoke. Be sure to check out their combo options as well to make it a complete meal (i.e. add beans, rice, and salad), or add on other menu items, like tostadas, taquitos, and more.
Gracias Madre
West Hollywood
Head to Gracias Madre at lunch for their Barbecue Jackfruit Carnitas Taco, Potato Chorizo Taco, or Stewed Nopales Taco–all available a la carte. Or at dinner, enjoy their Tacos Plate, which includes two barbecue jackfruit carnitas tacos, and sides of escabeche and black beans.
Hugo's Tacos
Atwater Village and Studio City
Order a single taco or 3-taco plate at Hugo's Tacos. Ask to have your tacos made vegan and opt for the mixed veggies or soy chorizo filling, topped with onions and cilantro and your choice of salsa–all in a soft or crispy shell. If you're throwing a party, you're in luck with their Taco Party Pack, which comes with 20 tacos made with your choice of fillings, shells, and salsa, plus their onion and cilantro topping, along with sides of organic rice and beans, tortilla chips, and house-made guacamole.
Tacos Tu Madre
Multiple Locations
This vegan-friendly joint has plenty of plant-based options! Their vegan tacos include Vegan Eggplant Soyrizo Picadillo (eggplant, soyrizo, crispy kale, pickled onion, and fermented fresno chili) and Vegan Banh Mi (36-hour marinade tofu, crispy kale, pickled carrot, avocado, and crispy onions with ponzu). They also have vegan burritos and bowls.
Sugar Taco
West Hollywood
Custom tacos, burritos, nachos, and more are in store at Sugar Taco—fill them with one of four of their plant proteins (carne asada, pollo, al pastor, and carnitas), along with add-ons like cashew queso, guac, and more. They also serve quesadillas along with desserts like conchas, churro bites, polvorones, and snow cones. And don't forget to check out their drink menu—aguas frescas, margaritas, cocktails, Jarritos, cervezas, and more.
Toca Madera
West Hollywood
You can try out a couple of different vegan tacos at this WeHo spot, like their Mushroom and Sweet Corn or Chipotle Tofu Lettuce Wrap. Plus, there are other tacos, like their Grilled Cilantro or Ensenada-Style, that can be made vegan if ordered with tofu.
Tocaya Organica
Multiple Locations
This organic Mexican restaurant has a few different vegan tacos. Essentially, for each of their different mains (which includes tacos), you first choose a style, and then pick a protein and cheese to go with it. All four taco styles (Cali Green, Barrio Style, Al Pastor, and Baja Chipotle) can be made vegan if you choose a vegan protein (their Vegan Picadillo—a pea-based protein with veggies, or their spicy Adobo Tofu) and vegan cheese (vegan mozzarella or vegan chipotle jack). 9.
Trejo's Tacos
Multiple Locations
While not all-vegan, Trejo's Tacos has four selections of vegan tacos–Cauliflower, Young Jackfruit, Mushroom Asada, and the new Beyond Meat taco. They also offer burritos, bowls, and vegan-friendly sides.
Vegatinos
Pop-up
Vegan pop-up Vegatinos offers three different vegan meats for their tacos–"Chikin," "Al Pastor," and soy-free "Barbacoa." Each is served in corn tortillas, and you can add toppings of your choice at their salsa bar.
Symphony Barnes
@symphonybarnes
Symphony is a Southern California native who is passionate about health and wellness. She enjoys writing, living in California, and sharing her vegan lifestyle. Symphony graduated from Pepperdine University with a Bachelor of Arts in Journalism.
Articles by Symphony
More from VegOut
Subscribe Now
Get the premier vegan food and lifestyle magazine delivered to your door (or inbox!)
Order the magazine!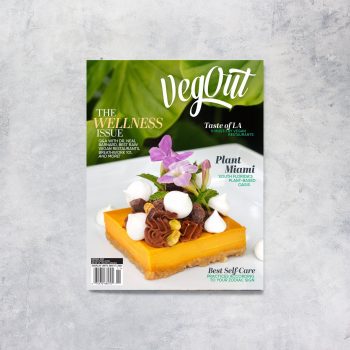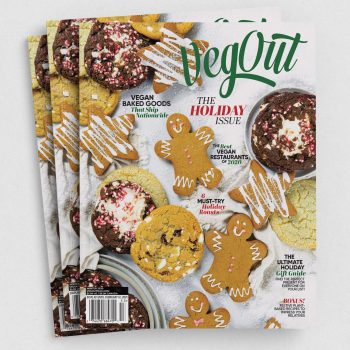 Navigation