Popeyes' fried chicken sandwich ain't got nothing on these vegan versions! Yep, we went there! If you're an internet enthusiast, you've most likely seen a meme or two about this popular Popeyes sando on Twitter, Instagram, Facebook, or TikTok! (Okay, does anyone know what TikTok actually is?) Anyway, the real reason we're here is to fill your feed with vegan fried chicken sandwiches that reign over any other! *cough* Popeyes *cough* Here are our top finger-looking must-haves!
Eat Love
Fountain Valley
Do you hear the choir of angels singing? Ok—that might be a bit dramatic, but this plant-based restaurant manifests the most ethereal fried chicken sandwiches of all! EatLove paves four different routes to heaven––the Chick'n Lovers, Hot Chick, Bee-Free, and California Love Sandwiches! These angelic beauties all incorporate a house-made seitan fried chicken patty with celestial toppings, sauces, and freakishly great flavors!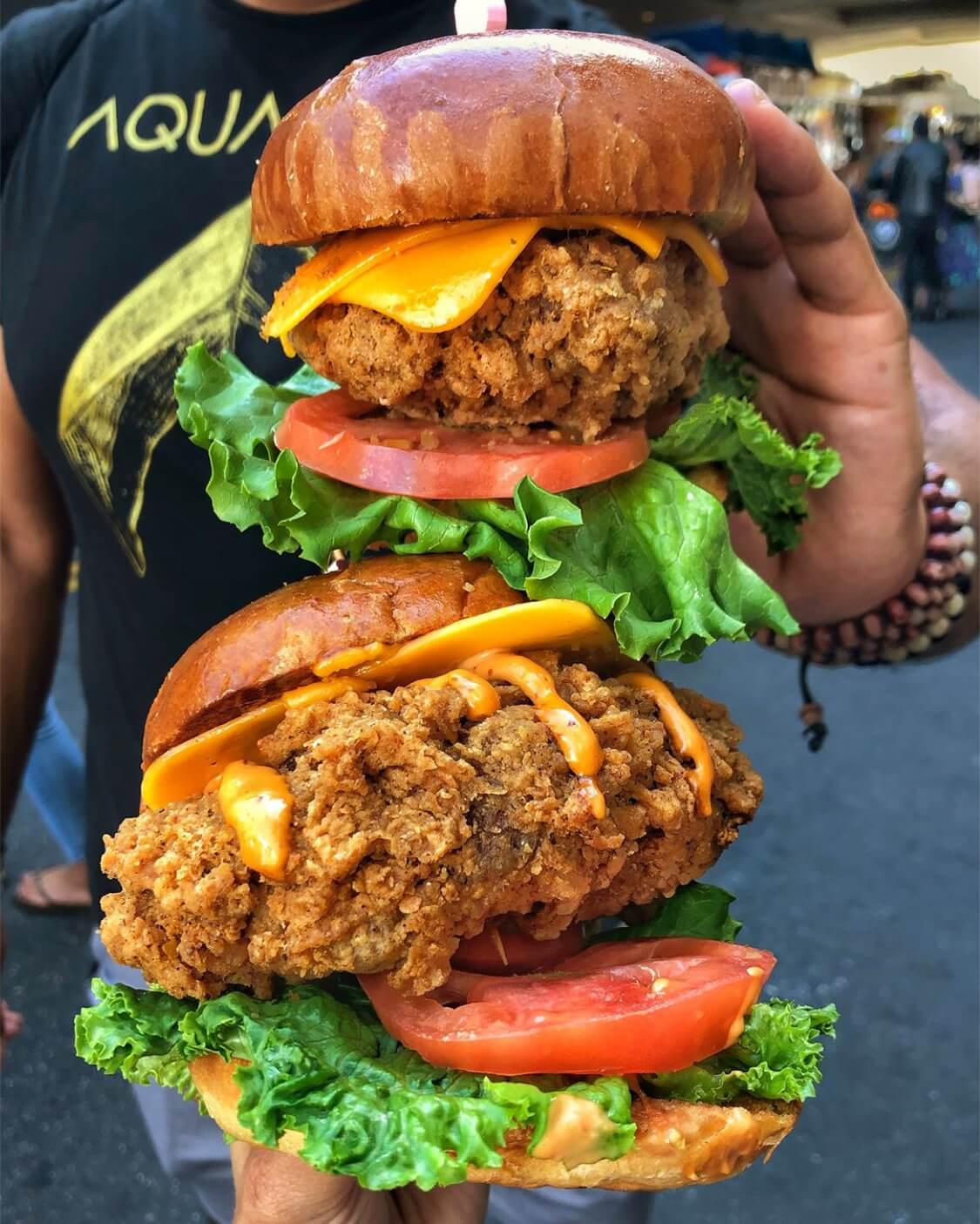 Plant Power Fast Food
Long Beach, Redlands, Encinitas, and San Diego
Get your kicks with the Buffalo '66 from Plant Power! This top-notch handheld surpasses the standards of its iconic name with a groundbreakingly delicious makeup! A crispy battered buffalo chicken breast, ranch dressing, lettuce, and tomato grace a pair of toasted buns to construct a sandwich to remember! For something less spicy, entreat your stomach to their 'Chicken' Sandwich painted in BBQ, ranch, chipotle, or vegan honey mustard!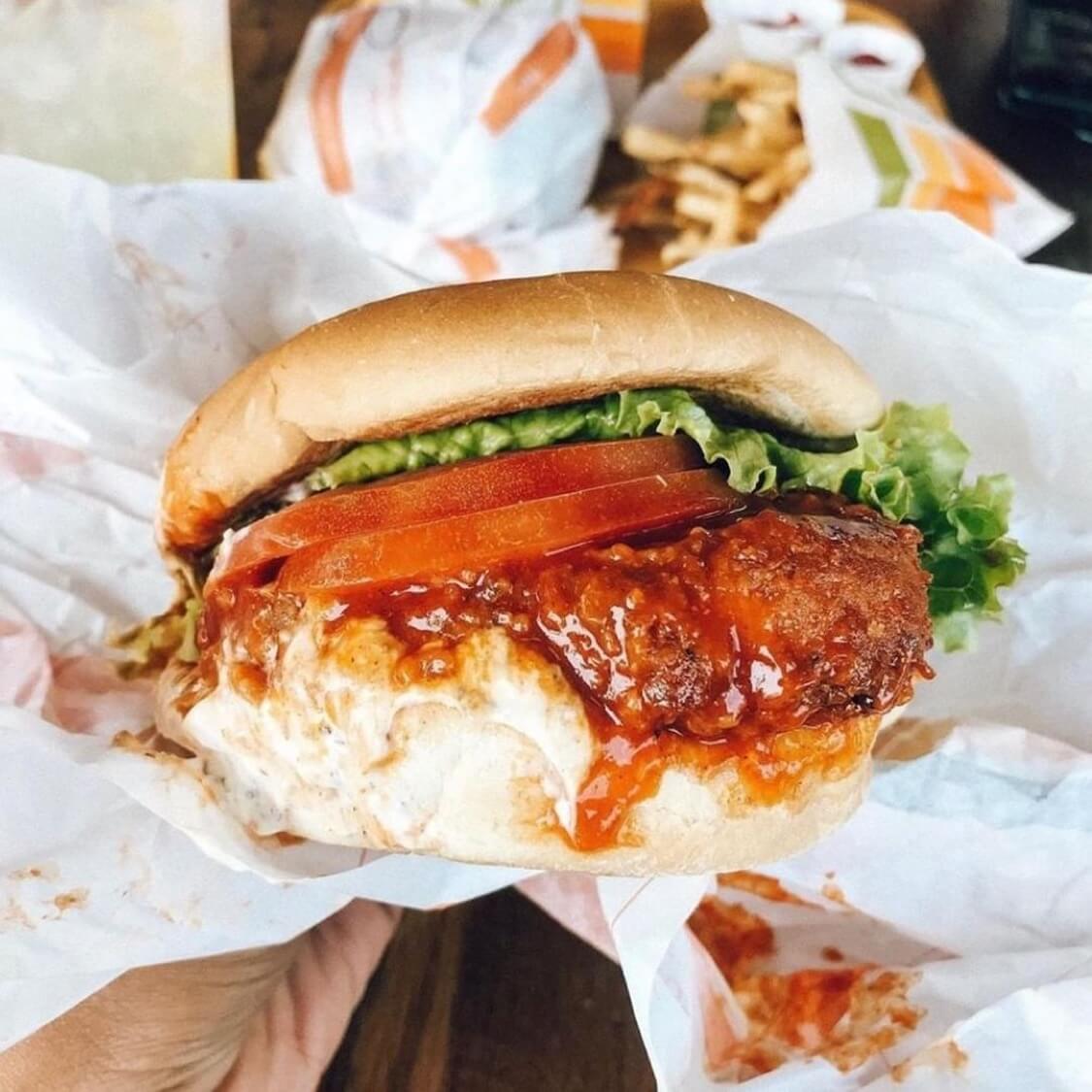 Veggie Grill
Multiple Locations
Next up, Veggie Grill! This Santa Fe Crispy Chickin' Sandwich rushes into the end zone as menu MVP! Lettuce, tomato, red onion, mashed avocado, and spicy mayo tackle a fried chickin' patty for the tastiest touchdown in the handheld hall of fame!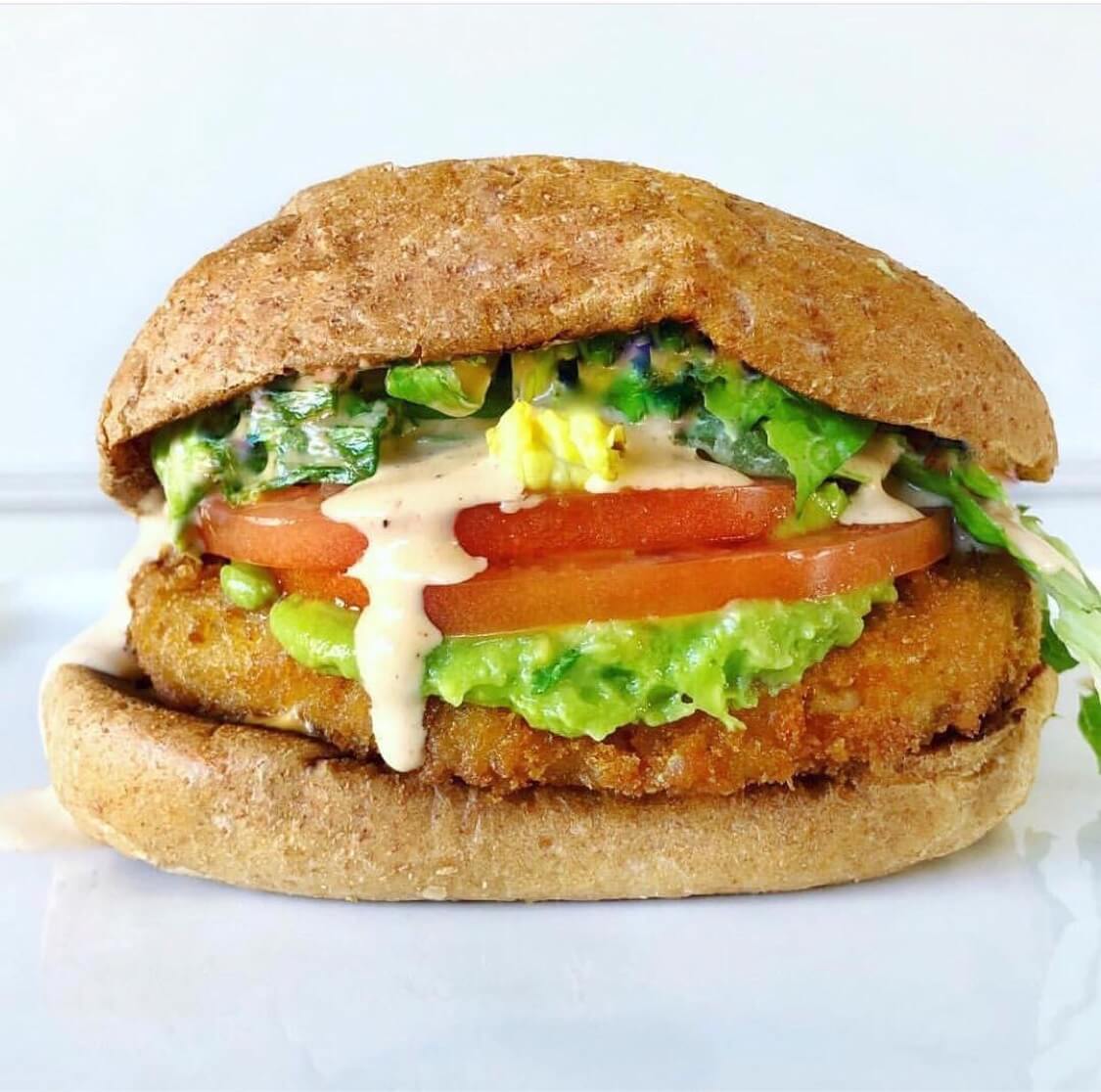 Modern Shaman
Whittier
What's better than vegan fried chicken with a side of comforting mac 'n' cheese? How about vegan fried chicken AND mac 'n' cheese warmly united between two buns? Oh, and did we mention there's bacon on it, too? Yep, that's better! Modern Shaman warms our hearts and bellies with their unbelievably satisfying dishes like this mouthwatering main!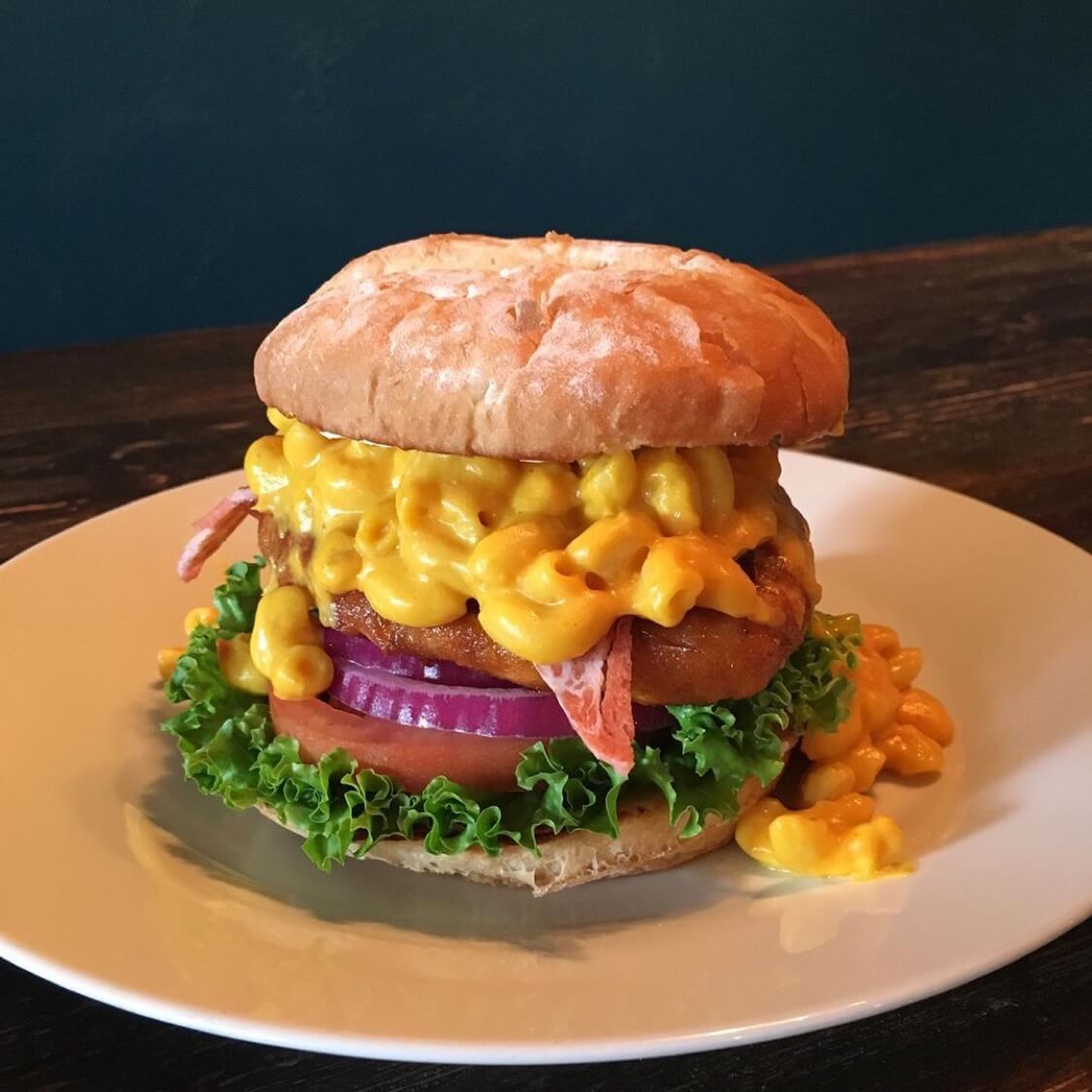 Rockin Hot Chick-un
Food Truck
This vegan food truck is named after a chicken sandwich, so you know you're in good hands! These peeps specialize in Original, Rockin, or Korean Fried Chicken Sandwiches! Their KFC (Korean Fried Chicken) Sandwich is gloriously layered in chili garlic aioli, Korean kimchi pickles, slaw, kimchi vinaigrette, and a Gochujang-glazed fried chicken patty! KFC has never sounded so good! 😉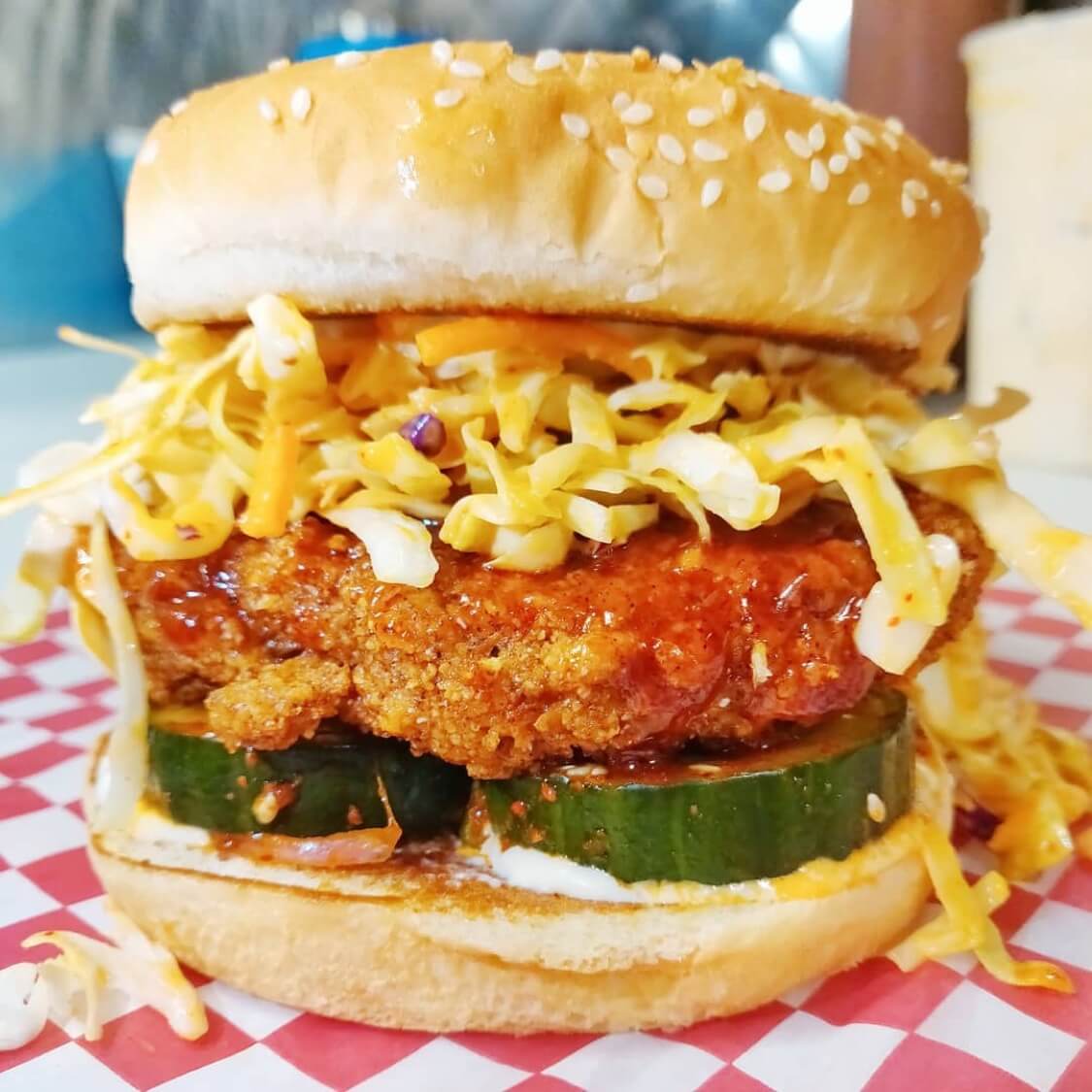 Doomie's Home Cookin'
Hollywood
Doomie's! Doomie's! Doomie's! Chant it with us! This vegan hub stocks all-things fried and fantastic, including bun-bound chicken! Whether you're feeling crispy, spicy, or saucy, personalize an encore-worthy dinner of your dreams!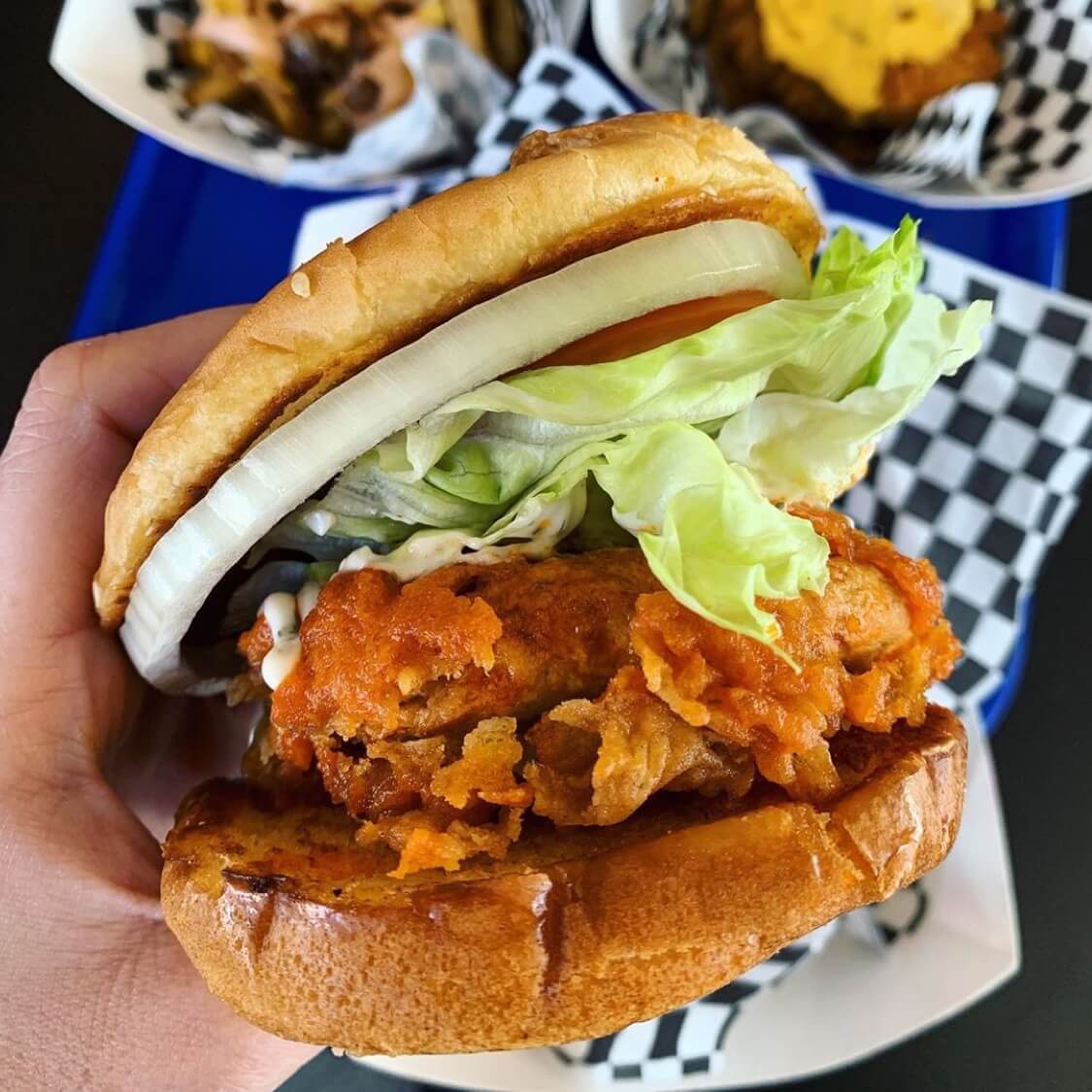 Lettuce Feast
Food Truck
Ask Siri to look up "Vegan Fried Chicken Sandwiches" and this food truck will be one of the first names she'll recite in her foreign accent! (No, it's not just you who thinks Siri is more fun with an accent!) A wide array of spice levels, the most beautiful butter buns you ever did see, vegan cheddar cheese, ranch, and secret sauce––you name it, Lettuce Feast has it!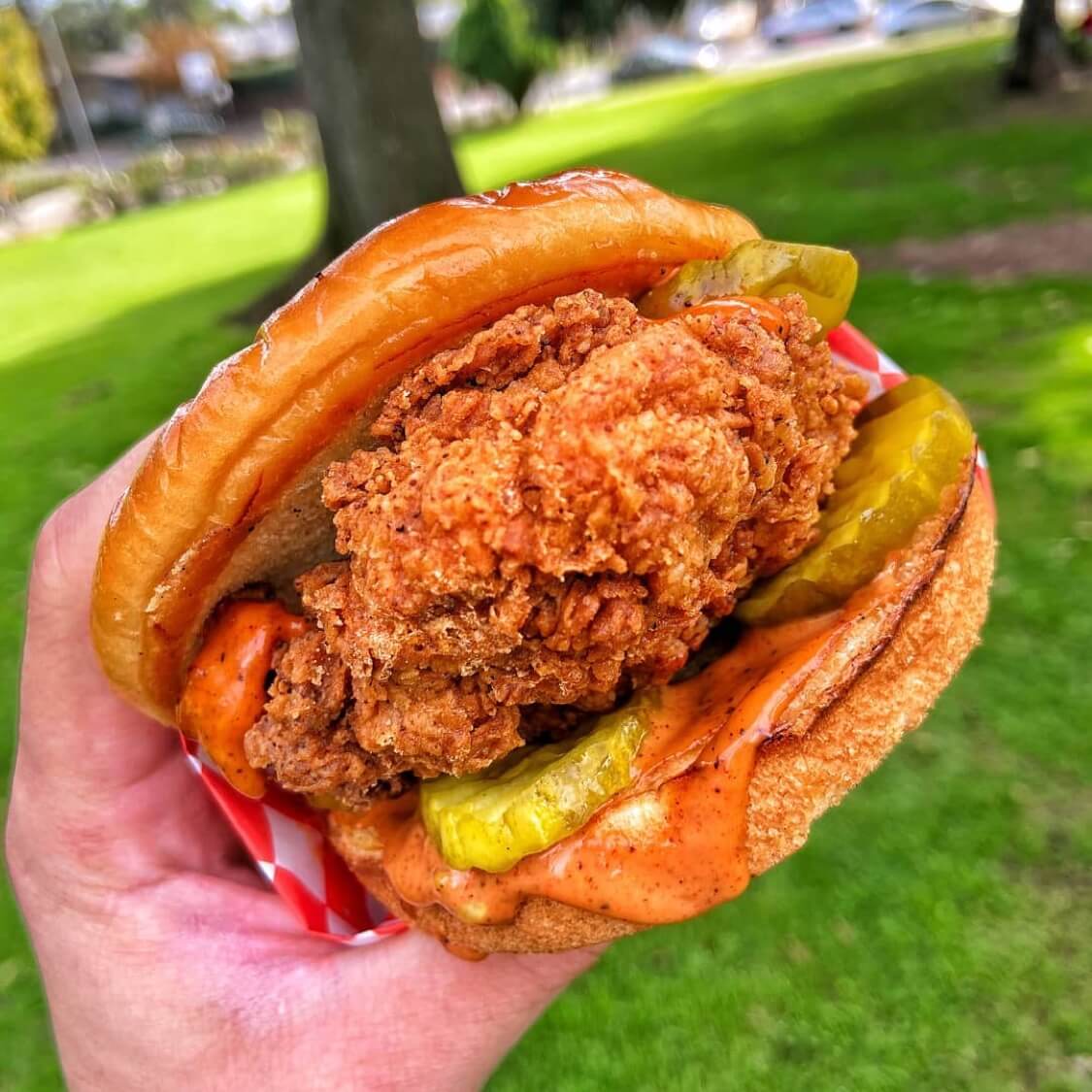 by CHLOE.
Silver Lake
Reading the word "fried" is one of the most heartbreaking moments for a gluten-free foodie. Why? Because "fried" normally translates to "full of gluten." Not this time! by CHLOE saves the day with their Chicky Chicky Parm Parm! This upbeat tempeh chicken parm-inspired sub is gluten-free when ordered with a GF bun! Our hearts are full!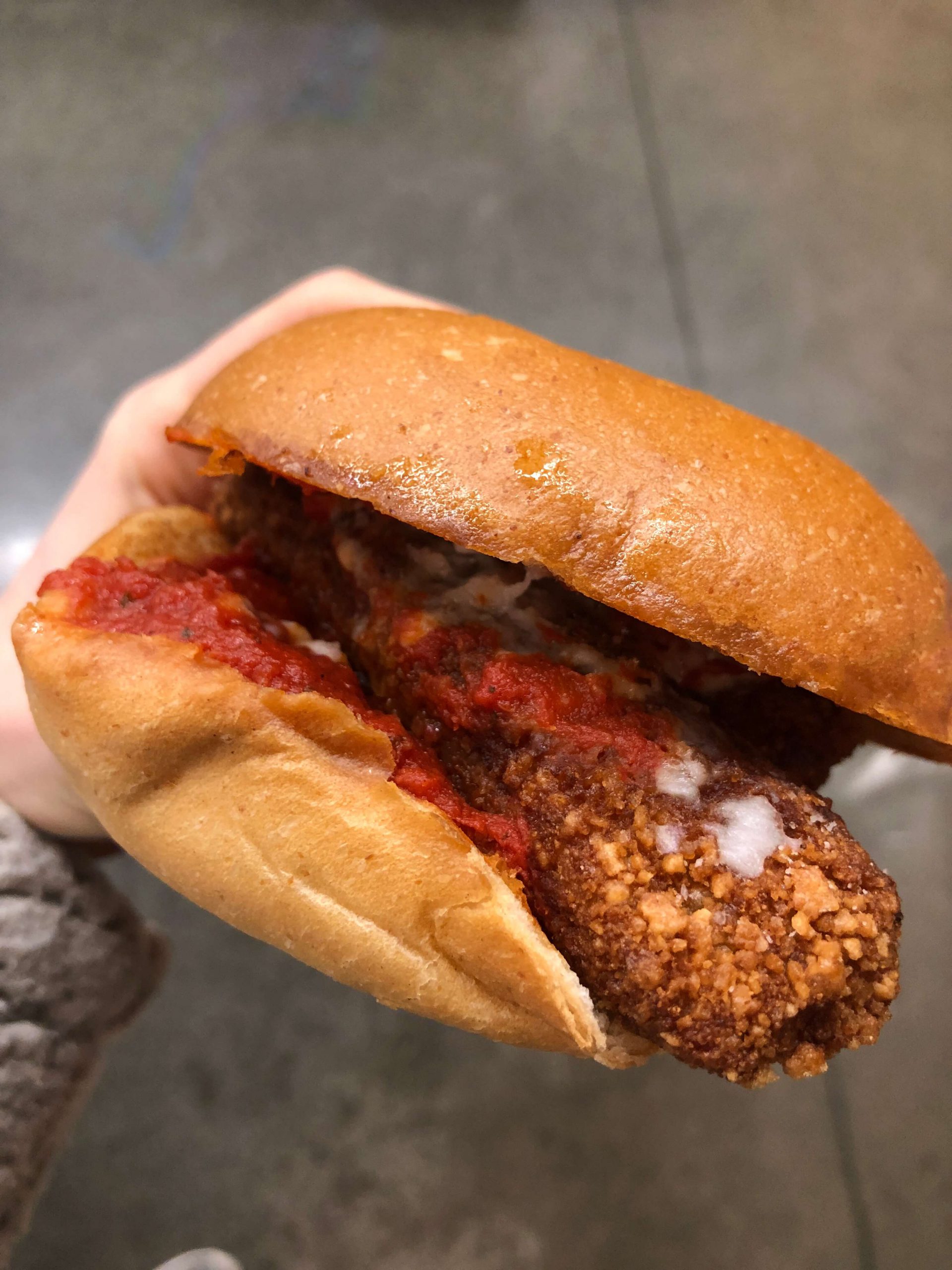 AVO Cafe
Santa Monica
The cool of the breeze, the smell of the salty ocean air, and the taste of a vegan burger––can you say "goals?" AVO Cafe hosts the most charming patio steps away from the ocean with a healthy and fresh menu! A breaded and sprouted tofu cutlet, lettuce, and various sauces bless the bun of your choice to constitute their Mock Chicken Burger! Continuing on the gluten-free trend, request Cauli Buns (made from cauliflower and garbanzo beans!)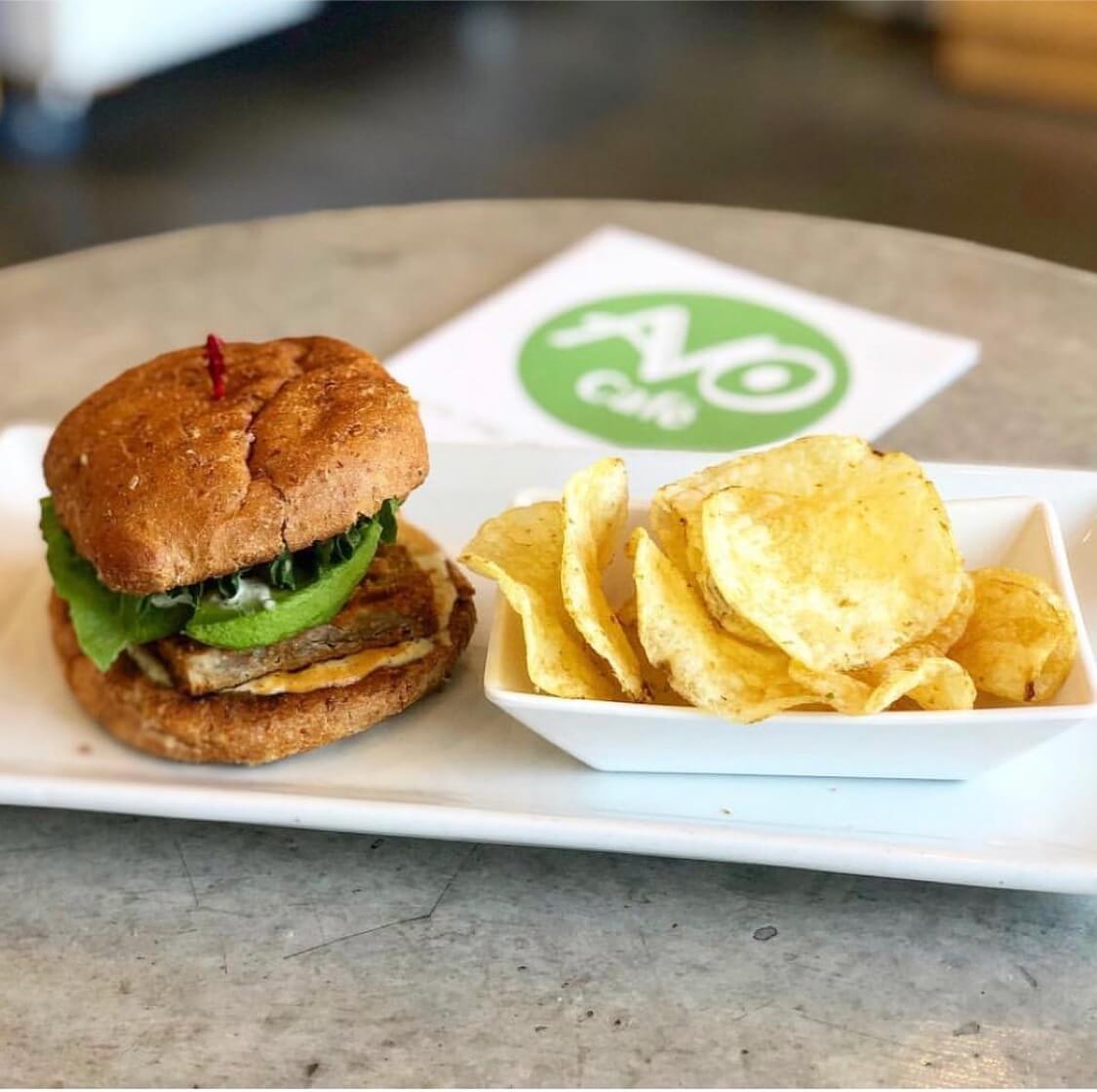 Healthy Junk
Anaheim
Aside from classic chicken sandwiches, Healthy Junk breaks out a special menu item each week, which often features fried goodness! Their Cajun Fried Chikin Sandwich and Chikin Parm Burger are a few past ancestors! Maybe they'll resurrect again? Stop by and check out what's hot!