Back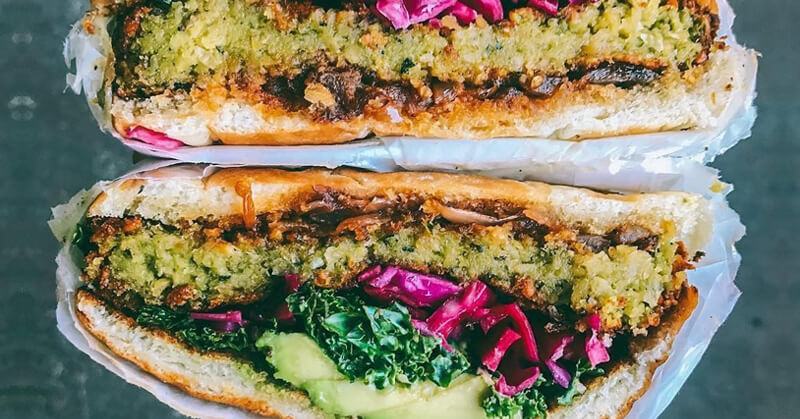 10 Spots for Unforgettable Vegan Sandwiches in Los Angeles
In the past couple of months, we've published a good handful of guides and articles on burgers galore in LA, but what about good 'ole sandwiches? 'Sandwiches' a broad term that means "filling between two slices of bread," but they're special because they connect us to our barbaric roots by getting hands on with our food. We released a similar article, 10 of the Best Vegan Sandwiches in Los Angeles, back in April of 2018, but the scene is always evolving, and there's always something new to try, so why not give you a new round up of some the city's 10 most memorable sandwiches!
Mohawk Bend
Echo Park
Let's start off the list with the most important meal of the day, because nothing says American breakfast quite like putting everything you'd normally find on a plate in between English muffins. In the early hours of the day, Mohawk Bend offers a hearty sandwich reminiscent of a McMuffin, but you know, actually good. From 9:30am-3pm on Saturdays and Sundays, hit up their brunch and grab a lightly toasted English muffin, cut in half and filled with veggie sausage, seasoned tofu, melty American cheese, and zesty sriracha mayo.
Fala Bar
Melrose, Topanga, and Century City
We know what you're thinking, "falafel's dry, crumbly, and only good smothered in loads of hummus," which is understandable to think, until you try Fala Bar. They serve up homemade falafel that's fresh, moist but not mushy, and crafted with real chickpeas. As you'd expect, you can order a falafel sandwich served in pita, but their real specialty is their falafel burgers. They have five different options, but the Avocado Burger, which comes with sweet potato falafel, red lentil, kale, avocado tahini, cilantro, and avocado slices, is definitely one to try first.
Thien Dang Vegetarian Restaurant
Little Saigon (Orange County)
When French baguettes crossed paths with simple, fresh, and perfectly executed Vietnamese cuisine, the result was culinary fusion's tastiest love child: banh mi. So where can you find one of the best vegan banh mis that will cost you less than $6? Well, pay a visit to Thien Dang for authentic, vegan Vietnamese deli food, where they have nine different banh mis to choose from, like bbq chicken, shredded meat, and sweet & sour pork, just to name a few. For about $5 you can sink your teeth into the most perfectly executed banh mi you'll ever need.
The Vegan Hooligans
Eagle Rock (Pop-Up)
It makes sense that The Vegan Hooligans takes over Abby's Diner Friday and Saturday nights, because their food is all about those diner vibes. Specializing in comforting foods fresh off the griddle and out the fryer, eating here transports you into that classic restaurant scene from Pulp Fiction. The only difference being their food didn't look as good as TVH's Flaming Melt, which is made with umami veggie beef, gooey cheese, toasted bread, and sautéed onions & peppers. Catch their full pop-up schedule on Instagram at @theveganhooligans!
Vegatinos
Pop-Up
Tortas are the star sandwich of Mexican cuisine. While they typically have butter toasted buns, refried beans with lard, cheese, and other things vegans can't eat, Vegatinos brings light to the game with their plant-based tortas, which feature toasted Mexican bread, pico de gallo, beans, chipotle mayo, and your choice of vegan meat, like "chikin," al pastor, barbacoa, and more! No matter which you choose, you'll be left reminiscing on the late-night taco runs of your youth.
Doomie's Home Cookin'
Hollywood
We recently wrote about them in our fried chicken article, but Doomie's still has so much more to offer. Their burgers are great, but have you tried their Philly Cheesesteak? It's soft, cheesy, it's got peppers and onions, and it's the best Philly Cheesesteak we've ever tasted (vegan or otherwise)! Many places skimp on fillings, oil, and salt needed to achieve the feeling a quintessential cheesesteak sandwich, but Doomie's gives their all and smashes expectations.
Eat Love
Pop-Up
If you're familiar with Vegan Sundays, you may recognize this name and think, "hey, they don't have sandwiches!" To which we say "oh, but they do!" They may not have savory sandwiches, but they more than make up for it by embracing their sweet side with slabs of ice cream in between fudgy brownies and fresh baked cookies. Their brownie sandwiches may not have been the lunch you planned, but it is the lunch your sweet tooth needs.
Organix
Eagle Rock
Truthfully, this list wouldn't be complete without a classic barbecue sandwich, and what better way to celebrate vegan bbq than with jackfruit—the giant, wondrous spiky fruit that shreds like pork when it's unripe. Organix takes this young jackfruit, bathes it in a nice marinade, bakes it to roasty perfection, shreds it, and serves it on ciabatta bread (or gluten-free brioche) with barbecue sauce, pickles, mayonnaise, and coleslaw. Order their Puerco (Pulled Pork) sandwich for a a nostalgic, stripped back presentation of the South's most iconic sandwich.
Healthy Junk
Anaheim
For cold cut sandwiches, Healthy Junk has the hook up on plant-based renditions of lunchtime staples, including BLTs, egg salad sandwiches, and clubs. Their "Club Sand" in particular hits the spot with marinated tempeh, avocado, creamy mayo, vegan bacon, juicy tomato, crisp lettuce, and red onions. Swing by from 10am-9pm on weekdays or 11am-9pm on weekends to create new, fonder memories of classic lunch favorites.
Chicana Vegana
Pop-Up
Chicana Vegana is a huge fan of using the most realistic meat and egg substitutes the industry provides, which draws in a large, curious crowd, apparent by their exceptionally long lines (pro tip: it's always worth it). Their new breakfast sandwich, the Phat Biscuit, is no exception. In this stacked morning creation, sausage, cheese, fried egg, strawberry jam, and smoky bacon lie between a homemade buttermilk biscuit. Get your hands around this masterpiece at the next Kannabis Works Vegan Fair event in Santa Ana!
Whether you're craving an indulgent breakfast, quick lunch, savory dinner, or a sweet treat, these sandwiches will remind you why you're living in the vegan central of the U.S.
Ryan Tempfer
@ryantempfer
Ryan is a cook, writer, and musician born and raised in Tampa, FL. With years of recipe testing for his Asian-American food blog, No Eggs or Ham, behind him, he strives to sharpen the image of vegan food by highlighting chefs who push the boundaries of plant-based cuisine. Unlike the advice your mom lent you, he encourages you to play with your food every chance you get!
Articles by Ryan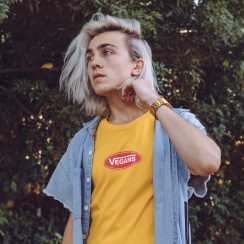 More from VegOut
Subscribe Now
Get the premier vegan food and lifestyle magazine delivered to your door (or inbox!)
Order the magazine!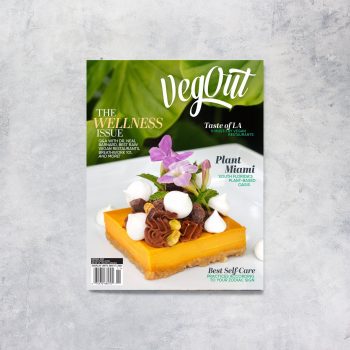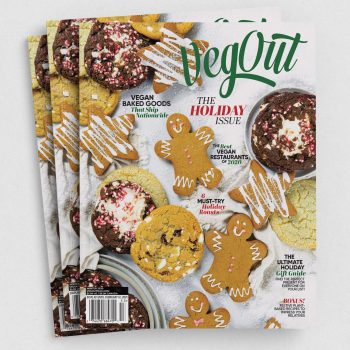 Navigation