Back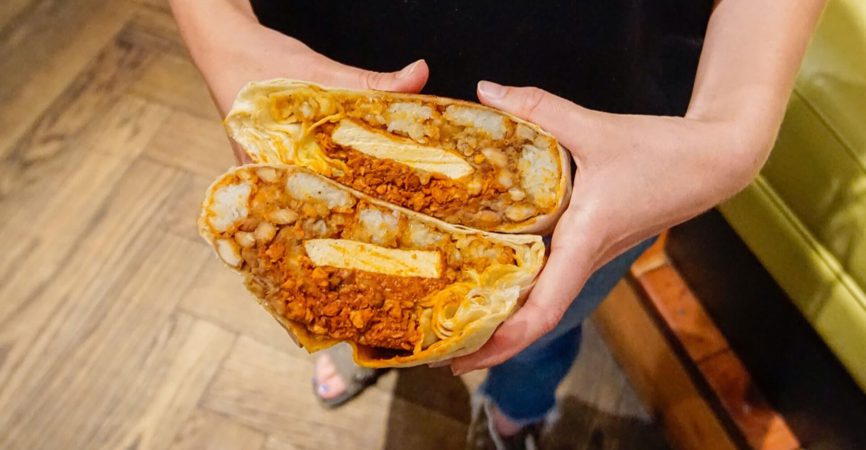 10 of the Best Vegan Breakfast Burritos in Los Angeles
Burritos are great, but have you tried breakfast burritos? If you're looking for some great vegan breakfast burrito options, then check out this list, which has some of the top choices in the LA area.
Amara Kitchen
Highland Park
Amara Kitchen offers their Amara Burrito, which can be made vegan with beans and soyrizo–plus, it also includes avocado, roasted purple potatoes, salsa verde, and cilantro in a New Grains brown rice, flax, and psyllium husk tortilla.
Beelman's
Downtown LA
Available ALL DAY LONG, the Breakfast Burrito at Beelman's consists of tater tots, soyrizo, smoked tofu, pinto beans, avocado lime salsa, & Gochujang crema in a flour tortilla, plus tortilla chips and salsa on the side.
The Grain Cafe
Mid-City and Long Beach
Enjoy the Breakfast Burrito at The Grain Café, which is made up of tofu egg, onions, tomatoes, sausage, potatoes, cheese, and tempeh bacon, and is served a side of potatoes.
Green Peas Casual Food
Culver City
Gardein chicken, potatoes, grilled onions, red bell peppers, spinach, and Daiya cheddar cheese wrapped in a wheat tortilla is what the Vegan Breakfast Burrito is at Green Peas. It also comes with a cup of fruit or breakfast potatoes.
The Highland Cafe
Highland Park
Order the Soyrizo or Jackfruit breakfast burritos at The Highland Café. The first contains soy chorizo and tofu scramble, hash brown, black bean, and avocado, and the second is comprised of jackfruit carnitas, hash browns, black beans, pickled red onions, shredded cabbage, and avocado lime crema.
Locali
Downtown LA, Hollywood, Venice, and West Hollywood
If the combination of scrambled sprouted tofu, cheese, black beans, bell pepper, and red onion in a sprouted multi-grain tortilla sounds good, then order The Brekkie Burrito at Locali. It's served with a side of salsa and chipotle sauce on the side, and you can add avocado for $2.50.
Real Food Daily
LAX, Pasadena, West Hollywood
Enjoy breakfast all day, ordering Real Food Daily's Breakfast Burrito–tofu scramble, hash browns, chipotle sausage, avocado, cashew cheese, and ranchero sauce in a whole-wheat wrap.
Stuff I Eat
Inglewood
During weekend brunch at Stuff I Eat, they offer their Breakfast Burrito, which is yellow polenta, tofu sausage, tofu scramble, kale, salsa, guacamole, and SIE sauce wrapped in a whole-wheat tortilla. A mixed green salad (with carrot mango dressing) and organic corn chips are served on the side.
Swingers
West Hollywood and Santa Monica
Swing by for breakfast at Swingers and order their Vegan Burrito at Swingers, which consists of sautéed tofu, sautéed spinach, quinoa, and black beans in a whole-wheat tortilla topped with chipotle sauce.
The Vegan Joint
Culver City, Downtown LA, and Woodland Hills
At The Vegan Joint, there's five different breakfast burritos. Burrito #1 is soy bacon bits, tofu scramble, Monterey Jack cheese, onion, cilantro, and bell peppers. Burrito #2 is tofu scramble, Monterey Jack cheese, brown rice, onion, cilantro, and bell peppers. Burrito #3 is lentil loaf, grilled soy chicken, garlic cilantro sauce, Jack cheese, onion, and bell peppers. Burrito #4 is sweet potatoes, tofu scramble, onion, bell peppers, cilantro, and Monterey Jack cheese. And their Combination Burrito is rice, beans, romaine lettuce, avocado, and tomatoes, to which you can add soy meat or seitan for $3.
Symphony Barnes
@symphonybarnes
Symphony is a Southern California native who is passionate about health and wellness. She enjoys writing, living in California, and sharing her vegan lifestyle. Symphony graduated from Pepperdine University with a Bachelor of Arts in Journalism.
Articles by Symphony
More from VegOut
Subscribe Now
Get the premier vegan food and lifestyle magazine delivered to your door (or inbox!)
Order the magazine!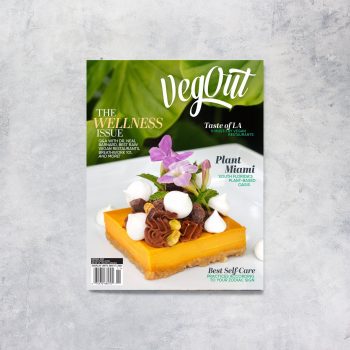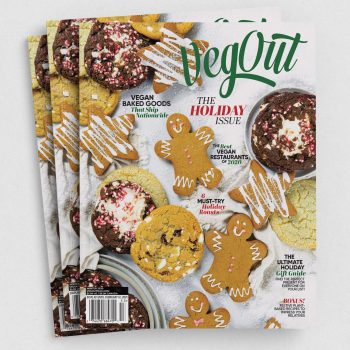 Navigation