Back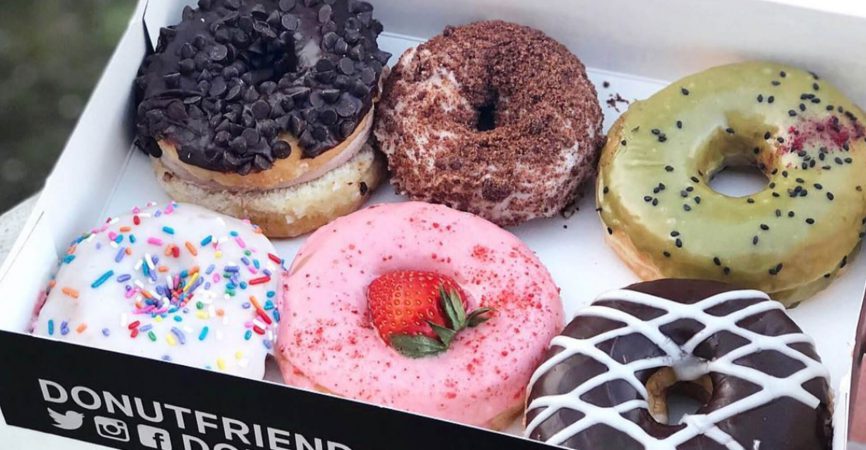 10 of the Best Spots for Vegan Donuts in Los Angeles
Get ready for a donut run because we've scouted out some of the best places to head to for vegan donuts in the LA area. Be sure to check to see if you've tried all these spots and all the vegan varieties.
Donut Friend
Highland Park
Donut Friend is the totally-vegan donut shop that goes all out. They have donuts with names like Srirachosin (peanut butter, strawberry jam, coconut bacon, and a bit of sriracha inside a raised donut) and Nutellavision (chocolate hazelnut spread and a dash of olive oil inside a raised donut, topped with vanilla glaze and a pinch of sea salt). Plus, they have DIY donuts too–you can customize a donut by choosing a donut type, fillings, and toppings.
Blue Star Donuts
Venice & Manhattan Beach
Blue Star may not be fully-vegan, but they always have a good selection of vegan donut options. Look out for flavors like Cranberry Cake Spice, Orange Olive Oil, Matcha Latte, and more.
Erin McKenna's Bakery
Larchmont
Everything at Erin McKenna's is vegan, gluten-free, and soy-free. So, along with their other baked goods, it's the perfect option if you're a vegan with allergies who's looking for good donuts. Head there for flavors like their Powdered Sugar Blueberry Donut and Cinnamon Sugar Donut.
Fonuts
Beverly Grove
If you're looking for something different from typical fried donuts, then check out baked ones from Fonuts. Some of their vegan options include Vanilla Latte, Banana Cinnamon, Lemon, and Chocolate Coconut.
Donut Farm
Echo Park
For 100% organic ingredient vegan donuts, hit up Donut Farm in Echo Park. They've got donut flavors like Cinnamon Sugar, Vanilla Cookie, Chocolate Sprinkle, Lavender Earl Grey, plus plenty more.
Breakaway Bakery
Mid-City
Breakaway is another allergy-conscious bakery. While not everything is vegan, all their donuts are: Chocolate Chip, Snickerdoodle, Cocoa Cinnamon, Maple, and Salted Chai Caramel.
Café Gratitude
Multiple Locations
The next time you're at or near a Café Gratitude, try checking to see if they've got donuts left. Some options include donuts topped with maple coconut bacon, chocolate, coconut shreds, and berries.
The Donuttery
Huntington Beach
If you're in Orange County, and craving a donut, make a stop at The Donuttery. They have lots of options for vegan donuts, from traditional raised flavors, to cake donuts, to fancy flavors like PB&J and Cinnamon Roll, and even jelly donuts and Long Johns.
Karma Baker
Westlake Village
Karma Baker in Westlake is a fully-vegan and gluten-free bakery with donuts like Cookies and Crème and their Unicorn Donut. They also have a special monthly-rotating donut, which in the past has included flavors like February's Red Velvet and March's Easter Donut.
Kettle Glazed
Hollywood Hills
Kettle Glazed is a vegan-friendly donut shop that has a daily selection of vegan cake donut options that have included blueberry lemon, apple cinnamon, vanilla bean, plus more.
Symphony Barnes
@symphonybarnes
Symphony is a Southern California native who is passionate about health and wellness. She enjoys writing, living in California, and sharing her vegan lifestyle. Symphony graduated from Pepperdine University with a Bachelor of Arts in Journalism.
Articles by Symphony
More from VegOut
Subscribe Now
Get the premier vegan food and lifestyle magazine delivered to your door (or inbox!)
Order the magazine!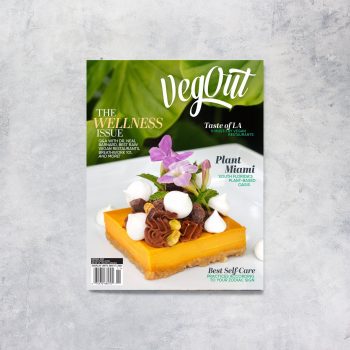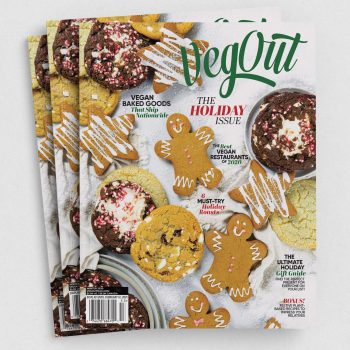 Navigation