Back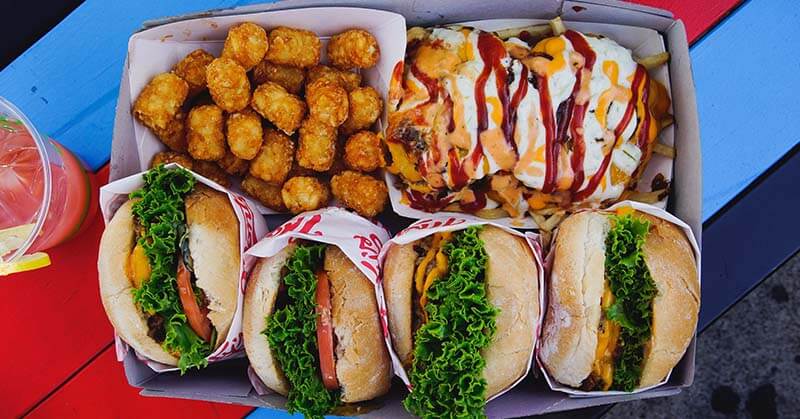 10 Must-Try Plant-Based Burger Joints in Los Angeles
These LA burger joints are 100% vegan and 110% delicious! While it's great that so many restaurants offer vegan-friendly options, it's nice to take a break from modifying the heck out of menu items. At these all-vegan burger spots, you'll go from saying, "Can I have the veggie burger without cheese or mayo?" to "Extra vegan ranch, double cheese, and add a milkshake for dessert!"
RELATED: Here's Where to Find Vegan Flan in Los Angeles
---
Want even more LA vegan news, food, and lifestyle content? Subscribe to VegOut LA Magazine!
Burgerlords
Chinatown and Highland Park
This retro-looking burger spot recently went all-vegan and we couldn't be happier! Their menu hosts a vast array of handhelds––burgers, cheeseburgers, chili cheeseburgers, buffalo ranch tofu burgers, and more. Their signature patties are made fresh every day using a custom 30-ingredient blend of grains, vegetables, and seasonings. It's worth the hype!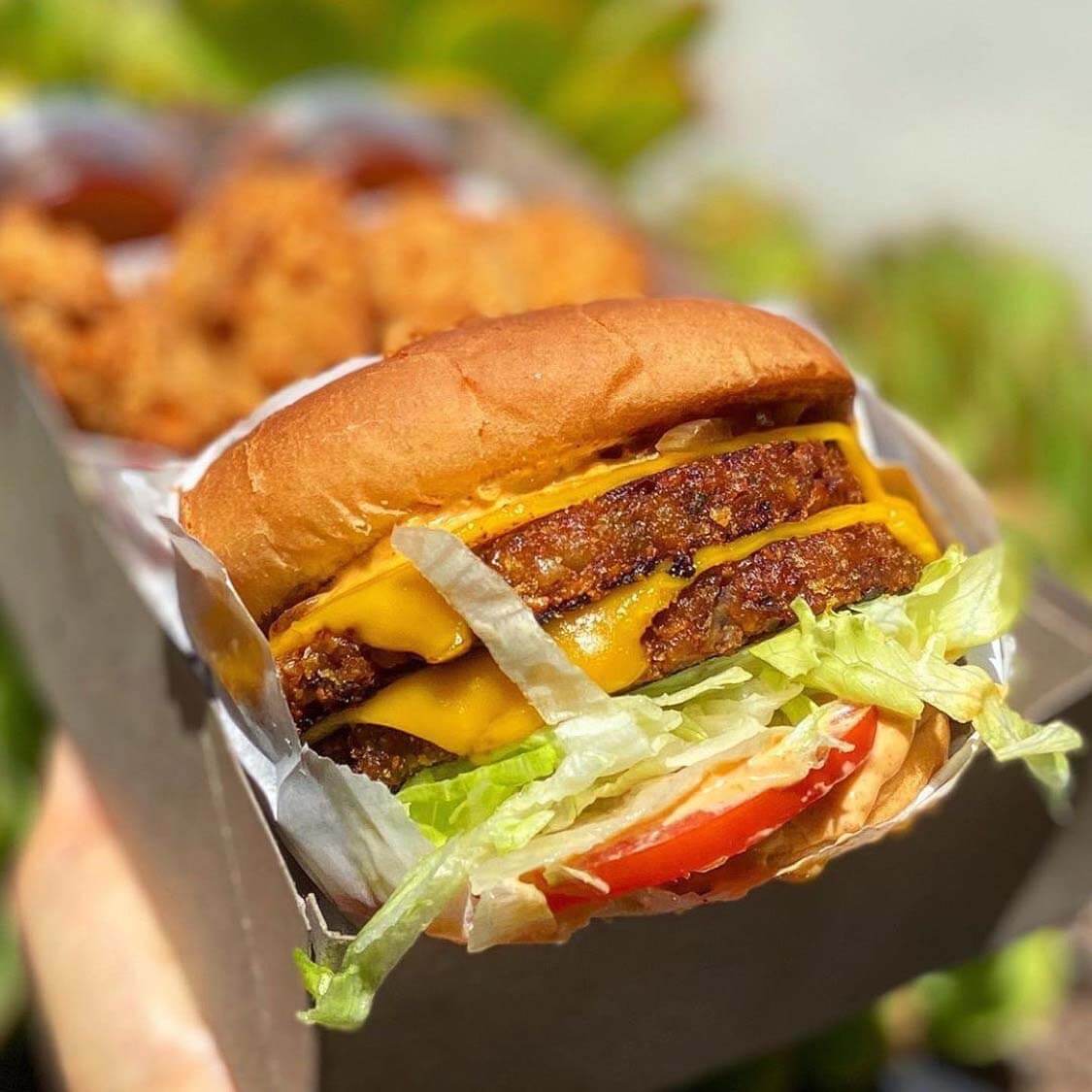 Photo credit: @meatlessmolly on Instagram
Monty's Good Burger
Echo Park, Koreatown, Beverly Grove, and Riverside
Monty's Good Burger is just about every vegan's go-to burger joint in LA! Their menu may seem simple at first glance––single or double patty, fries or tots on the side, and your choice of sauce. In actuality, their burgers, sides, shakes, and drinks are customizable to the nth degree! Their most popular secret menu item is the Dog Pile, a serving of fries topped in two Impossible burger patties, two slices of cheese, and all five of their saliva-inducing sauces. Whatever odd burger-centric craving you're experiencing, Monty's can help. Just ask nicely!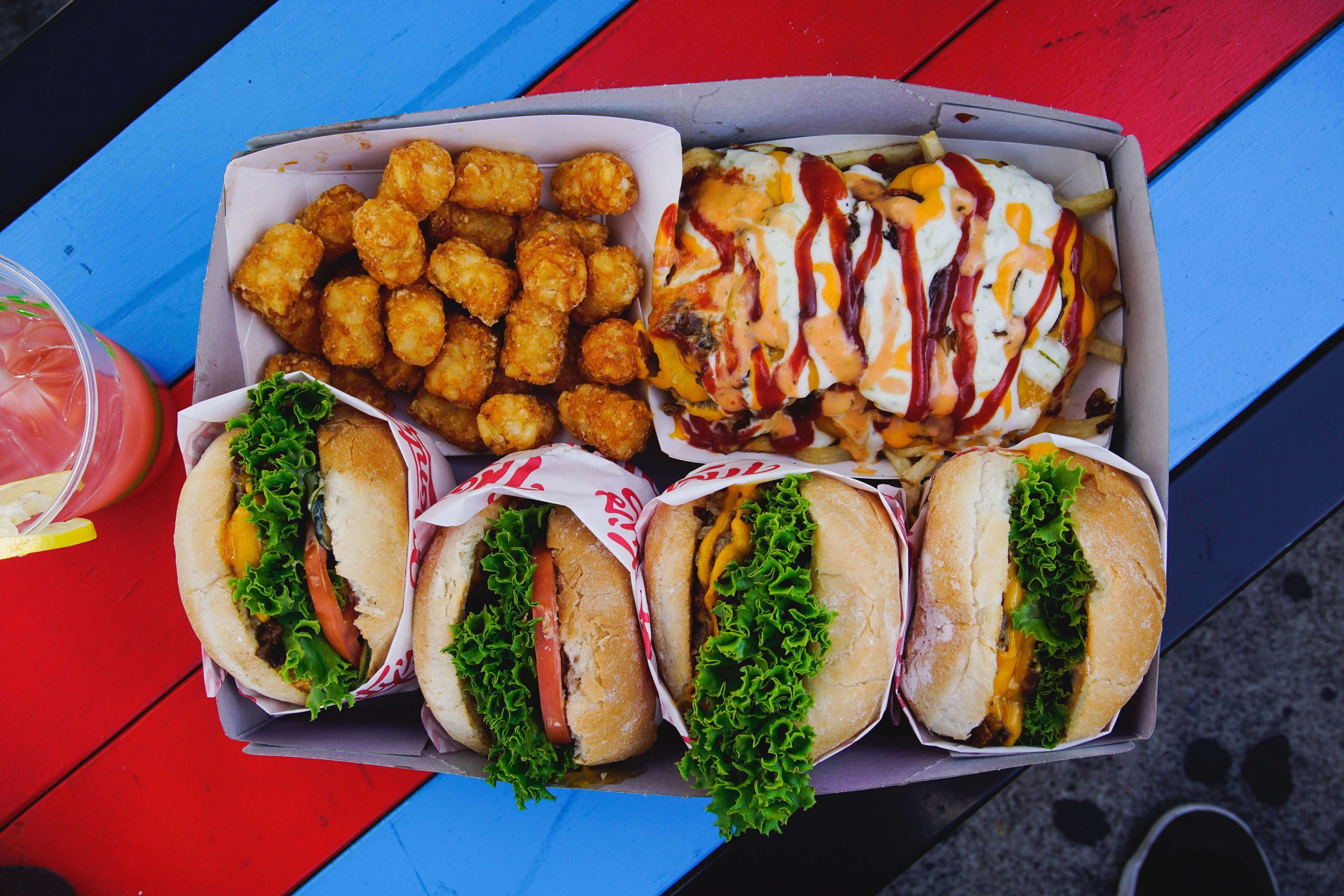 NOMOO
Melrose
Whether you're a skeptic of the plant-based lifestyle or have been vegan for 15 years, the burgers from NOMOO are sure to please your taste buds! Your choice of a single or double Impossible patty is decked out in vegan American cheese, pickles, tomatoes, butter lettuce, and NOMOO sauce and sandwiched between a beautifully baked brioche bun. Their Signature Fries & Greens is made up of half fries and half greens (Miso Caesar or Superfood Slaw). Or you can lighten up your side and just order greens! What about dessert? They've got vegan ice cream sandwiches, cookies, and even a Blue Majik Milkshake!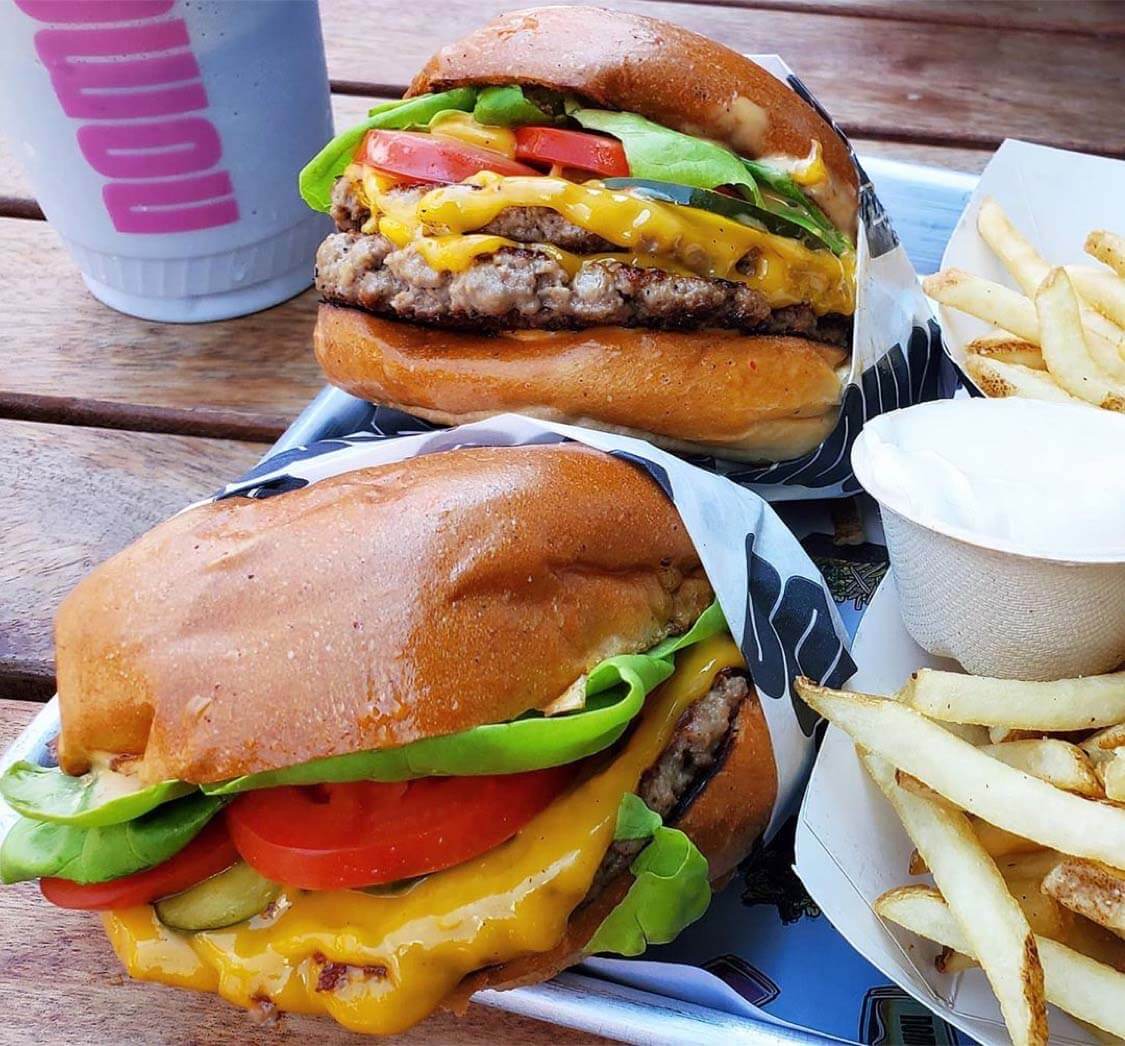 Photo credit: @danieljihn on Instagram
Nice Guys Vegan
Costa Mesa
Nice Guys Vegan is more than just a plant-based burger joint. It's the home of Orange County's first and only 100% vegan charbroiled burgers! Their menu showcases an insane amount of burger variations, from classics to creative new flavor combinations. If you think pineapple on pizza is good, how about pineapple on a burger? Yep, that's right! Nice Guys Vegan's Mainlander burger comes with pineapple, cheese, lettuce, tomato, onion, mayo, and Teriyaki sauce. Oh, and did we mention they serve vegan mozzarella sticks? Sold!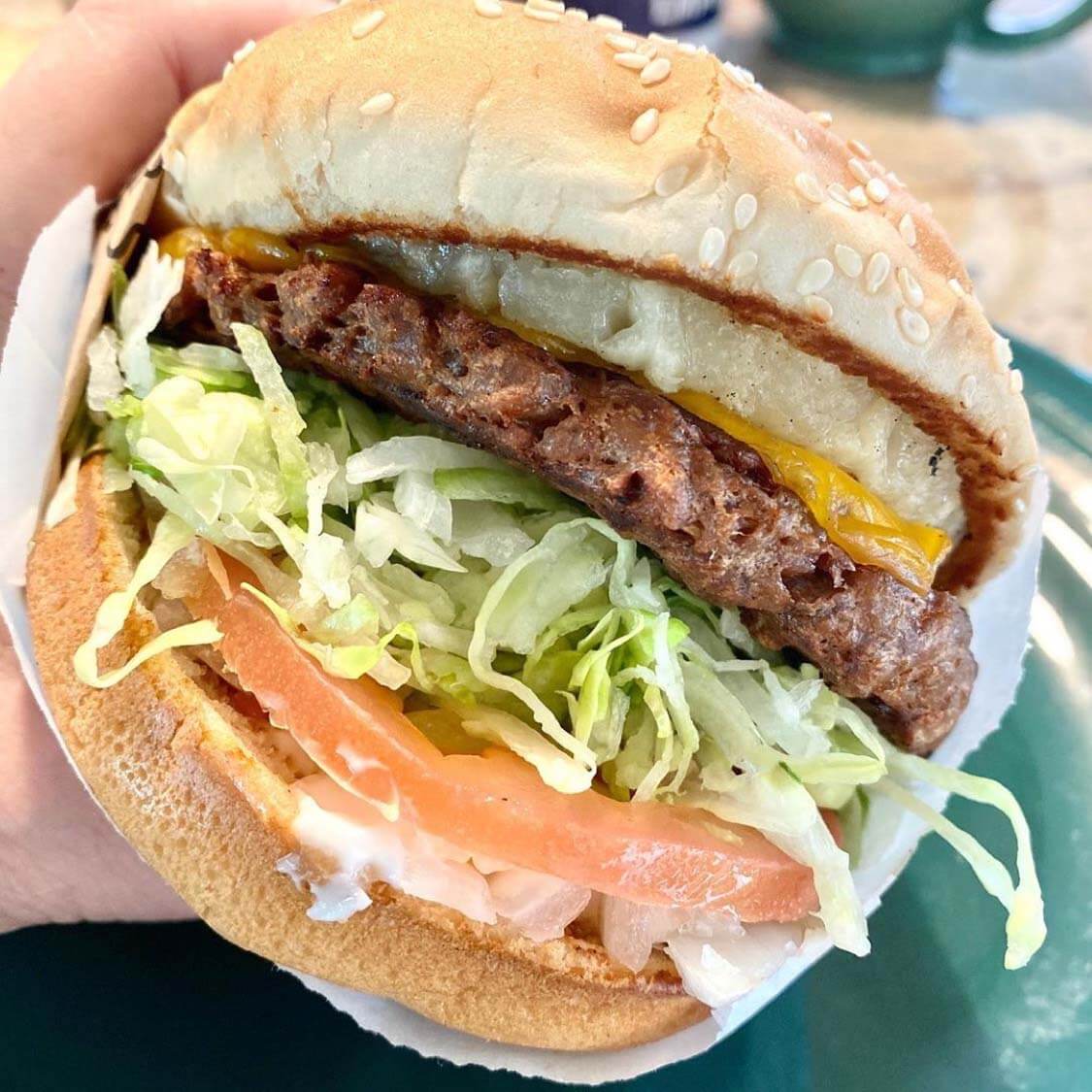 Photo credit: @spiceislandvegan on Instagram
VOWburger
Fairfax
VOWburger's namesake handheld features an Impossible patty with lettuce, tomato, pickles, onions, and house-made sauce. Want a bit more to your bite? Order the VOWdubs, the double-patty rendition of their classic burger. Finish things off with a satisfying slurp of their milkless milkshake if you dare!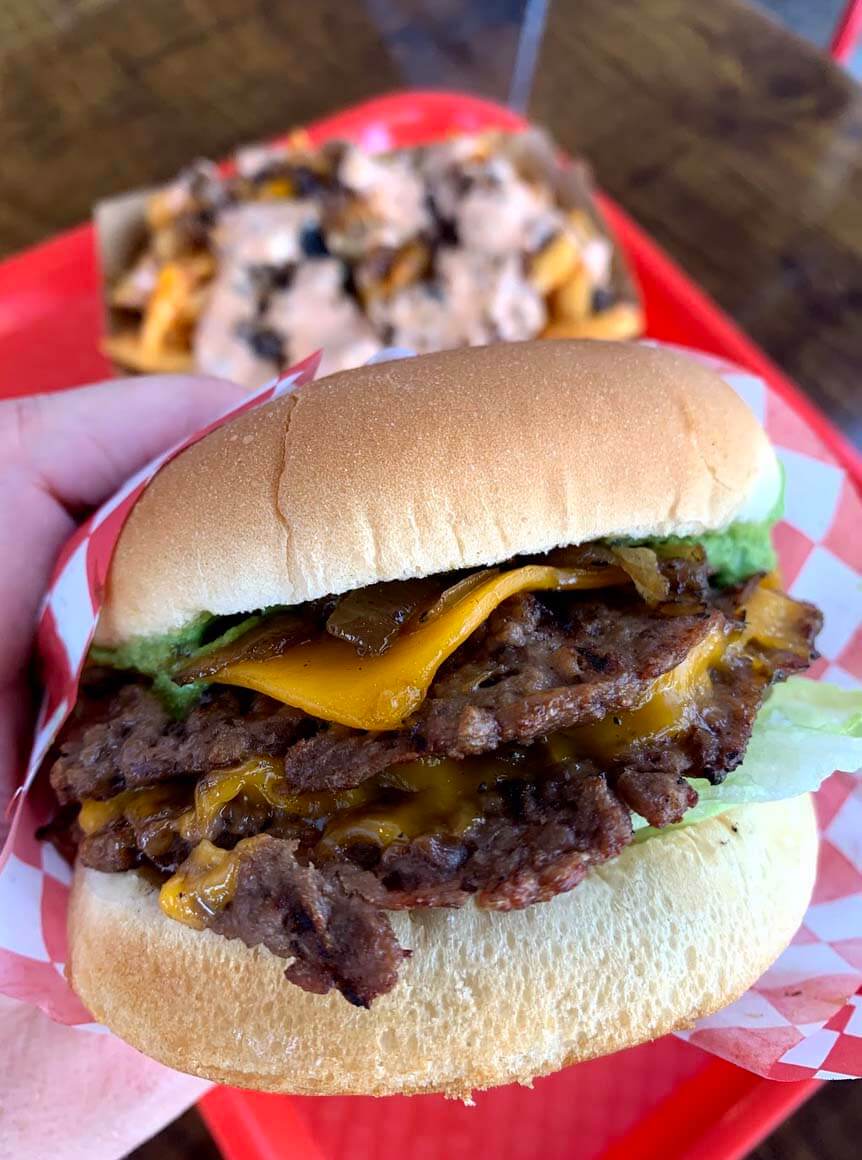 VBurger
Long Beach
Most burger joints offer single- and double-patty options, but what about triple or quadruple? At VBurger, anything is possible! The 4×4 burger contains FOUR Impossible or Beyond patties layered with cheese, lettuce, tomatoes, onions, pickles, and house dressing. Feeling adventurous? "Work Your Burger" to add chili, mac and cheese, scrambled eggs, or sausage. If that sounds a bit too overwhelming, fear not! VBurger makes classic burgers too.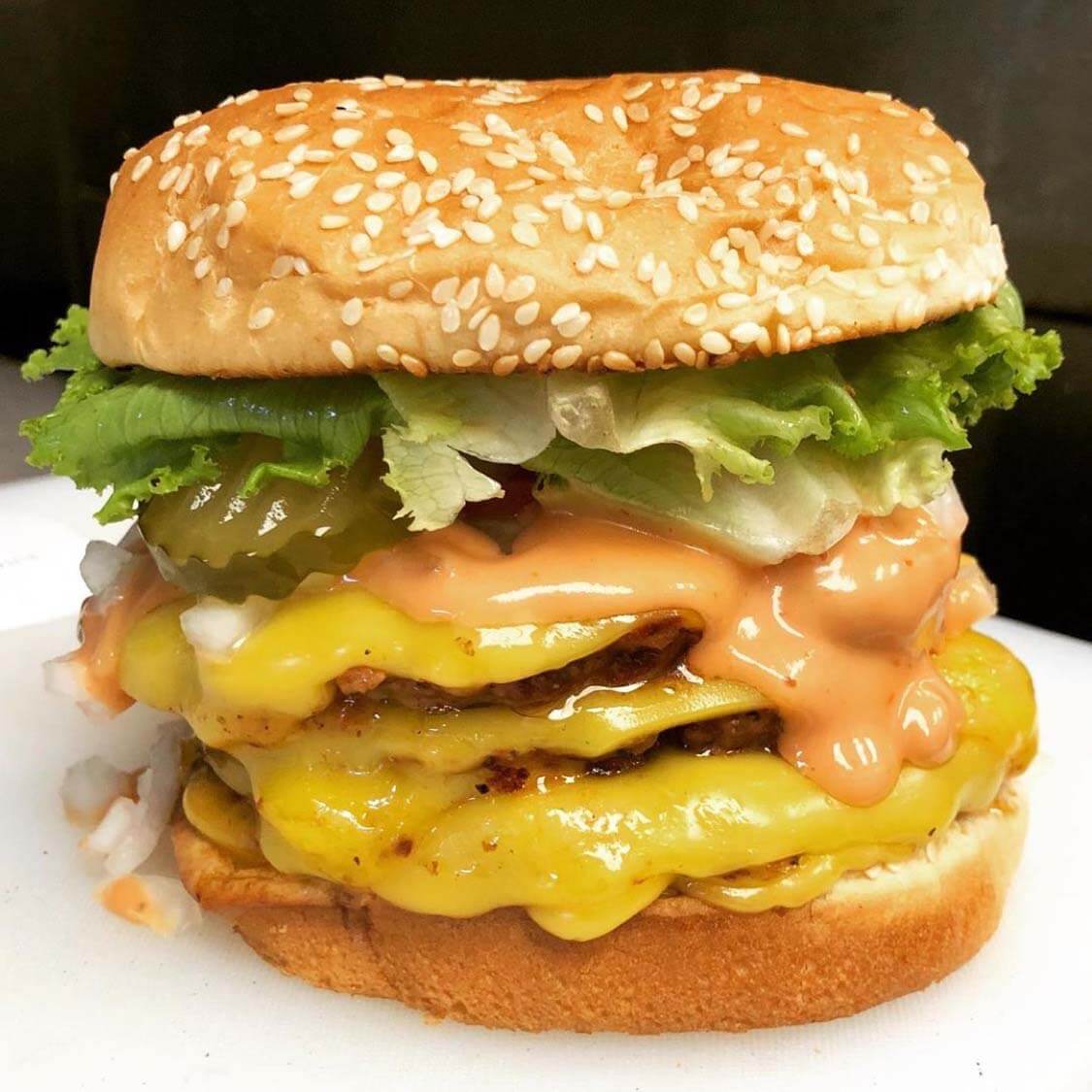 Extra Market, Inc.
Beverly Grove
If you're a guac fanatic, you'll love the Royale from this new vegan spot. The unique and wickedly delicious burger holds a patty, American cheese, onion jam, red cabbage slaw, pickles, burger sauce, and house-made guacamole between a sesame bun. Extra Market Inc. also offers single, double, and chili cheeseburgers, fries, salads, and more!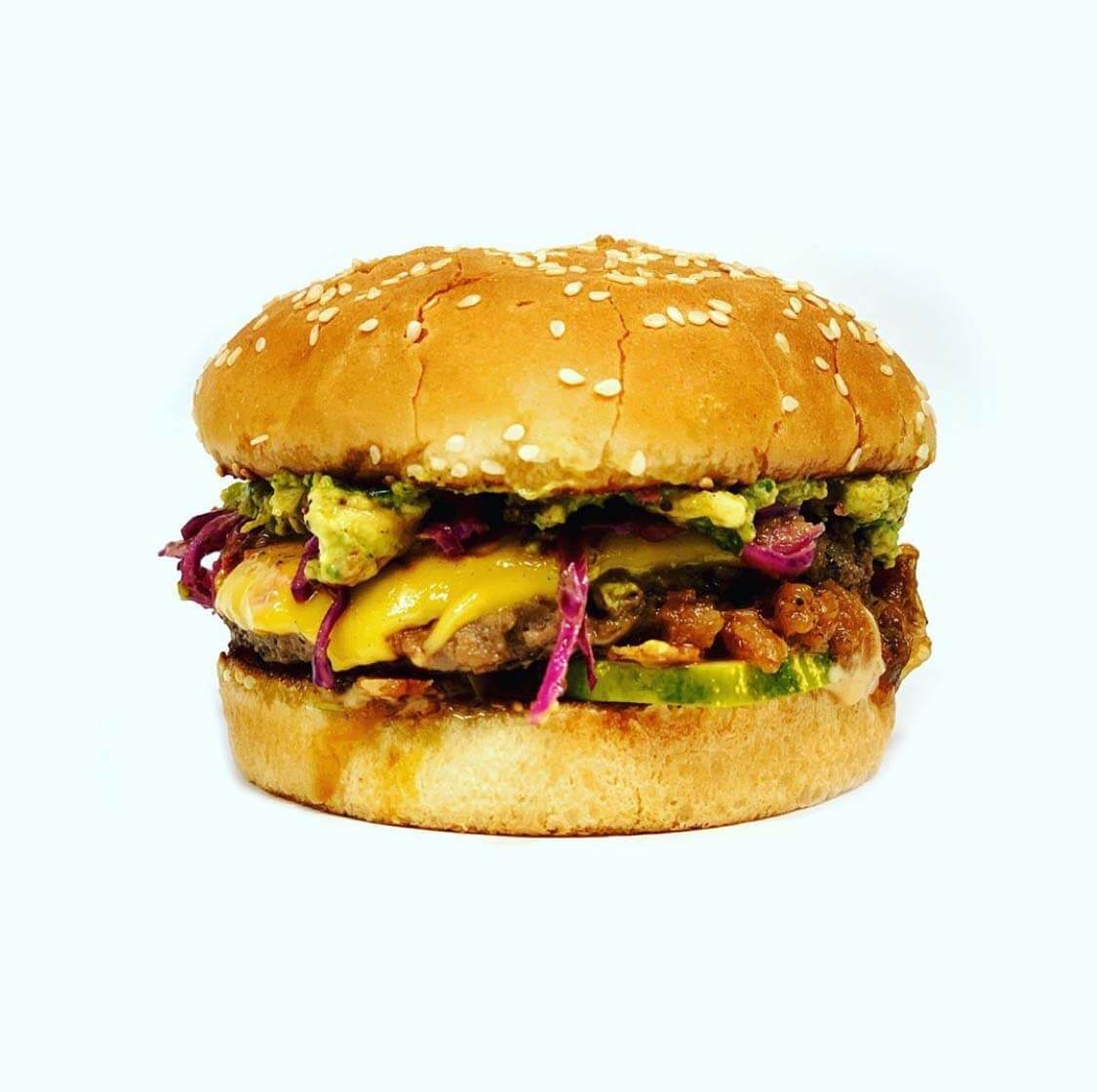 Plant Power Fast Food
Long Beach, Riverside, Fountain Valley, and Redlands
Craving an authentic fast food experience without any animal products? Take a trip to Plant Power Fast Food! Their nostalgic dishes are the perfect pick-me-up when you're feeling down. One of our favorites is the Rambler! It contains a beef-like burger patty, American cheese, crispy onions, lettuce, tomato, and BBQ sauce. Mmm!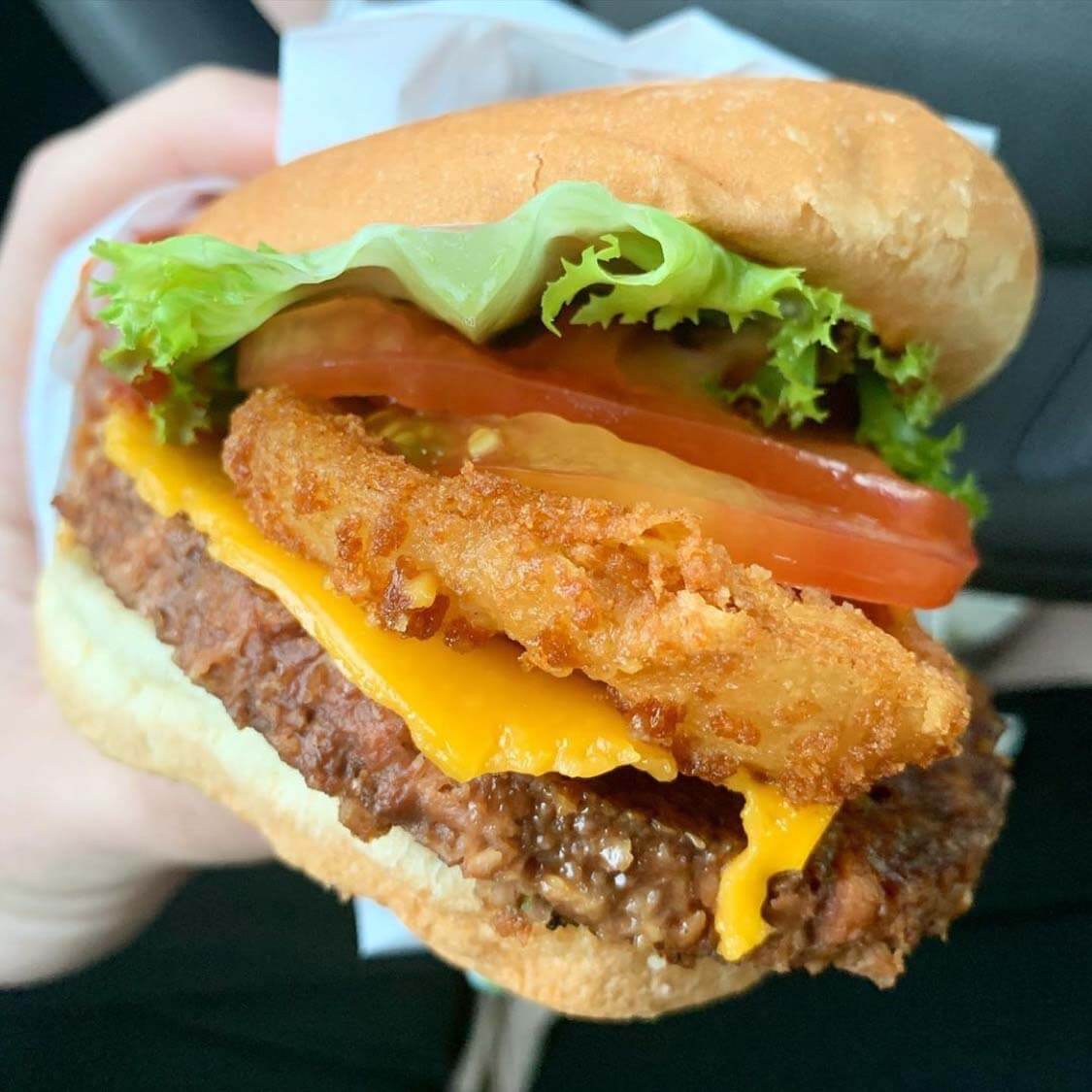 Photo credit: @drumrollnicole on Instagram
Honeybee Burger
Los Feliz and West LA
Honeybee offers Beyond and Impossible burger patties for you to choose from when ordering their handheld items. The Queen Bee comes with two burger patties, two slices of Violife cheese, house sauce, onion jam, lettuce, tomato, onion, and pickles. Can't decide between Beyond or Impossible? Get one of each patty!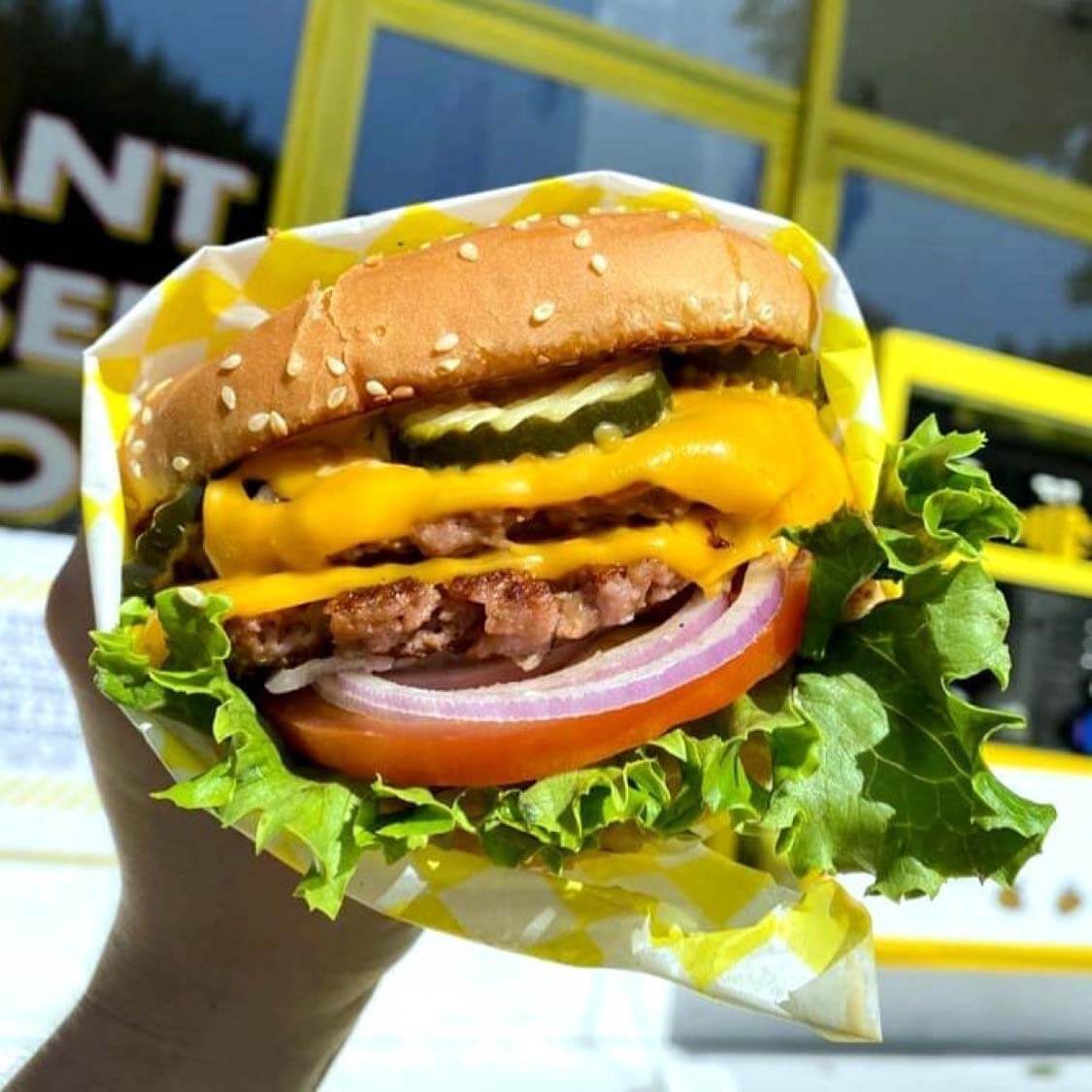 Blazin' Burgers
Burbank
Vegan mac 'n' cheese makes everything better—even burgers! The Bedford Mac 'N Cheese Burger from this plant-based hot spot features a vegan patty with melted American cheese, caramelized onions, green chilies, Thousand Island dressing and a heaping scoop of house-made mac 'n' cheese! It's all held together by a toasted English muffin. Blazin' Burgers also makes classic burgers, grilled cheese sandwiches, fried chicken, onion rings, and loads of other drool-worthy mains and sides.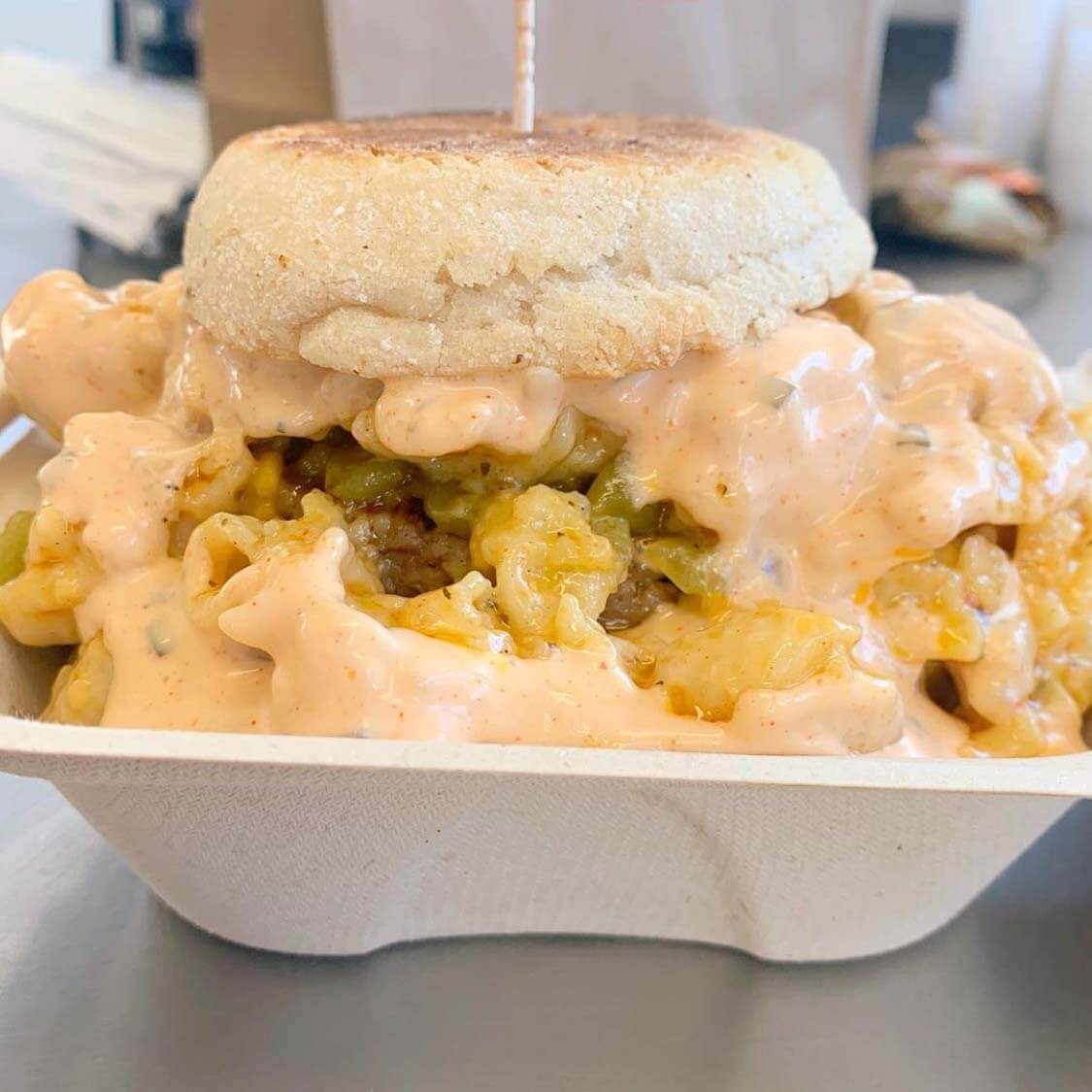 Allie Mitchell
@alliemitch
Allie is a writer, musical theatre performer, yoga instructor, and walking vegan restaurant directory. On any given day, you can catch her making tofu scramble, scouring Trader Joe's for new plant-based products, or watching The Lizzie McGuire Movie! Visit her website at alexandrammitchell.com.
Articles by Allie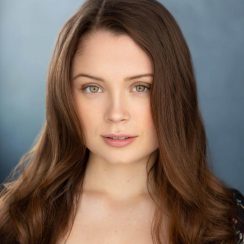 More from VegOut
Subscribe Now
Get the premier vegan food and lifestyle magazine delivered to your door (or inbox!)
Order the magazine!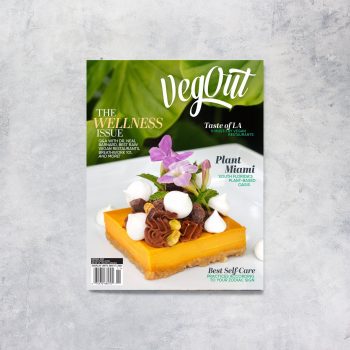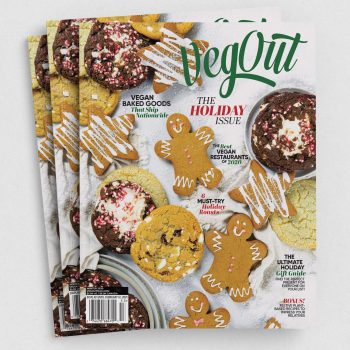 Navigation