These restaurants offer tasty vegan meals at an affordable price! If you've glanced at the stocks in the past few weeks, you'd know that we're entering a recession. With the high economic impact of the coronavirus pandemic, many people are experiencing pay cuts, layoffs, and less money available for random spending. As you're making adjustments to your budget, find some peace of mind knowing you won't have to compromise on good vegan food! We've come up with a list of places that offer cheap, yet delicious meals. Dig under your couch cushions and check your pockets for spare change, because you'll want in on these inexpensive eats!
Lily's Tacos
Pomona
This vegan-friendly Mexican restaurant takes Taco Tuesday to another level––with $1 tacos ALL DAY! Can't stop by on a Tuesday? You can get this deal on Fridays too! Their plant-based meat options include Carne Asada, Barbacoa, Carnitas, Chorizo, Pollo, and Al Pastor. All it takes is just one dollar to make your taco dreams come true! Call in your order for curbside pick up or place a delivery order on Grubhub, Postmates, DoorDash, or UberEats.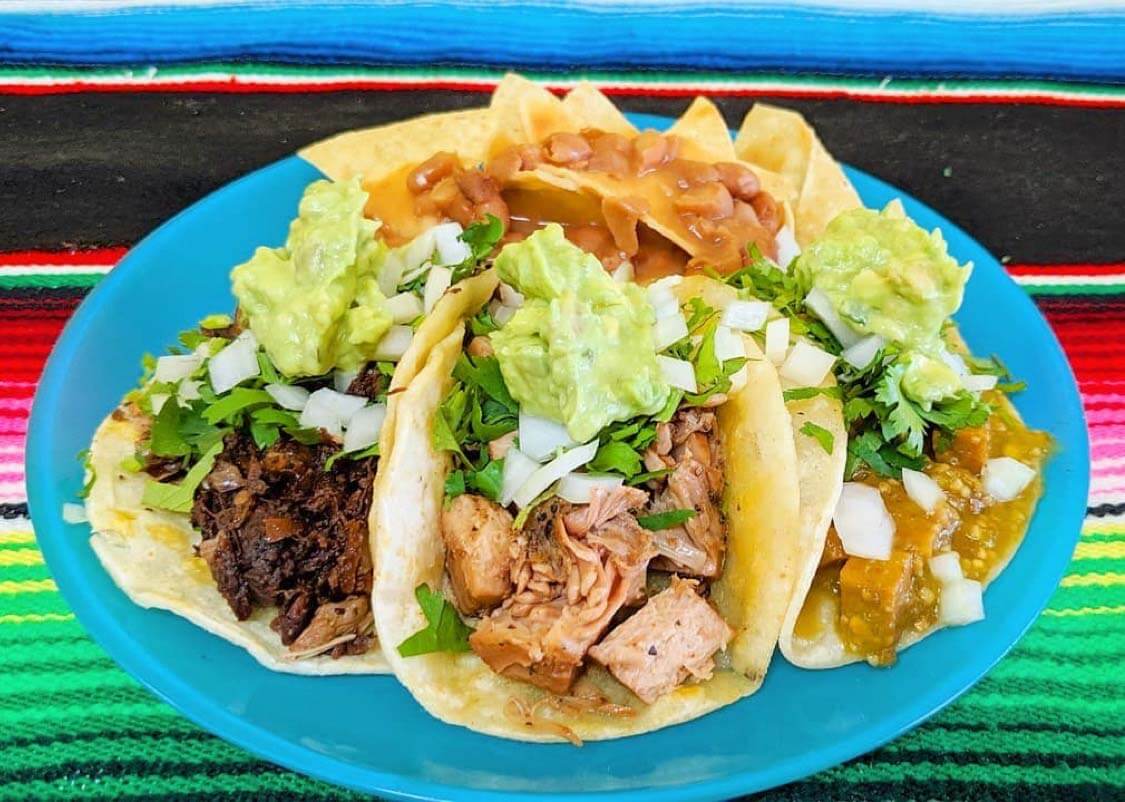 PBJ.LA
DTLA
An elegant peanut butter and jelly sandwich from this spot is sure to brighten your day! We know you're thinking, "but I already have the ingredients to make this at home." You're right, you may have some plain jelly, peanut butter, and bread––well, actually the bread might be questionable with the empty grocery store shelves these days. But do you have house-made apple jam, chocolate hazelnut butter, marshmallow fluff, gourmet bread, or a contraption that beautifully cuts the crust off to make a craveable circular handheld? Try again! PBJ.LA has a sandwich option as cheap as $5.50, and everything on the menu is under $10. Worried you might still be hungry? Each sandwich contains a heaping scoop of nut butter that's high in protein and healthy fats to keep you fuller for longer! If you have a bit of extra dough (get it, dough?) to spare, please consider adding on a donation to the SUPPORT + FEED program.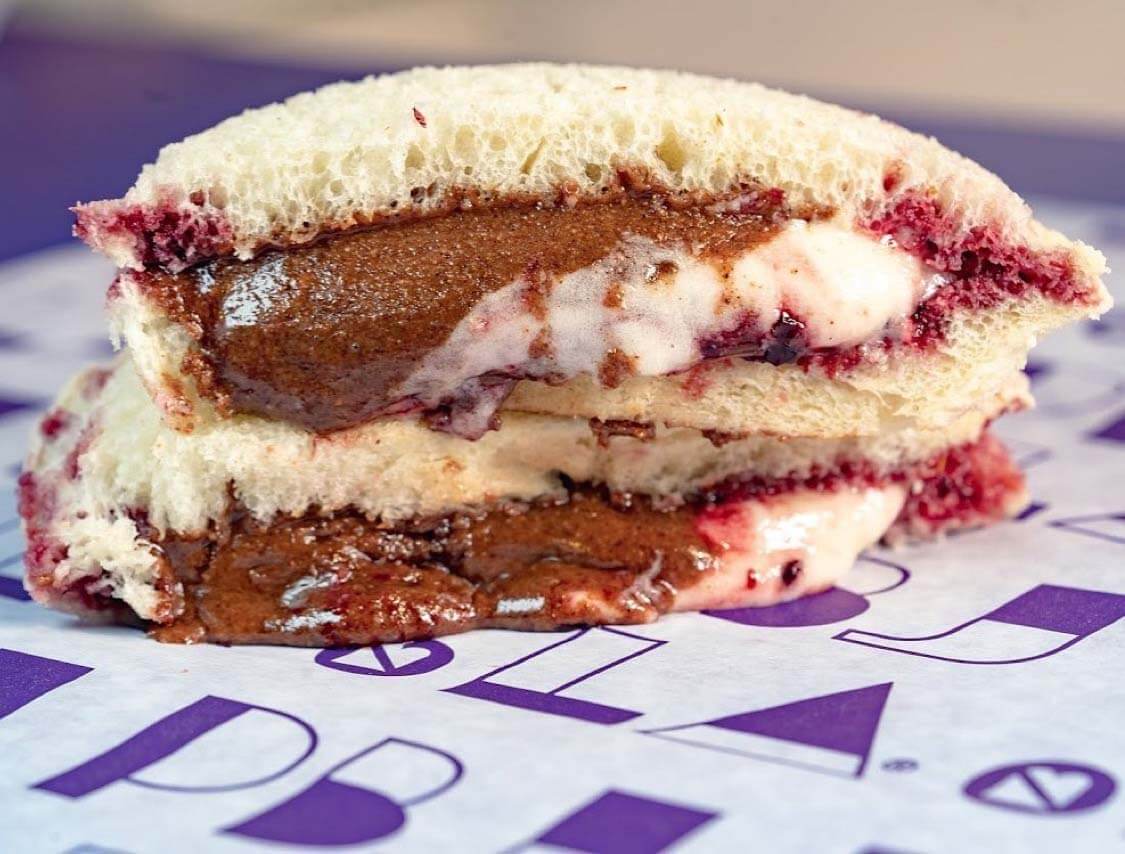 Veggie Grill
Multiple Locations
Veggie Grill is always the move, even when on a budget! While all of their menu items are pretty low in price, we have a few insider hacks on what to order when pinching pennies. The Mondo Nachos are considered an appetizer that's meant for two, but with all this social distancing, you may have to eat them all by yourself. Darn! For just $7.95 you'll get a load of corn chips, nacho chickin', queso sauce, black beans, tomatoes, green onions, mashed avocado, crema, jalapeños, and cilantro. Another recommendation, coming in at a whopping $10.95, is the Santa Fe Crispy Chickin' Sandwich! And it's not just the sandwich––that price includes your side of choice! And lastly, if you're craving a combination of savory, sweet, and refreshing, we'd recommend the Kids Meal. We know it sounds crazy, but hear us out! This well-rounded meal comes with an entree, side, dessert, and drink! It's pretty darn filling and is only $7.50.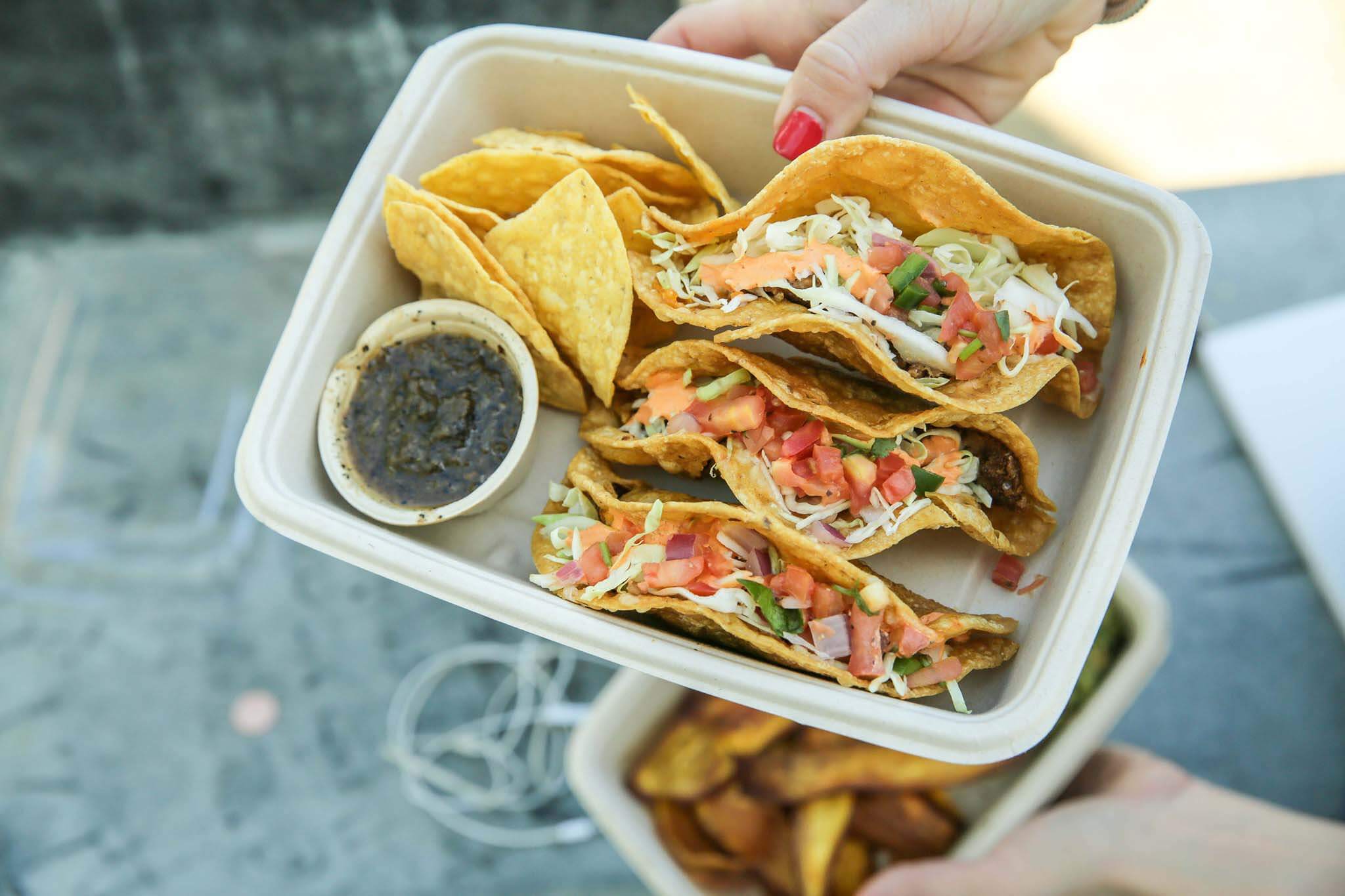 The Grain Cafe
Mid-City and Long Beach
If you're as obsessed with breakfast food as we are, place an order at The Grain Cafe! The first low-cost meal we're eyeing is the Eggs & Bacon Bagel Breakfast. It's made with tofu egg, kale, tomatoes and tempeh bacon, and is served with fresh fruits––all for $9.95! For $8.95, you can get Pancakes or The Grain Crepe. Other affordable menu items include the Soup of the Day for $7.75 or the Cheese Quesadilla for $6.95! "Hey Alexa, place an order from The Grain Cafe."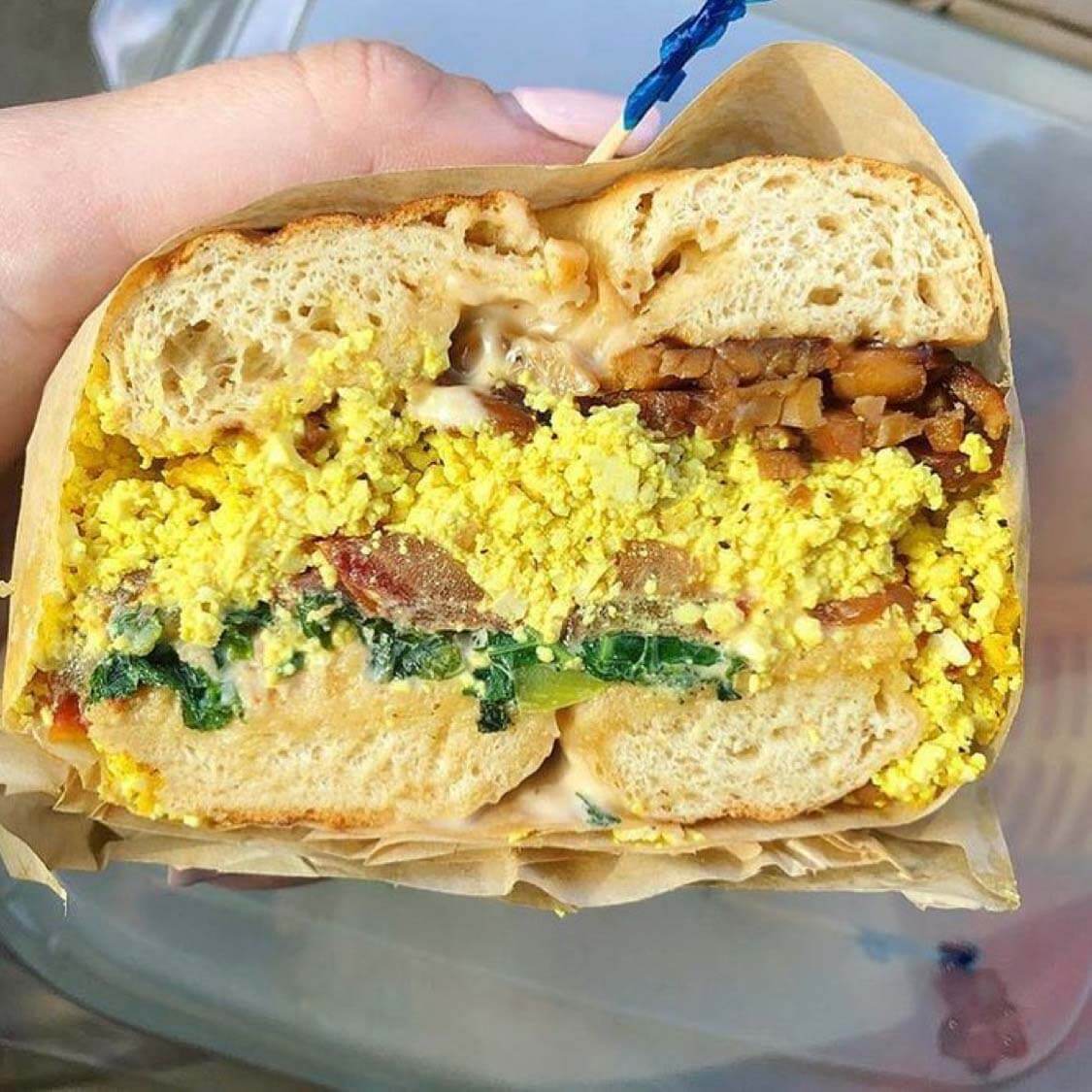 Bodhi Bowl
DTLA
Want something low in price but high in nutrition? Bodhi Bowl has exactly that! Start your day with the Grain Bowl for $5.95, the Yogurt Bowl for $6.95, or a smoothie for $7.95. If you're looking for a lunch item, their comforting Chili is just $4.95 and all of their bowls, wraps, and paninis are $12 or less! Holla!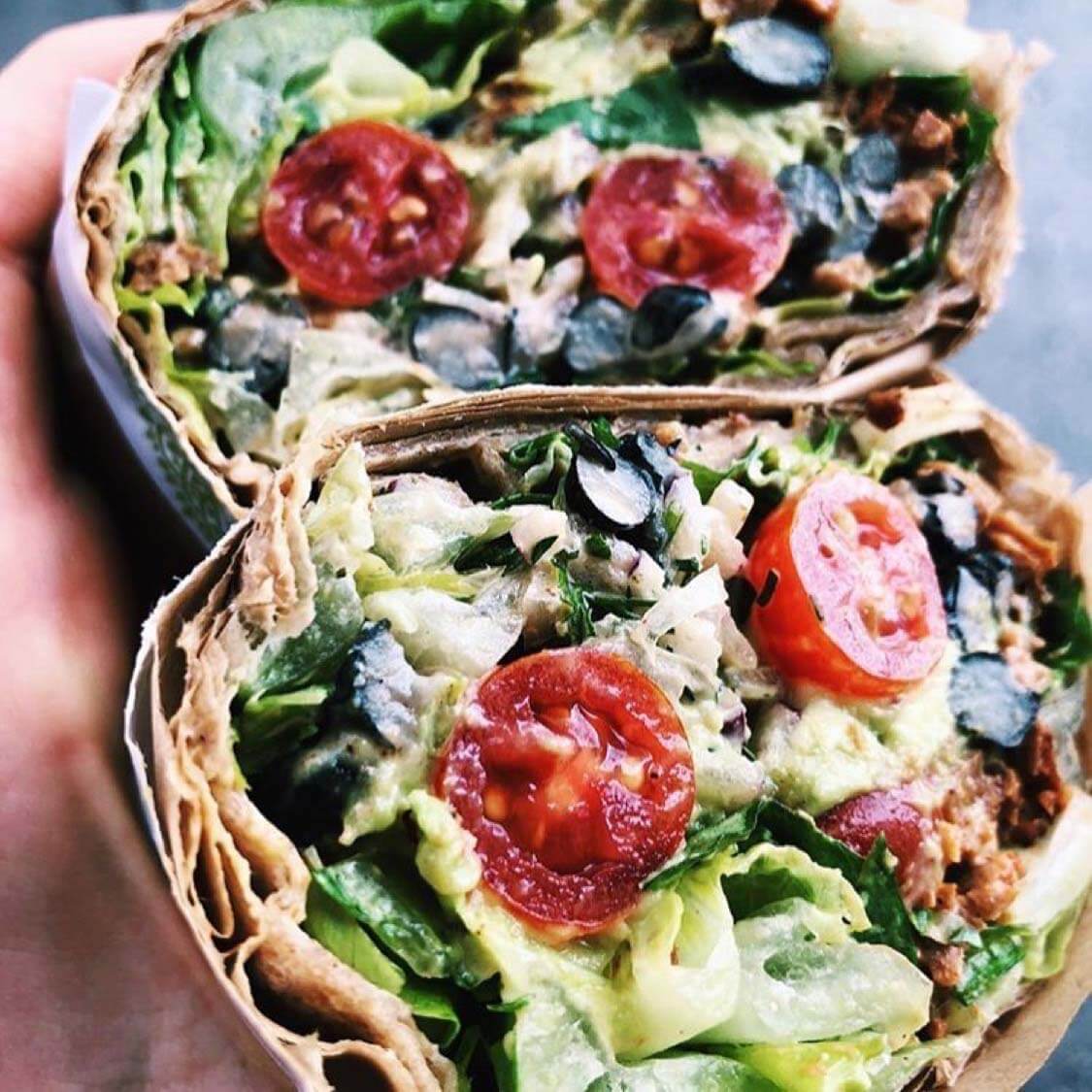 Krimsey's Cajun Kitchen
North Hollywood
If you're new to Cajun food, we'd recommend creating your own sampler of Southern-inspired savors that'll save your wallet! The Mini Corndogs, Fried Pickles, and Hushpuppies are all less than $7 each. Pick your favorite apps and pair them with a combination of sides that are $5 or less! Cajun Potato Wedges, Organic Collard Greens, Fried Okra, and two Cornbread Muffins are a few options to sample! If you're not into our fun mix-n-match idea (boo!) the Gluten-free Red Beans & Rice entree is only $10.99. Krimsey's is another participating restaurant in the SUPPORT + FEED program. If you have the means to add a small monetary donation––even if it's $5, please consider adding that to your order to help feed those in need. Since you're saving more money with these cheaper dishes, maybe you'd like to pay it forward!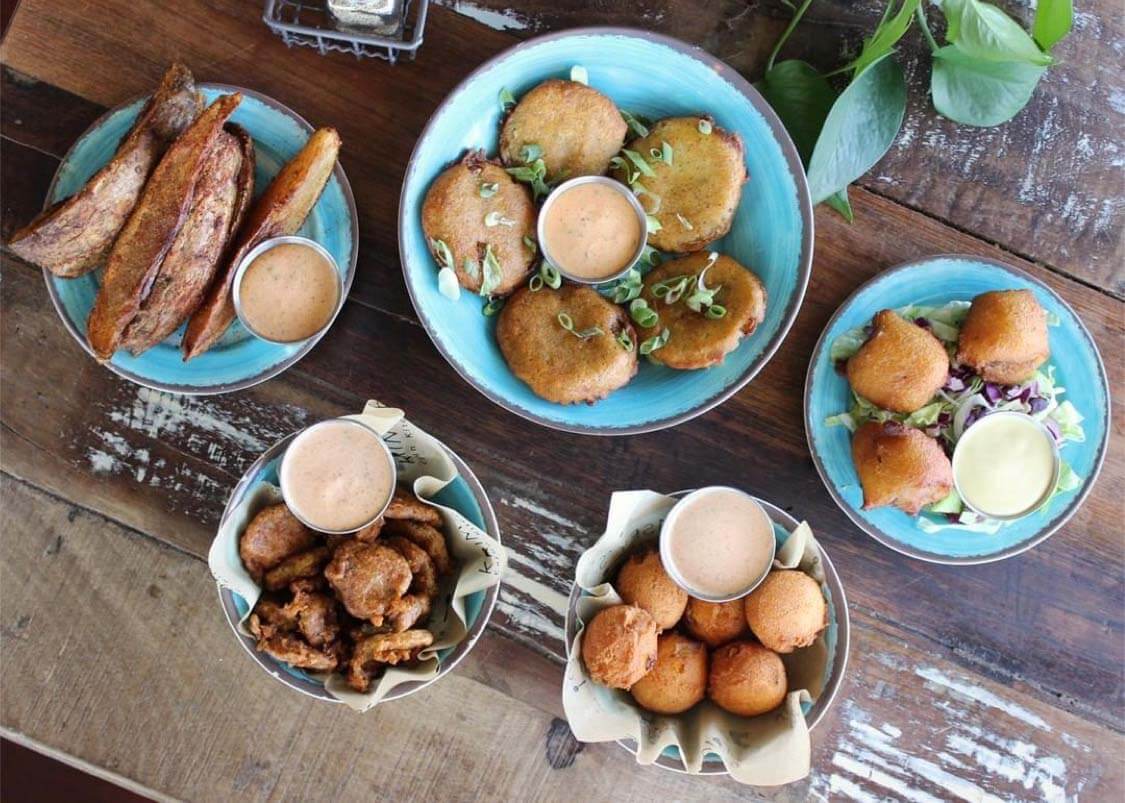 Plant Power Fast Food
Long Beach, Riverside, and Redlands
Plant Power's breakfast sandwiches are what keep us going during these trying times! The Egg or Sausage Muffin is $4.95 and the Sausage Egg or Canadian Muffin is $5.95. Didn't wake up in time for the breakfast menu? Burgers, nuggets, and fries it is! The Classic Burger comes in at $6.95 and the 8 Piece Nuggets are $4.95. Need a little extra substance? Add a Kale Slaw, Side Salad, or Fries on the side for $2.75. And for the kids, a Cheeseburger or 8 Piece Nugget Meal is just $7.95!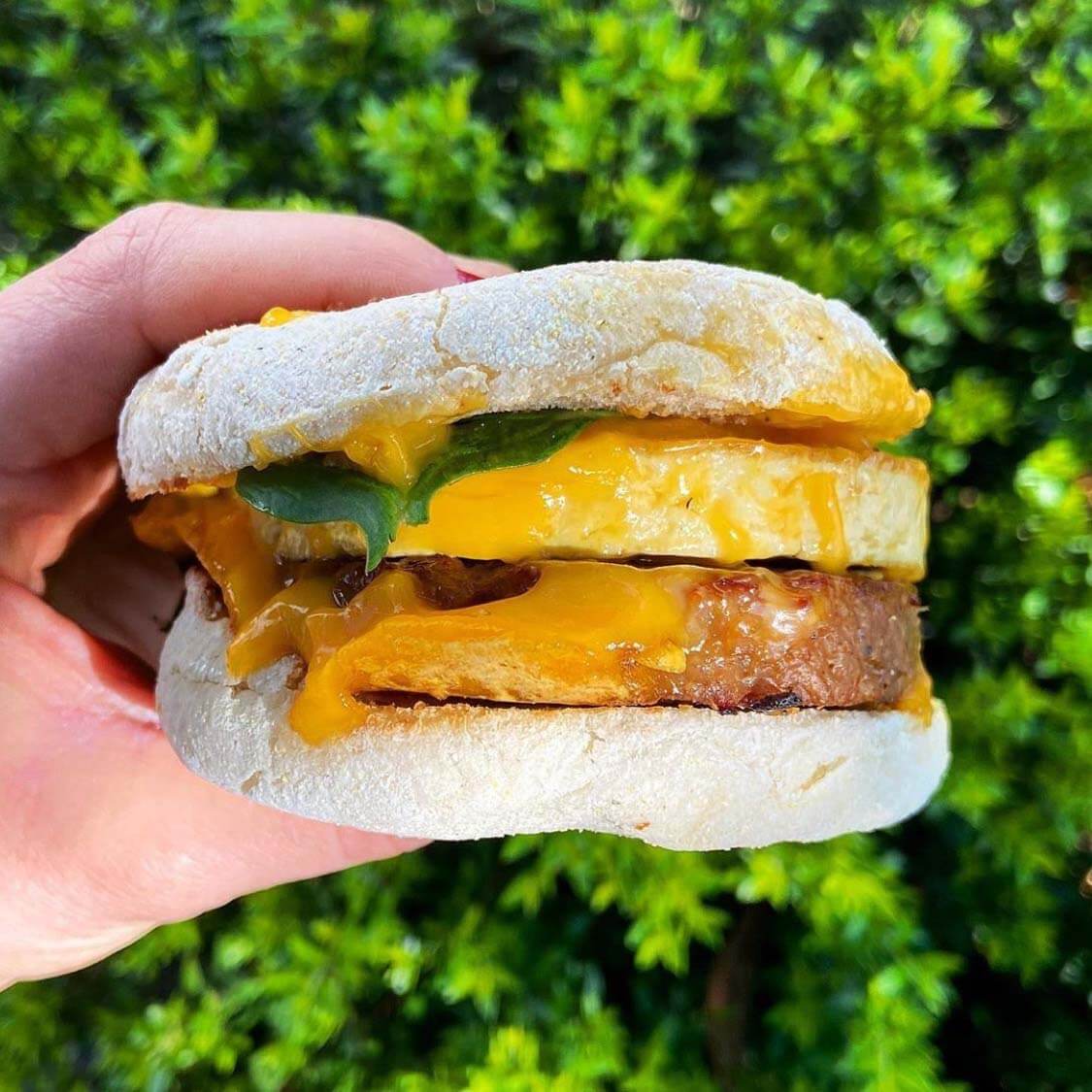 Gegen
East Hollywood
Gegen serves quite a few items for under $10! The Green Madness Shake or Sausage Patty Bagel is $6, and the Hot Dog Sub or Just Egg Burger is $7. Have a little extra wiggle room? Try the Quinoa Salad, 8" Cheese Pizza, or Acai Bowl for $8 and The Queen Burger, Mad Rooster Burger, or Loaded Fries for $9. We know where we're ordering lunch from!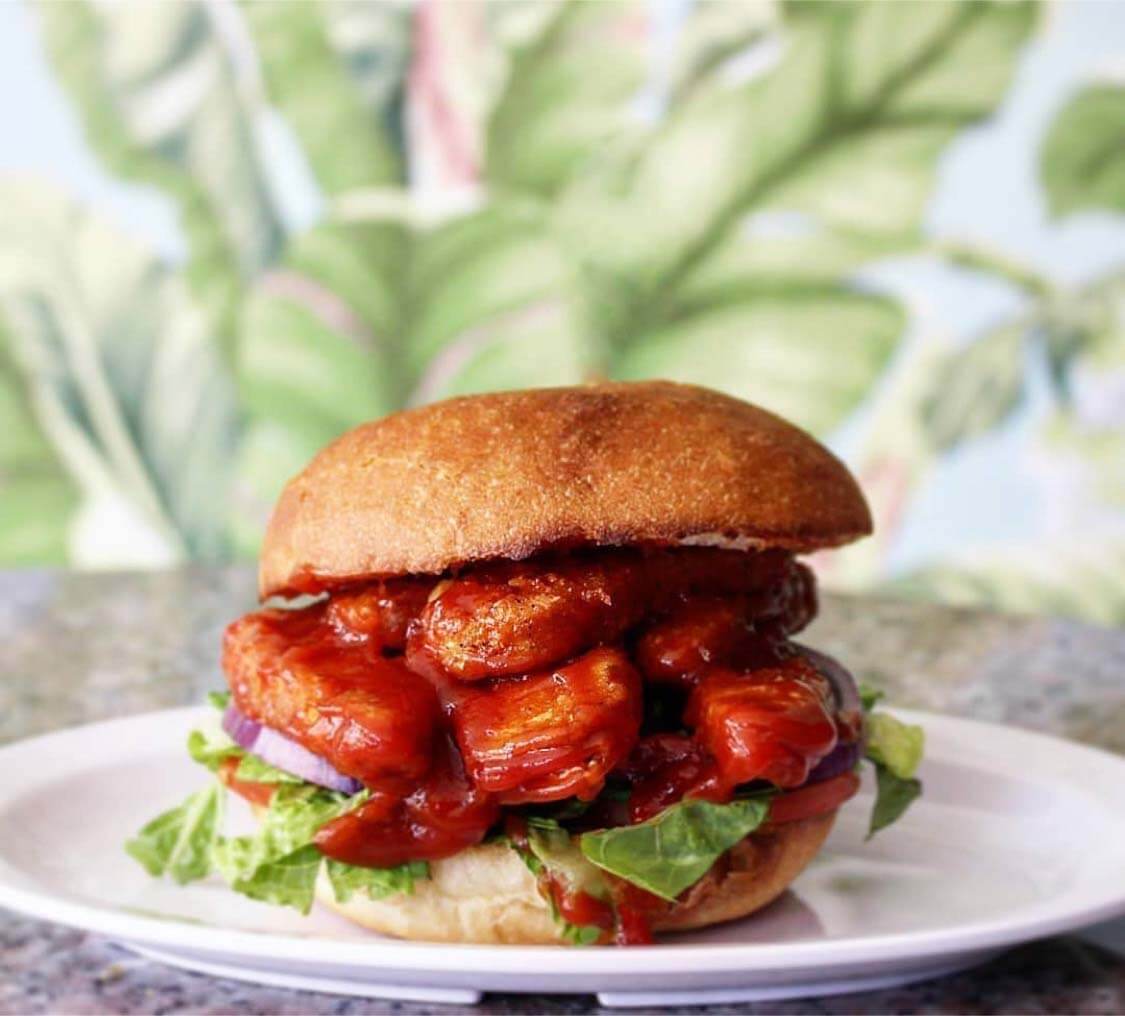 Counterpart Vegan
Echo Park
For a little less than $15, you can get a half-sandwich and side from Counterpart! First, pick your sandwich! The cheapest options are the Jackfruit Chicken Salad Sandwich for $7.50 and the Hot Pastrami or K.O.B.L.T. Sandwich for $8. What's in the K.O.B.L.T.? King oyster bacon, little gem lettuce, heirloom tomato, and herb mayo. Add a side of Cole Slaw for an extra $5. Now that's a fresh and flavorful meal!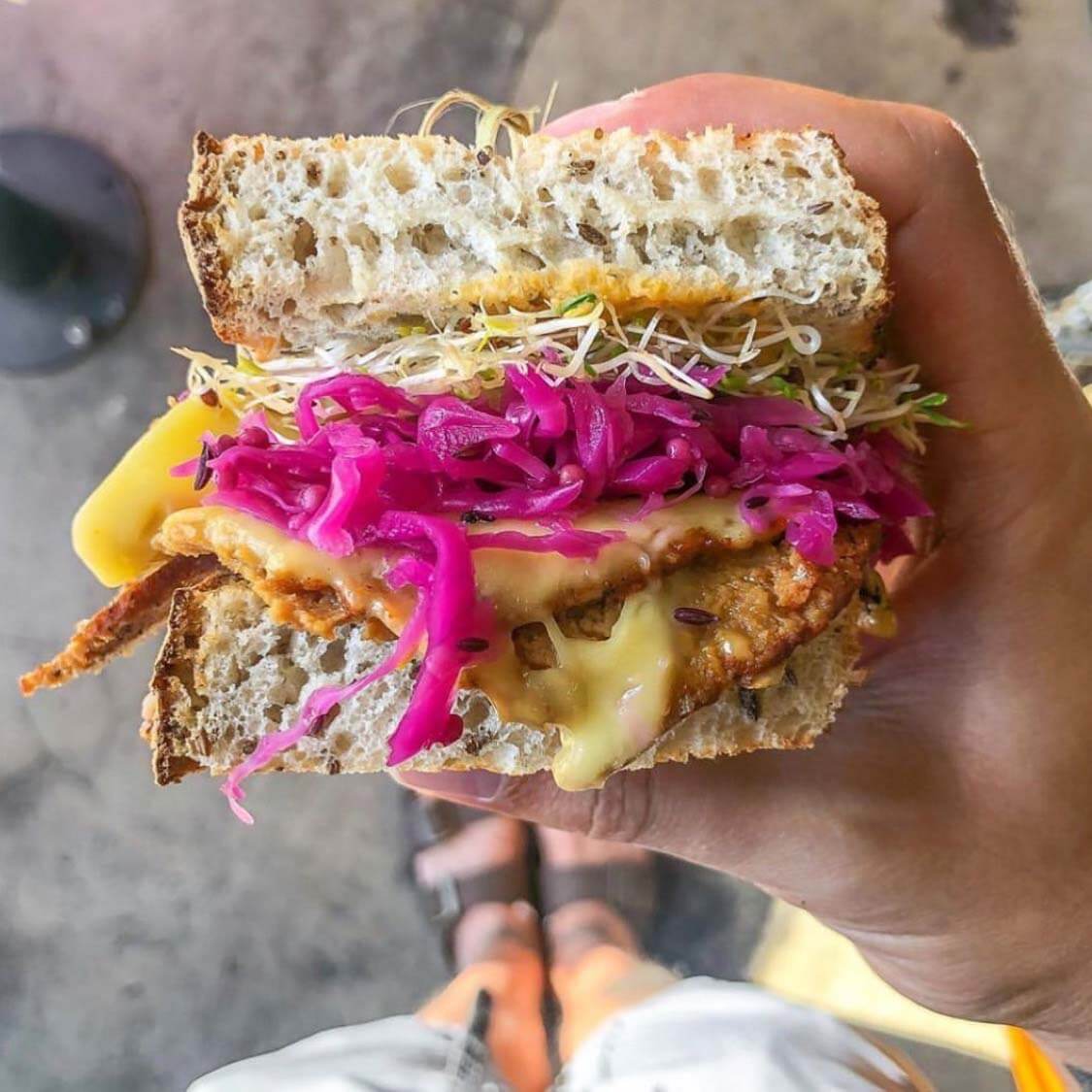 Jesse Boy
Hollywood
At this vegan-friendly spot, you can get Korean Fried Cauliflower with a side for a mere $8.95! Choose Original or Spicy Cauliflower and pick between Jasmine Rice, Fries, or a Sesame Salad for the side. In one order, there's about a half pound of food––that's enough to keep you full for a while!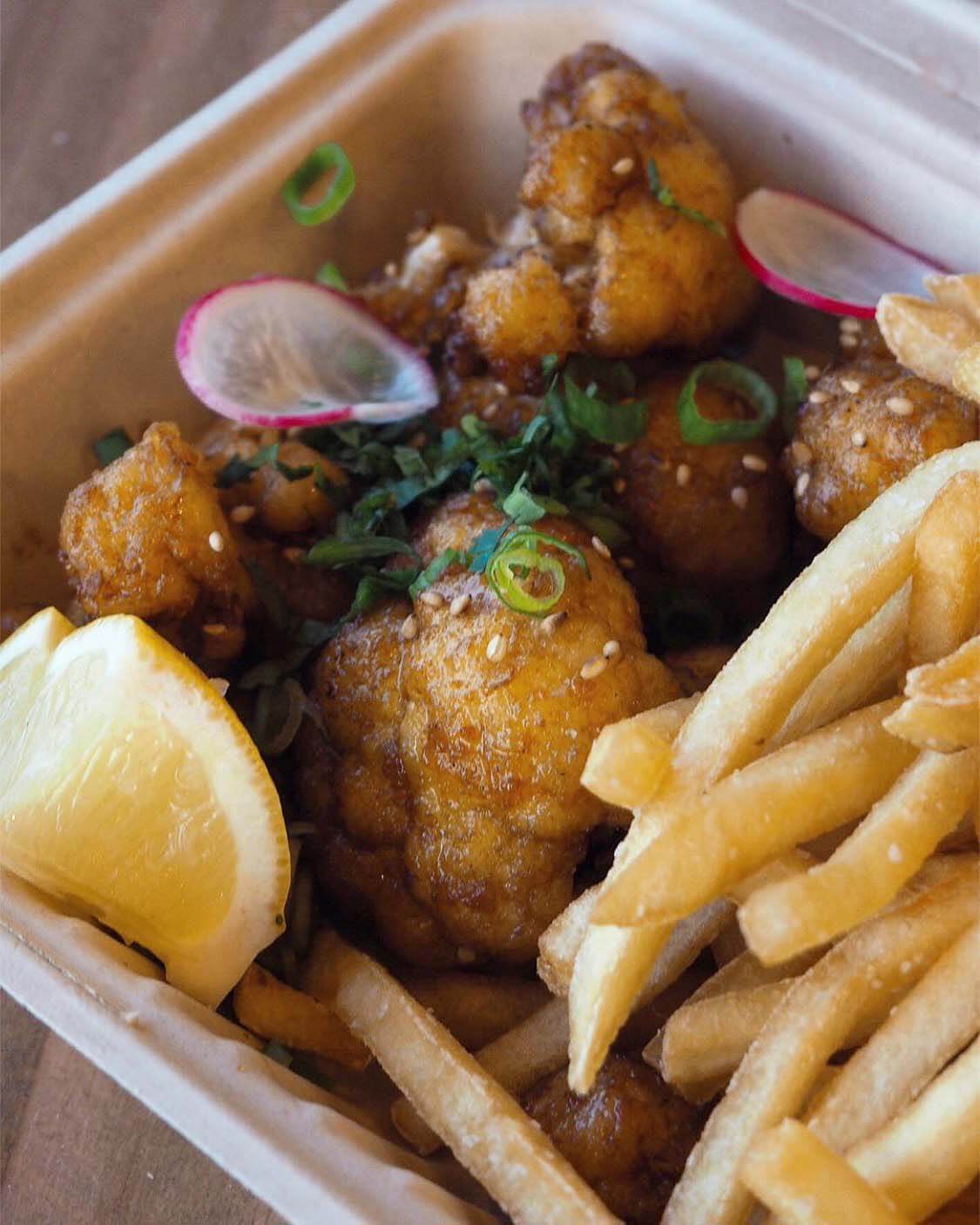 RELATED: 6 Vegan-Friendly Meal Delivery Services for When You're Stuck at Home
---
Want even more LA vegan food, news, and lifestyle content? Subscribe to VegOut LA Magazine!