Here are the best spots for plant-based nachos in LA.
Luckily, Los Angeles is full of great spots to grab vegan nachos. Whether you're looking for a restaurant with the hottest homemade salsa, most delicious house-made vegan meats, or creamiest cashew queso, this list has it all. Here are 10 places for vegan nachos in Los Angeles.
Lincoln Heights
Cena's Nacho Boat is one of the best in the game. A big pile of warm chips comes topped with your choice of any of their six vegan meats (the carne asada is a crowd favorite), refried beans, pico de gallo, and house-made chipotle crema. Choose mild, medium, or hot salsa, and don't forget to add three scoops of guacamole for just $2.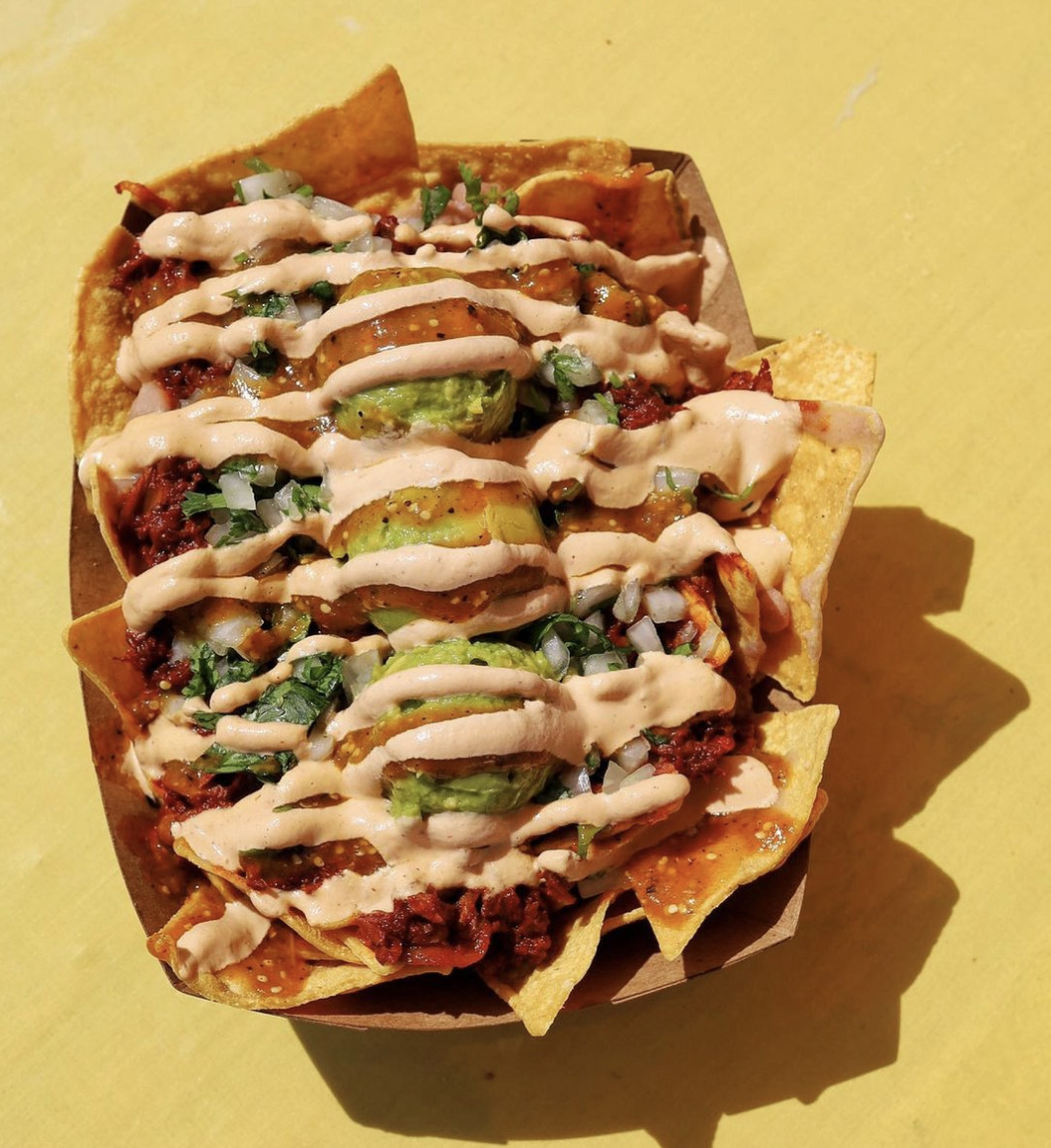 Photo credit: @beckysbitesrecipes on Instagram
Long Beach & Costa Mesa
What once started as a food truck has now become Long Beach's most popular vegan restaurant. Seabirds' Jackfruit Nachos are served on a bed of house-made tortilla chips with Korean-style marinated jackfruit, red onion, house-made almond feta, black beans, cilantro, house chipotle sour cream (order an extra side of that, trust us on this one!), and ancho salsa. Go on Fridays, when the nachos are discounted as a daily special.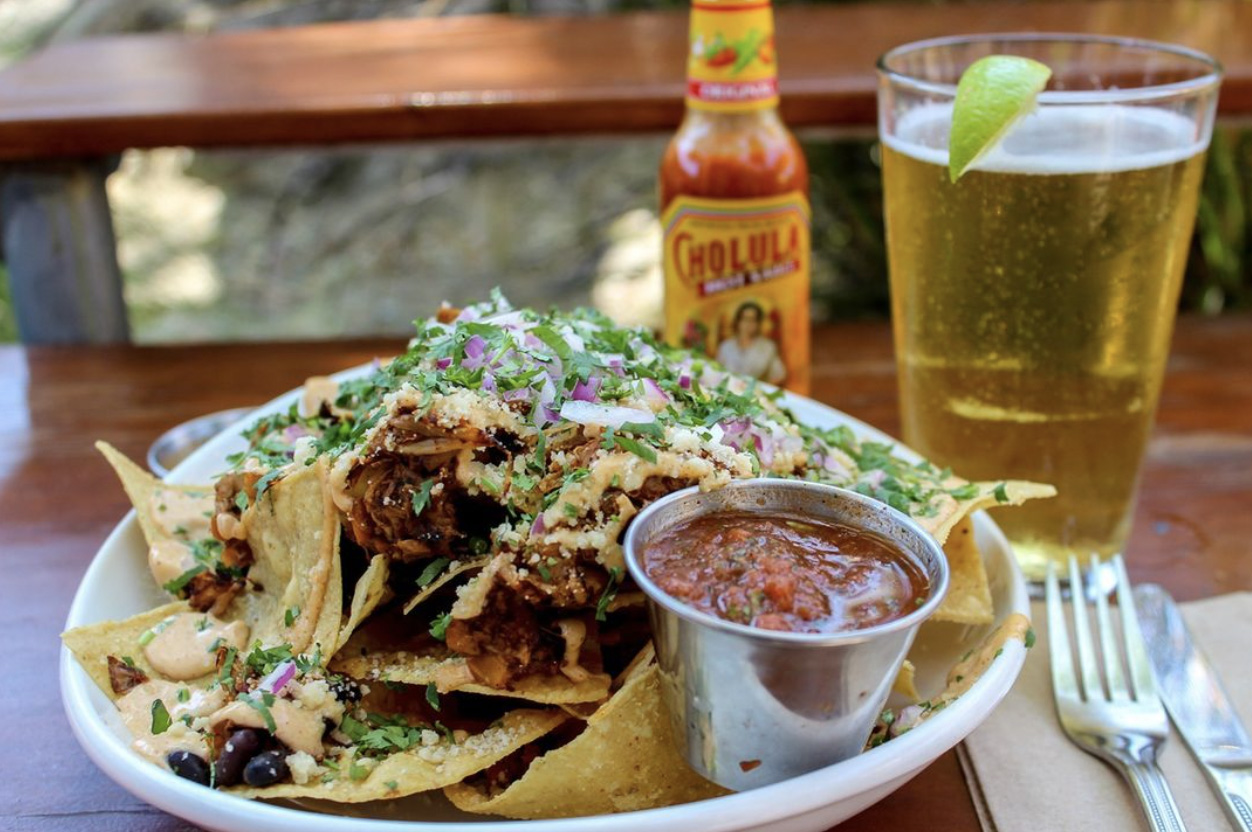 Van Nuys
From the owners of the popular pop-up Vegatinos, El Cocinero is the first Mexican vegan restaurant in the San Fernando Valley. Their Super Nachos come loaded up with house cashew cheese, refried beans, pico de gallo, avocado crema, cashew crema, and your choice of meat.
Photo credit: @anaxvilla on Instagram
West Hollywood & Pasadena
Real Food Daily is one of the OG vegan restaurants in LA—opening its doors in 1993. With two locations in LA, Real Food Daily is easily accessible no matter where you are in the city. Their Nachos come with melted cashew nacho cheese, guacamole, black beans, pico de gallo, and cashew sour cream drizzled over blue and yellow corn chips. Order a half size if you're there for a solo lunch or a full size for the table for dinner.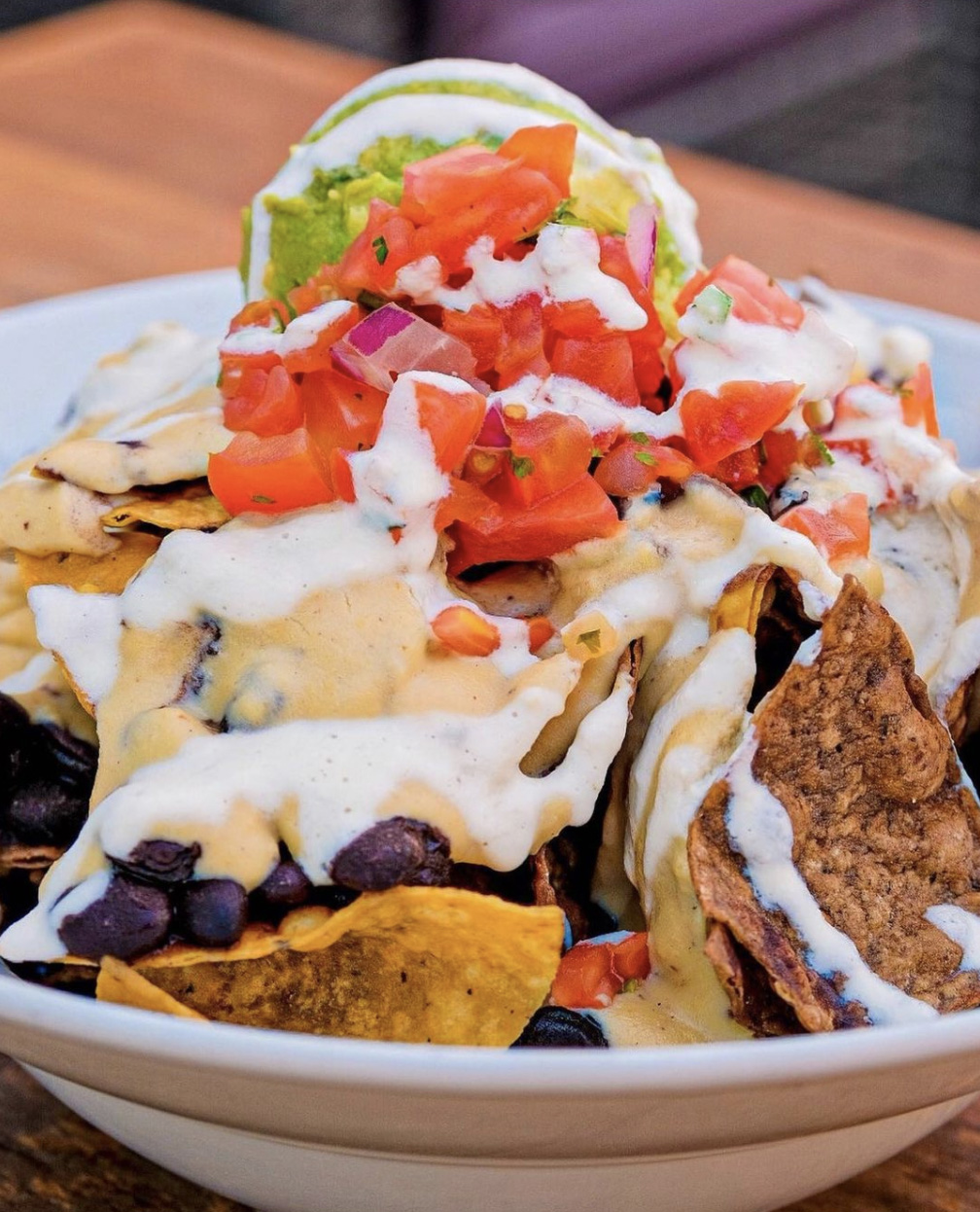 Photo credit: @elizabethaward on Instagram
Studio City
Whether you're in the mood for some classic vegan comfort food or a raw vegan dessert, SunCafe has it all. The Super Sun Nachos come with their house chorizo—made from sunflower seeds and sun-dried tomatoes—nacho cheese, guacamole, onions, jalapenos, and cashew sour cream. If you're looking to enjoy the nachos as a raw dish, simply order them with sliced jicama chips instead of tortilla chips.
Fairfax & Sherman Oaks
This sustainable Mexican food restaurant has a simple menu of tacos, burritos, nachos, and quesadillas—but don't think that simple means boring. Their nachos can be ordered in a half size or full size and come loaded with black beans, queso, salsa, pico de gallo, and your choice of vegan meat. Don't forget to add on a side of their "just f*ck me up" chunky guac or pineapple jalapeno hot sauce.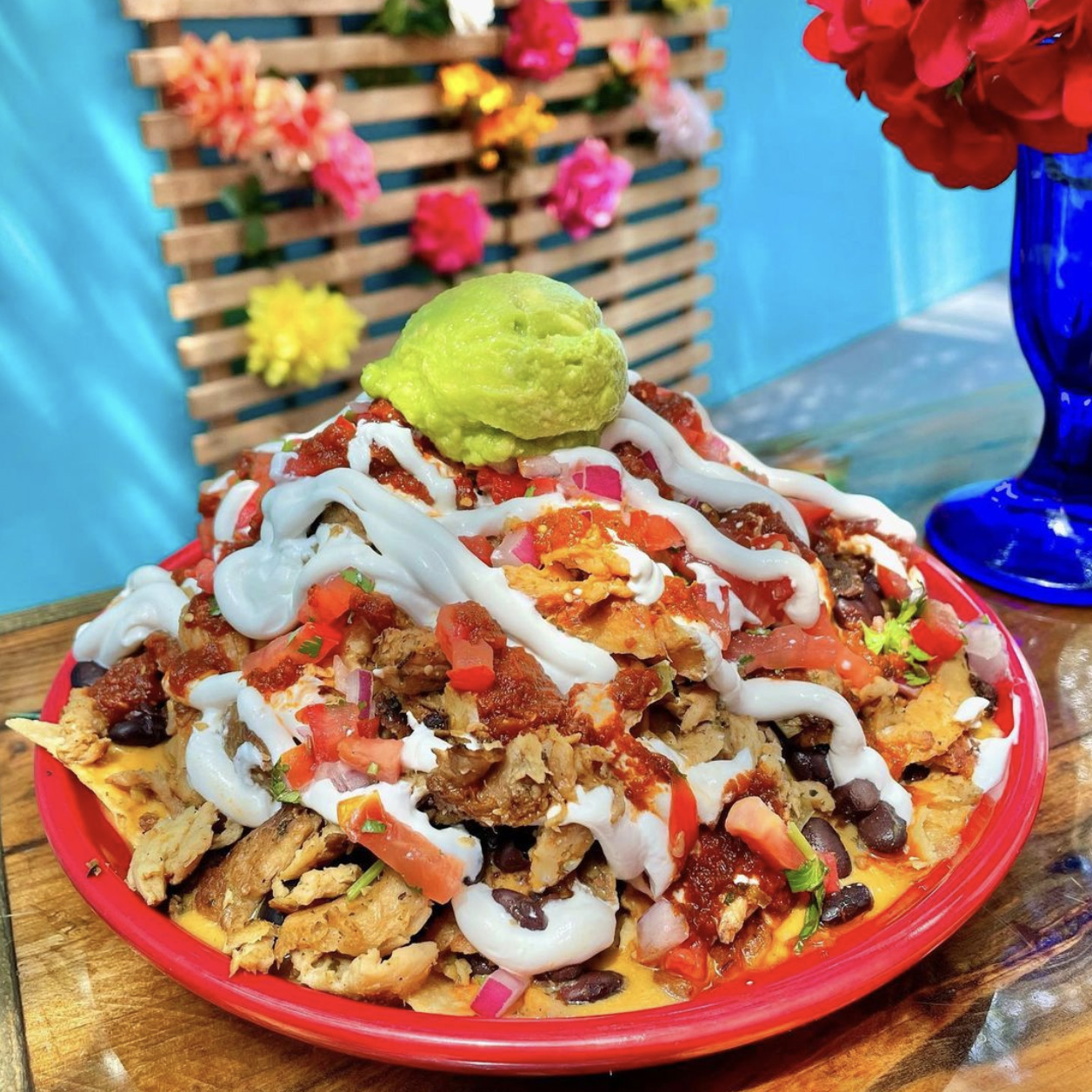 Hollywood & City Terrace
The Doomie's Hollywood location is the perfect stop for late night munchies, with the kitchen staying open until midnight during the week and 1am Thursday-Sunday. Their nachos can be ordered at either location and come with smoky refried beans, homemade queso and crema, tomatoes, onions, cilantro, and pickled jalapenos. You get to choose what protein option you'd like—options include asada, carnitas, and mole chicken.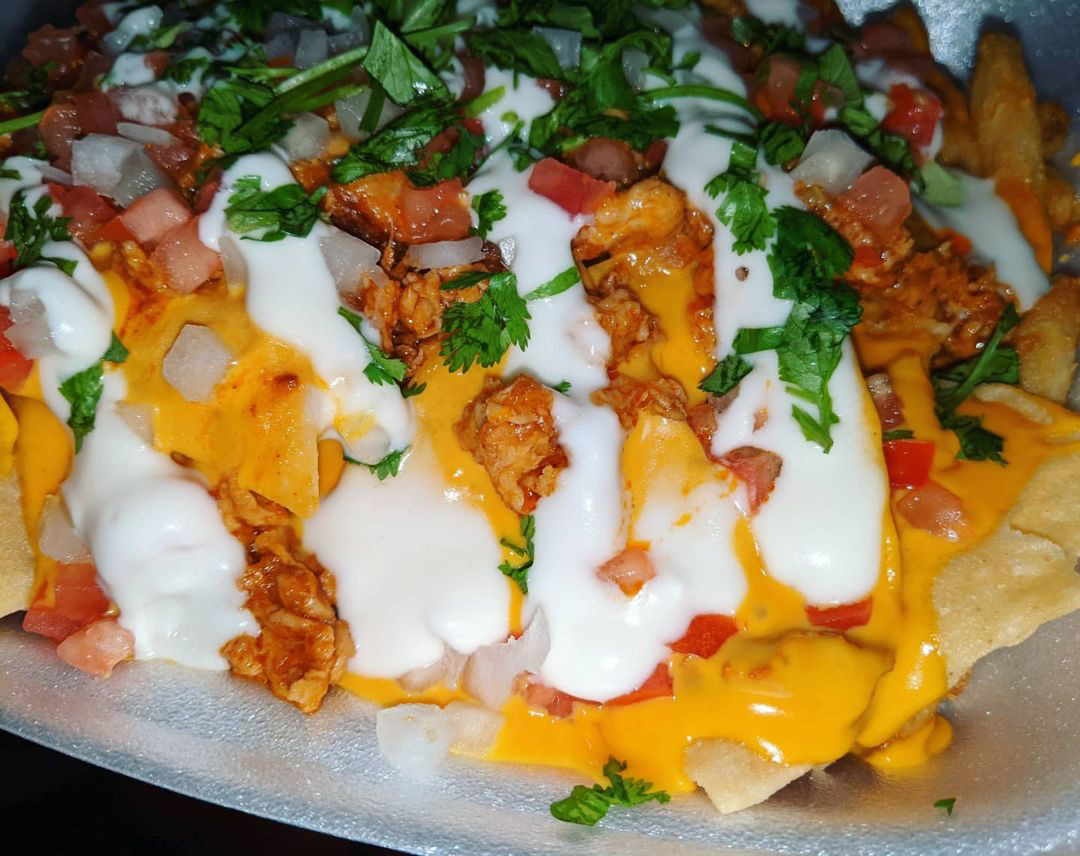 Sherman Oaks
This plant-based American fusion restaurant is full of dishes inspired by Mediterranean and Latin cuisine. Their spicy nachos come with oven-baked chips drizzled with cashew queso, grilled jackfruit, black beans, avocado, pico de gallo, and a house-made cilantro-lime crema.
West Hollywood & Newport Beach
The Gracias Madre in WeHo has a happy hour from 3-5pm during the week, where you can get a smaller version of their nachos for just $8! The plate comes with soy chorizo, black beans, pico de gallo, and cashew nacho cheese over chips. If you miss happy hour, the full plate of nachos on the lunch menu also comes with cauliflower and guacamole.
Long Beach
This popular Las Vegas-based vegan restaurant opened in Long Beach earlier this year. Head to the restaurant on Wednesdays, when their Classic Nachos are on special for just $7.99. The plate comes with nacho cheese, sour cream, shredded cabbage, pico de gallo, beans, avocado, and your choice of meat. If you're not a fan of soy-based meats, they offer jackfruit, mushrooms, and nopales (cactus) as well.