So you can celebrate spooky season without supporting fast fashion!
Halloween is one of our favorite holidays! But there's a lot of pressure that goes into picking a costume. Not to mention the sustainability aspect of what you go with. That's where we come into play! To take out the guesswork, we've created this list of 10 DIY vegan sustainable Halloween costumes to recreate.
'80s Barbie Doll
Channel your inner Margot Robbie and dress up as an '80s Barbie doll this Halloween! Firstly, you'll need a neon base outfit, like NOIZE's Oaklynn Activewear Jumpsuit in Hibiscus. Secondly, dress up your outfit with leg warmers, a visor, and blue eyeshadow.


Britney Spears and Justin Timberlake at the 2001 AMAs
Pay homage to these two pop icons by trick-or-treating in a Canadian tuxedo. Basically, you just need a lot of denim. Want to complete this look and add some new eco-friendly staples to your wardrobe? Get the Harvey recycled denim jacket and the Tommy Stretch jeans from Boyish.


Corn on the Cob
Who said sustainable Halloween costumes couldn't be trendy? The viral TikTok song about corn got us thinking. What better way to show off your veganism and TikTok knowledge than with a corn on the cob costume? For this, wear a yellow base such as Outdoor Voices' Circle Back Dress in Spring Fling. Layer it with a green coat like The Reversible Eco Quilt Jacket from Summersalt. Bonus points if you incorporate a pat of vegan butter on your costume!


Shaggy from Scooby-Doo
Fun fact: Casey Kasem, who voiced Shaggy in Scooby-Doo, was vegan! So why not celebrate the vegan voice actor by dressing as his character? To begin, throw on a pair of brown pants such as prAna's Brion Pant II in Sepia. After that, put on a dark green top. We recommend the Light V in Dark Green from For Days.


Cady Heron from Mean Girls
On Halloween, we wear pink! If you're obsessed with Mean Girls like us, then dress as Cady Heron! This is one of the easiest sustainable Halloween costumes to piece together. The most important element is the oversized pink polo t-shirt. Pact's Heavyweight Polo in Clay is a great option. If you don't plan to wear it after the holiday, give it to a friend or relative!


Max from Stranger Things
The latest season of Stranger Things features so many looks worth recreating. Of course, we have a special affinity for Max since she's portrayed by the vegan actress Sadie Sink. In her most iconic scene, she rocks a blue windbreaker. NOIZE's Emilia Short Length Windbreaker is a great dupe. To conclude the look, wear jeans, a blue scrunchie, and vegan sneakers like the LØCI TEN pair in Burgundy.


Pro Tennis Player
Feeling sporty? Channel your inner vegan athlete this holiday! Firstly, tennis-inspired outfits are trendy, so it's an easy look to recreate. Secondly, many famous tennis players are vegan, including Novak Djokovic and Venus Williams. In fact, Venus Williams has a clothing line with plenty of options to choose from. We're currently obsessed with the Baseline Tank and Skirt.
Music Festival-Goer
We can all agree that fashion is one of the best parts of music festivals. So, here's our proposal for a hip, sustainable Halloween costume. Stunt your festival 'fit from last year or test out your look for next year! Wolven is one of our favorite sustainable brands for two-piece sets. The Fauna Keyhole Top and matching Flare Pants make a solid pair.


Monty from Monty's Good Burger
Are you an animal lover? Do you like to eat vegan burgers? Whether you said "yes" to one or both questions, we have the costume for you. The CEO and mascot of Monty's Good Burger, Monty the Schnoodle! To begin, put on Apparis' Billy Puffer Jacket or any white faux fur jacket you have. After that, toss on homemade dog ears and perhaps a piece of merch from the vegan burger joint. How's that for a sustainable Halloween costume?


Halloween Vegan
Of course, not everyone is interested in dressing up from head to toe as a character on Halloween. So, why not be yourself with a festive flair? Vegan Power Co. stocks a plethora of clothes and accessories for vegans. Show off your plant-based lifestyle and seasonal spirit with the Halloween Vegan Tie Dye Tee.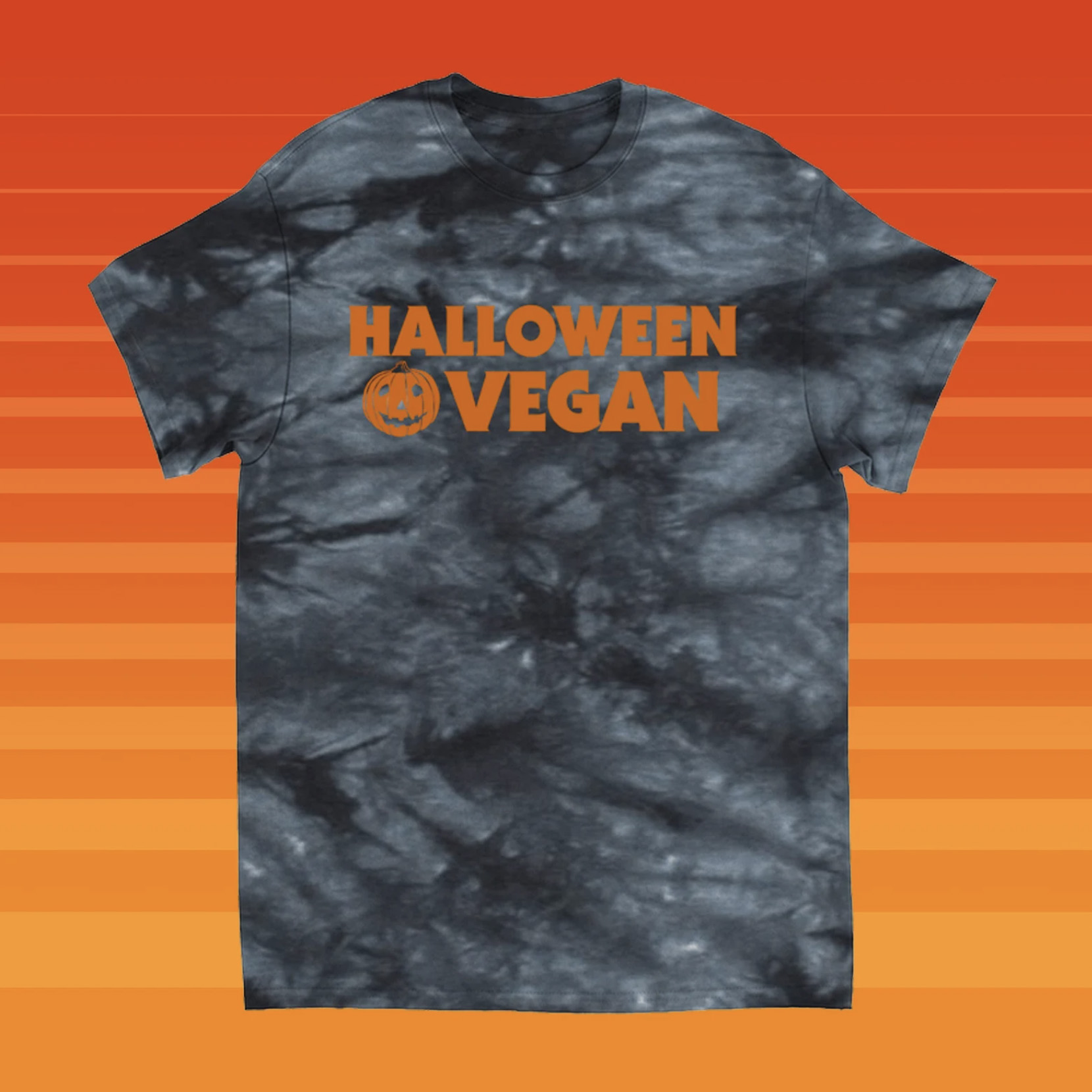 At VegOut, we curate the best of the best vegan products, so you don't have to. Our picks are all selected by our amazing team of writers and editorial staff. We may earn commission if you purchase one of these great products by clicking the links above.