Get glowing skin while reducing your carbon footprint with this sustainable skincare company!
Spectacle Skin Care is a vegan and cruelty-free brand that prioritizes sustainability, from the product inside the tube down to the ink used in the packaging. Their Spectacle Performance Crème is a moisturizer that was designed to be used for all seasons, and has been tested in the deserts of New Mexico as well as the streets of London. In addition, the moisturizer's hybrid gel-creme texture is formulated to provide hydration, radiance, smoothing, and a primer-like quality.
Why Sustainable Skincare?
By choosing to use sustainable hemp boxes in their packaging, for every 154 hemp boxes made, this sustainable skincare brand saves 16 pounds of trees, conserves 20 gallons of water, saves 36,000 BTUs of energy, retains 2.5 pounds of solid waste, and keeps 4.5 pounds of greenhouse gases from entering the environment. The natural and oleochemical ingredients used in the Spectacle Performance Crème are also less likely to cause skin irritation or allergic reactions.
Spectacle remains committed to sustainability and uses materials such as post-consumer recycled waste and soy ink in their packaging in order to lessen their environmental impact.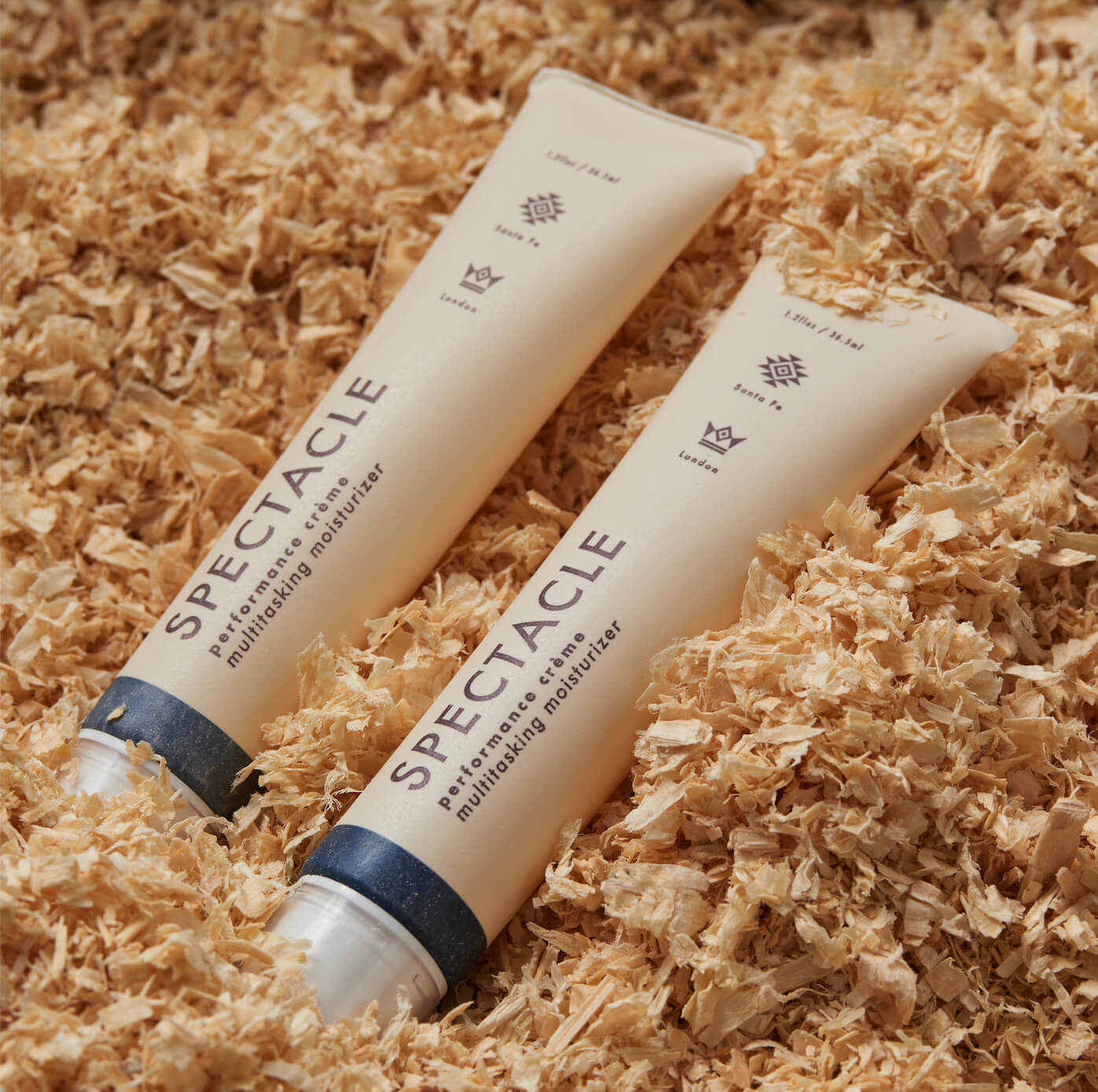 Here is the breakdown:
The Sustainably Sourced Hemp Box
Spectacle Skin Care's sustainably sourced hemp boxes are produced in the US and are acid, chlorine, and chemical free. The boxes are made from 50% sustainably sourced fiber from European hemp fields and 50% post-consumer recycled waste. When compared to traditional tree paper, choosing hemp paper results in 45% less energy used, 38% fewer greenhouse gasses produced, 45% less wastewater generated, 50% less solid waste created, and 100% fewer trees used. For every box created, the brand plants two hemp seeds as a way of promoting the growth of trees.
The Eco and COSMOS Certified Tube
The eco- and COSMOS-certified tube is made from over 95% renewable resources, like spruce-wood and sugarcane compound. The spruce comes from certified forests in the EU from sawdust and is a bi-product created by German carpenters. Spectacle's wood tube has a carbon footprint that is 40% less than a conventional PE tube and maintains EU cosmetic as well as food grade quality standards.
The Recyclable Airless Pump
The recyclable airless pump and cap featured on Spectacle Performance Crème are made from plastic, as it's currently the best way to keep the sensitive antioxidants fresh and stable. However, since they contain no metal components, the airless pump and cap are both fully recyclable. As the brand continues to expand, Spectacle aims to find a new way to develop the pump and cap without using plastic.
The Soy Ink Packaging
Spectacle uses soy ink packaging for the Spectacle Performance Crème. The soy ink contains 80% less Volatile Organic Compounds (VOC's) than that of traditional petroleum-based inks. Soy ink is also more than four times more biodegradable than standard ink, making it significantly less impactful on the environment.
Vegan and Cruelty-Free Ingredients
The vegan and cruelty-free ingredients used in Spectacle Performance Crème include essential nutrients like safflower oleosomes, brightening polyphenols like gallic acid, an encapsulated retinol complex, peptide complex, copper amino acids, niacinamide, and squalene.
Meet the Spectacle Skin Care Founders
Spectacle Skin Care was founded by Andre Condit, a Ford model who is certified in Cosmetic Chemistry, and co-founded by Olivia Falcon, former beauty director of Tatler Magazine and founder of The Editor's List, the UK's leading luxury concierge for cosmetic procedures, practitioners, and products. Andre and Olivia met in 2018 when Olivia was gifted a preview bottle of Spectacle Performance Crème. Having tried and tested hundreds of products over her career, Olivia became a fan. Shortly after, the two developed a friendship, leading Olivia to become an investor and partner in 2019.
We spoke with Andre on the inspiration behind his brand, the importance of incorporating sustainable products into our skincare routine, and the factors that set Spectacle Skin Care apart from other beauty brands.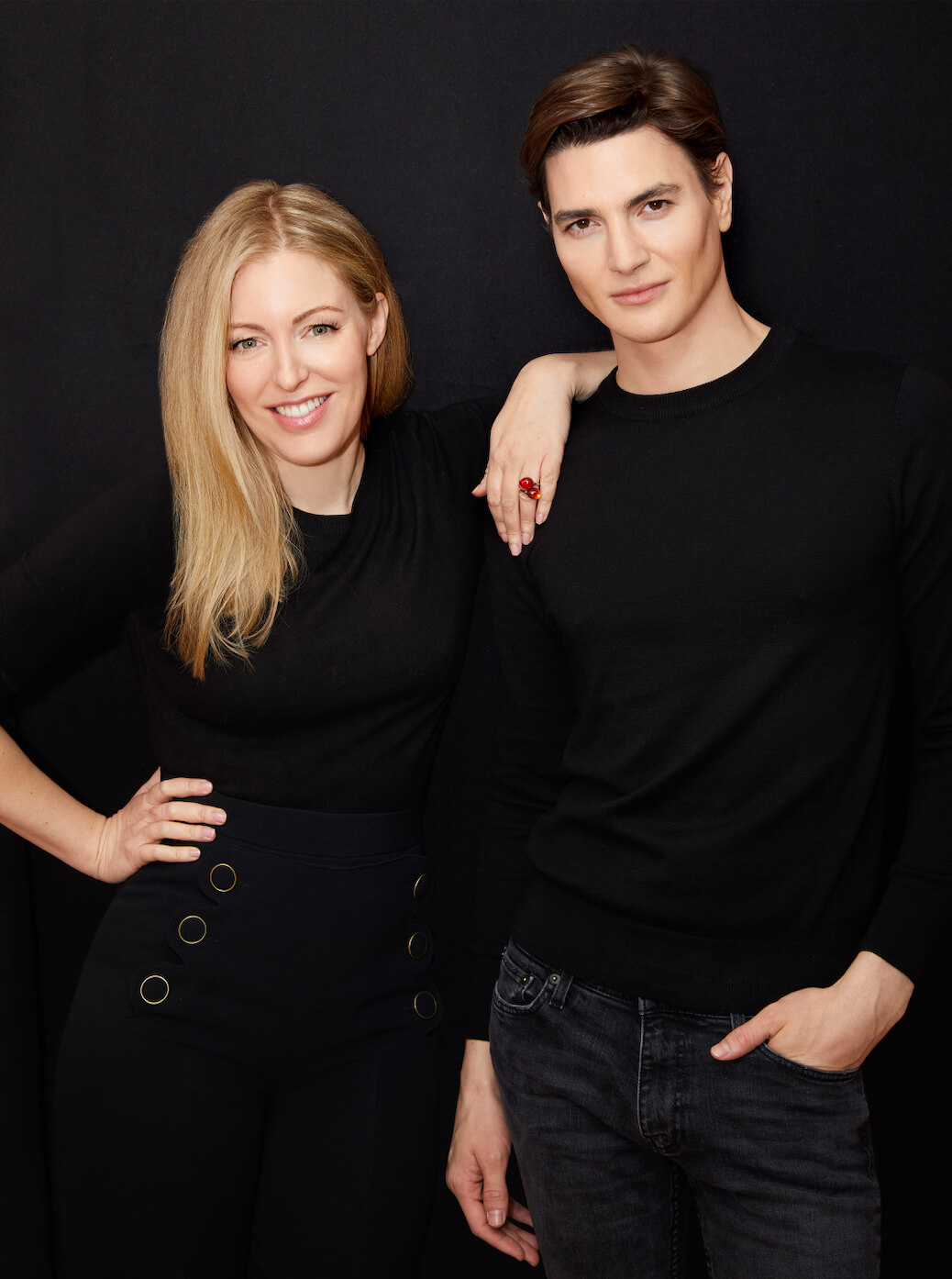 What inspired you to found Spectacle Skin Care?
Growing up with challenging skin fostered my lifelong passion and commitment for quality skincare. I knew I could create a formula that would stand out to other skincare aficionados.
What sets Spectacle Skin Care apart from other beauty brands?
Spectacle is a small but mighty company, dedicated to not only crafting the finest formulas, but providing a product with both beauty and sustainability in mind. We work tirelessly to research and find cutting edge ingredients and packaging, always thinking of our consumers, as well as the environment.
Why is it important that we incorporate sustainable products into our beauty routine?
We all have to take a look at reducing our individual carbon footprint. Switching to more sustainable beauty products is one of the easiest ways we can do that.
Why do you choose to use sustainable packaging in your products?
In today's climate, there is no choice. We must choose more sustainable materials for all consumer packaging. It is our moral obligation as a company to try and do everything we can to tread as lightly on the earth as possible.
Can you please share a few goals for your brand with our readers?
We will continue to pursue sustainable innovation through research and development and produce a concise collection of skincare products that serve the skin with minimal disruption to the environment.
Where to Purchase Spectacle Skin Care
Spectacle Performance Crème can be purchased at SpectacleSkinCare.com.