Back
9 Vegan Dog Food Brands Your Pup Will Love
Wondering what to feed your vegan fur babies? We've got the answers! When it comes to finding food for our pups, we want to make sure they have the best nutrition possible. That's why we've curated a list of vegan and veg-friendly brands that offer dog food, treats, supplements, and more!
RELATED: The Best Eco-Friendly Vegan Mattresses, Pillows, Comforters, and More
---
Want even more vegan news, food, and lifestyle content? Subscribe to VegOut LA Magazine or VegOut NYC Magazine!
V-dog is a vegan owned and operated company that has been fueling plant-based pups since 2005. Their Kind Kibble is packed with superfood ingredients like peas, lentils, and quinoa, and is completely free from animal products, fillers, corn, soy, and wheat. In addition to dog food, the brand also offers breathbones and wiggle biscuits, so you can keep your furry friend's breath smelling fresh and their tail wagging!
Lord Jameson
Reward your good boy (or girl!) with a delicious treat from Lord Jameson. The company offers organic, plant-based goodies with health benefits for your pooch, like Daily Greens made with dandelion and ginger (supports stomach and digestion), and Golden Health made with turmeric and flaxseed (supports overall wellness). You can also purchase fun boxes for your doggo, like the Celebration 2-Pack Bundle, which comes with Peanut Butter and Party Colored Coconut flavors—woof!
Halo Pets
Halo offers holistic dog food that uses only whole ingredients sourced from sustainable farms around the country and the globe. The company's vegan dog food is packed with plant-based protein from whole grains, green peas, and chickpeas, and comes in both dry and canned varieties. You'll also find nutrient-rich treats in Halo's line of doggie chow, such as Vegan Peanut n' Pumpkin biscuits and Vegan Sweet Potato, Carrot, and Quinoa cookies.
Wild Earth
This 100% vegan brand is revolutionizing the pet food industry as Wild Earth's clean protein formula uses 90% fewer resources required than meat-based dog food. The brand's plant-based kibble is also loaded with 10 essential amino acids, omega-3 fatty acids, and prebiotics to promote healthy skin, a shinier coat, digestion, more energy, and healthier weight. Even the dog snacks are packed with health benefits for your pooch—such as the Banana & Cinnamon Treats—which are made with koji, a high-quality protein with an umami flavor our doggos love!
Photo credit: @goldendooodscout on Instagram
Pupums
Is your pup a picky eater? Pupums just might be the perfect solution! The brand's dog treats are made with plant-based, high-quality ingredients, and come in flavors like Crispy Oatmeal Chip, Peanut Butter Crunch, and Sweet Potato Pie. They're also free from preservatives, chemicals, and are non-GMO.
Benefit Pet Products
We love to spoil our fur babies, but we also want to make sure they get the best nutrition possible, which is why we suggest giving Benefit Pet Products a try! Each treat promotes the health and well-being of your pooch, such as immunity, fresh breath, protein, digestion, and urinary health. And with flavors like blueberry, peanut butter, and pumpkin, your doggo will be begging for more!
Addiction
If your pup has food sensitivities, opt for Addiction's Zen Vegetarian dog food. The ingredients are 100% plant-based, rich in isoflavones (an antioxidant that supports the immune system and protects against age-related diseases), and contain superfoods like peas, kelp, and rice. The formula is also free from artificial flavorings or preservatives.
Honest Paws
Hemp treats for your dog? You bet! Honest Paws offers calming and soothing bites, soft chews, and oils made from organic hemp and ingredients like turmeric, coconut oil, oats, and barley. They even offer Calm Hemp Peanut Butter, so your furry friend can relax during thunderstorms, travel, or other stressful events.
PetGuard
PetGuard uses ethically sourced ingredients (vegetables, fruits, and grains) to create their Organic Vegan Entree Wet Dog Food, and meets nutritional levels established by AAFCO (Association of American Feed Control Officials). Their pup chow is also rich in protein from peas and quinoa, as well as vitamins like potassium, iron, and Vitamin B12.
Kayla Pasko
@kaylapasko
Kayla, a Midwest girl living in NYC, is a writer with a background in media sales. When she's not scoping out trendy vegan spots, she's usually taking a yoga class, shopping at Trader Joe's, or catching a Packers game.
Articles by Kayla
More from VegOut
Subscribe Now
Get the premier vegan food and lifestyle magazine delivered to your door (or inbox!)
Order the magazine!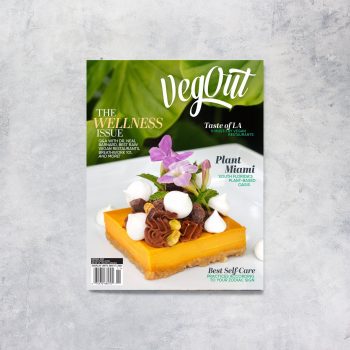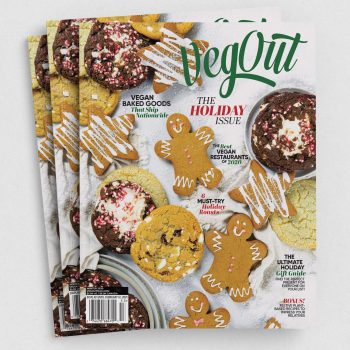 Navigation