Back
18 Sustainable Socks and Underwear Brands We Love
These sustainable brands make comfy and chic socks and undies! Why is it that no one really talks about underwear? Most everyone wears them and they're an important aspect of daily life! Something to keep in mind when shopping for your unmentionables (that should be mentioned) is how they're made and what they're made from. Here's a list of companies that specialize in breathable and beautiful undergarments made from eco-friendly ingredients like organic bamboo, eucalyptus, and cotton!
Underwear
This eco-friendly clothing brand offers everyday essentials for both women and men. These skivvies are minimalistic, timeless, and versatile! The soft and breathable underwear, bras, and socks from Boody are made from sustainably grown bamboo viscose. This material is 40% more absorbent than cotton, which means you can bid adieu to the days of excess sweat! Not only that, but growing bamboo uses 90% less water than cotton. These undergarments are soft, sexy, AND sustainable!
Whether you're wanting something lacy and colorful or simple and neural, Pact has your back—and booty! Their cute and comfy underwear is available in bikini, hipster, boy short, brief, and thong variations for women and boxers and briefs for men. And if you are in need of new bras and socks, Pact has that too! These items are made from organic cotton in a fair trade factory, so they're mindful of the planet!
What's new from this organic lingerie company? The oh-so-flattering Curve Bikini Underwear and Curve Convertible Bras! These products were specially designed to accommodate and accentuate the shapes of each individual's unique body and are available in the gorgeous nature-inspired colors of Azure, Cedar, Moonlight, and more. Brook There's ethically-made garments are composed primarily of GOTS (Global Organic Textile Standard) certified cotton that's milled and dyed in California. And everything is packaged in recycled poly bags and tissue paper. Pro tip: check out their "New Arrivals" section to shop the latest trends!
Are you team low-rise, mid-rise, or high-rise? Well actually, that's none of our business—but whatever fit you like best, you can find it at Knickey! Their high-quality undies are made from cool and cozy GOTS certified cotton, without any toxic chemicals. Every cut is available in their five core colors with a few limited release variations as well! Once you fall in love with these breathable beauts, you can opt into their customizable subscription plan or build a box with a bundle of your top picks! Use promo code KNICKEYVEGOUT for 10% off your purchase at knickey.com!
There's nothing more satisfying than wearing a matching bra and undies set—even if no one sees it but you! One of the best parts about Jonesy is their seemingly endless combinations of complementary tops and bottoms. You can mix and match your favorite bra and underwear styles to best suit your needs. Each garment is constructed with modal, a super soft biodegradable fabric that's made from reconstituted fibers like bamboo and beech trees!
Did you know that anytime you look at apparel on Reformation.com, you have the ability to see the positive effects it has on the environment? When you click the "Sustainability Impact" tab, you're given all the earth-saving deets! For instance, the Karen Thong saves 7 pounds of carbon dioxide, 65 gallons of water, and 1.1 pounds of waste––wow! Most of their intimates are made from TENCEL, a eucalyptus-based material in the most stunning designs!
This clothing brand works to protect the planet, one garment at a time! What steps do they take toward a more eco-friendly future? For starters, they use environmentally-friendly materials like organic cotton and TENCEL to produce underwear, bras, and socks for men and women. Additionally, they partner with certified factories that are free from child labor and forced labor, pay their employees a living wage, and offer them perks like free food and childcare! Wait until you hear this last part––Organic Basics uses a low-impact website that reduces carbon emissions! We are shook!
From locally-grown organic cotton plants to beautifully finished products, Pansy is committed to transparency when it comes to the production of their clothing. They stock bottoms in low, high, and extra-high cuts as well as sports bras, cross bras, full bras, socks, scrunchies, and more! Their underwear is produced in California using 100% cotton, which means it's fully-compostable!
Not only is turmeric wonderful for your skin, immune system, and in your favorite tofu scramble recipe, but did you know this superfood is also great to use as a natural fabric dye? Say whaaa?! HARA the Label uses turmeric, indigo, and madder root to naturally dye their organic bamboo undies! This ethical clothing company got its start after founder Allie Cameron took a trip to India and witnessed the negative environmental impact of the fashion industry. The brand name stems from the word "hara" which means "green" in Hindu and their mission is to "use the label as a platform to bring change, awareness, and education to the issues within the fashion industry." One of the many ways they achieve this is by donating a portion of their proceeds to the EJFoundation, an organization that works to end deforestation, protect wildlife and marine life, combat climate change, and more.
Finding a bra that is comfortable, supportive, and eco-friendly is quite the struggle. That's why we're so glad we found these high-quality bras (and undies) from CUUP! Pick from their Balconette, Plunge, Scoop, Triangle, and Demi bra designs to find the perfect fit for your body! CUUP uses materials like bamboo and wood pulp to construct their breathable, flattering, and weightless garments. Additionally, their company follows a 12-point system that prohibits forced labor, unfair compensation, harassment, and discrimination.
This upbeat underwear brand makes their products using hemp fabric! Why hemp? The material is organic, eco-friendly, anti-bacterial, and gets softer with every wash! Holla! For men, they've got briefs, boxers, boxer briefs, and trunks. And for the ladies, they sell bikinis, hipsters, thongs, boy shorts, and high waisted underwear! You can also buy them in packs to save some coin!
Want to slip into something a little more sustainable? Check out the Lourdes lingerie collection from Cosabella! This luxurious lacy product line is made from cotton, recycled elastane, recycled polyamide, and other earth-friendly materials. The selection includes their Low Rise Thong, Triangle Bralette, Chemise, and Underwire Bra.
Azura Bay is an eco-conscious online boutique. They sell some of our favorite brands such as Organic Basics and WAMA. The brands they stock use sustainable materials such as hemp, cotton, and spandex, which gets softer with every wash! Additionally, their items are anti-bacterial, anti-microbial, and anti-odor––score! From boy short, bikini, and thong underwear styles to hemp bralettes and organic cotton tank bralettes, there's something for everyone!
Socks
How many of you can say your socks help protect endangered species, plant trees, support the LGBTQ+ community, and preserve tropical rainforests? If you're wearing a pair from Conscious Step, you can! These vegan and GOTS certified footies come in the most fun and fashion-forward patterns. And every rad pair of socks you choose has a specific mission––for example, a portion of the proceeds from their sloth-patterned socks are donated to Conservation International, a program that protects sloths. Aside from single pairs, you can order gift boxes and subscription boxes––holla! Use promo code VEGOUT for 15% off!
Never underestimate a good pair of socks, especially when they're adorable, plush, and long-lasting! Where can you get a pair? Maggie's Organics! This vegan-friendly company has been producing fair trade socks for over 28 years, so they've got the whole sock-making thing mastered! They transform organic cotton from small scale family farms to soft and luxurious foot-cradling masterpieces. And some of their styles directly support environmental organizations like the Center for Biological Diversity.
These game-changing socks are made with cotton and pure silver––yep, we said silver! The combination of these two ingredients results in a bacteria-free and odorless pair of socks that are as smooth as your favorite non-dairy butter alternative! Stink-free socks? It's a miracle! As if things couldn't get any better, everything is grown and produced in the United States!
Did you know that the white color in socks is most often achieved by toxins and harsh dyes? That's why these organic cotton designs from Harvest & Mill come in their natural color––free from toxins, dyes, and bleach! Whether you need just one pair or a pack of six to replenish your missing socks (but really, why do socks always go missing?), Harvest & Mill has it all! They even send every order in compostable packaging!
Runners, we haven't forgotten about you! Any athlete knows that a key component for a successful run is a supportive pair of running shoes and compression socks. When it comes to buying eco-friendly running socks, look to Rockay! This company repurposes plastic waste from the ocean to make regenerated nylon for their high-quality socks. They stock a dense sock and sleeve selection that varies in length, thickness, and color to find the perfect pair for you!
Allie Mitchell
@alliemitch
Allie is a writer, musical theatre performer, yoga instructor, and walking vegan restaurant directory. On any given day, you can catch her making tofu scramble, scouring Trader Joe's for new plant-based products, or watching The Lizzie McGuire Movie! Visit her website at alexandrammitchell.com.
Articles by Allie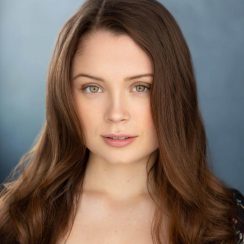 More from VegOut
Subscribe Now
Get the premier vegan food and lifestyle magazine delivered to your door (or inbox!)
Order the magazine!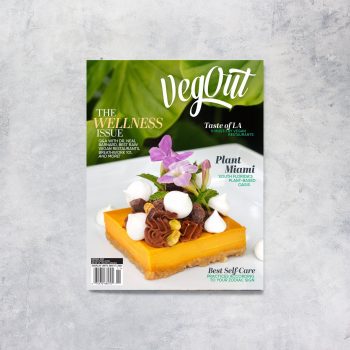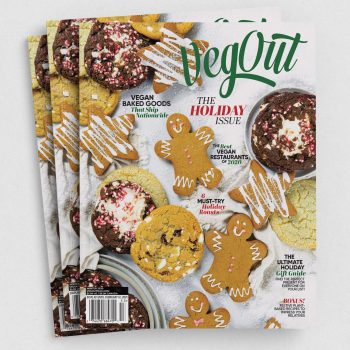 Navigation